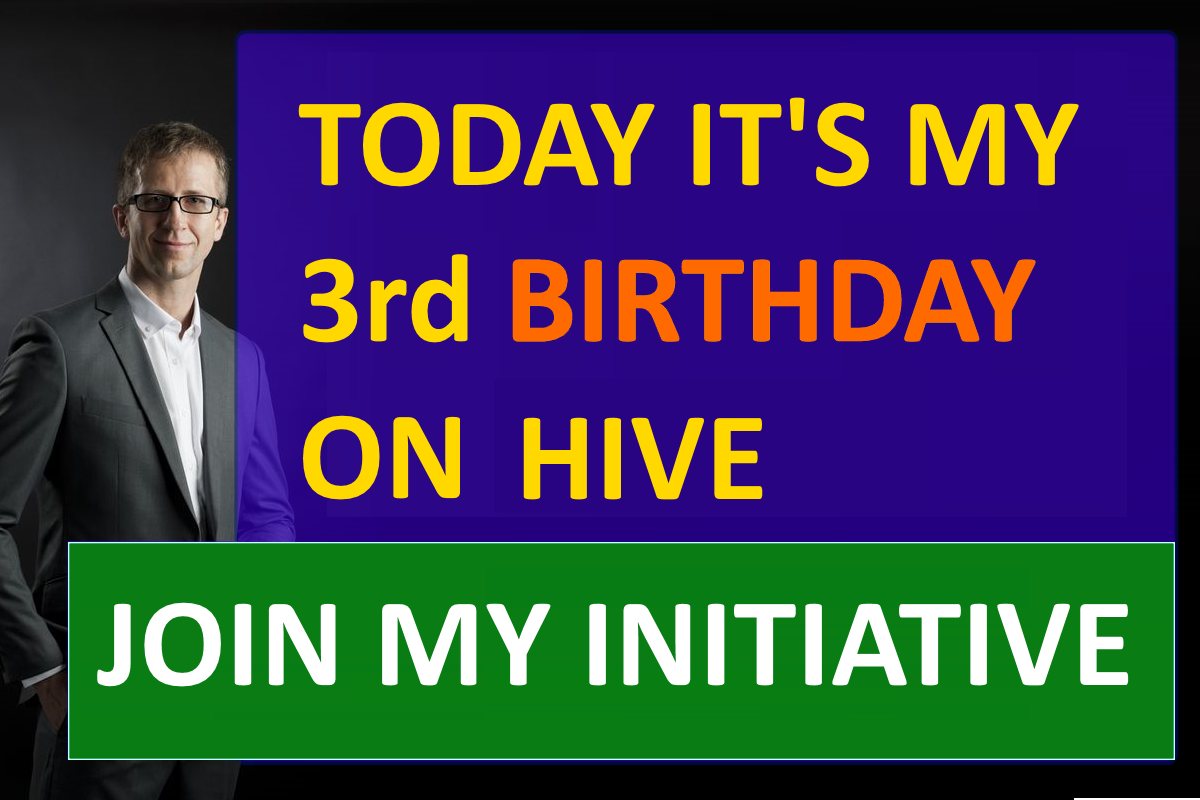 INTRODUCTION - my 3rd HIVE and Steemit birthday

Early morning I've realized that today is a very special day. Just 3 years ago, exactly on 2nd March, I've joined Steemit (which later forked out to HIVE).
That was the day when I've managed to create an account and started a new "journey" in my life. One that brought me so much joy and emotional satisfaction. One that allowed me to get to know many people who share similar interests and values. People who often I started to consider to be my good friends.
It has been an amazing journey so far and there is hardly ever a day when I do not open my laptop in the morning with excitement and curious what another day will bring.
YOU ARE WHO YOU SURROUND YOURSELF WITH

I've heard that sentence several times in my life and I truly agree with it. Being surrounded by many wise people who are often kind, supportive, and willing to share their knowledge has definitely changed me.
Within those 3 long years, I've spent online thousands of hours, engaging with a great number of @project.hope members. I wrote several thousand comments and managed to build some great friendships and business contacts.
I've matured greatly. Learning from the life experiences of people often way smarter than I allowed me to broaden my horizons.
For all of that, I'm eternally grateful.
SPECIAL INITIATIVE

I've mentioned in the title "special initiative". One that I would like to share with you all, hoping to get more people on board.
I would like to use today's opportunity to make a small POSITIVE CHANGE for someone who I have recently met on this social media platform (steemit and hive). Someone, who I've learned to value and respect: @joseph1956
He experienced some life difficulties which many of you already experienced yourself: living in a struggling country, where every day is a challenge. This country is no other than Venezuela.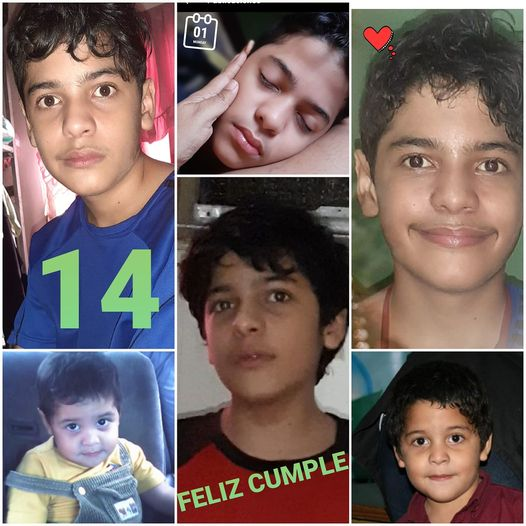 The other day he mentioned his Son. Elias Samuel.
Elias just turned 14th years old a few days ago. And there is something very special about him and his father. They both share quite unique and challenging conditions.
They both were diagnosed with Asperger.
So ... the other day I spoke to Joseph about Elias and I've learned that "he no longer enjoys toys but technological things. He even makes programs on the computer. We wanted to give him a samsung cell phone but the budget was not enough.".
I've also learned that a second-hand Samsung cell phone would cost approx 150usd, which may not be a lot for many. But it's a fortune for others.
LET THE LITTLE DREAM COME TRUE

I decided to set up a 99% beneficiary on this publication to @joseph1956 and donate 10 STEEM and 10 HIVE to his wallet. Those funds will be used by Joseph to make this little dream come true.
So please, be generous with an upvote :)
JOIN THIS INITIATIVE and help us spread the word

There are few ways you all could participate in this initiative and help us make this world a better place. Even if just for one kiddo. Even if we won't reach our goal right away - I'm sure we can at least put a huge smile on his face.
Obviously every re-post and upvote counts. You may also consider supporting this idea by transferring as little as 1 STEEM or 1 HIVE to @joseph1956 with the memo "Happy birthday to Elias" or "Feliz Cumpleaños Elias".
Finally, you can simply visit @joseph1956 profile and drop an upvote on his recent publications.
TO WRAP IT UP

If you feel like doing a good deed or perhaps you would like to give me some small gift because of my 3rd birthday on HIVE/Steemit? Joining and supporting our initiative is all I'm asking about.
Yours, @crypto.piotr
@project.hope founder
check out our community: https://hive.blog/trending/hive-175254

cc:
@abdt,
@achim03,
@adeljose,
@adesojisouljay,
@adityajainxds,
@ajewa,
@akdx,
@ale.aristeguieta,
@alexbalan,
@alexcarlos,
@alokkumar121,
@amestyj,
@anacristinasilva,
@aplausos,
@arnol99,
@arunava,
@awah,
@bala41288,
@belemo,
@ben-edom,
@benie111,
@besticofinder,
@bhoa,
@busted1,
@carapthian,
@carlir,
@carlos84,
@certain,
@chesatochi,
@chimzycash,
@churchangel,
@creativeblue,
@cryptocheta,
@culgin,
@cwow2,
@cyberspacegod,
@dailyke20,
@davidgutre,
@davidke20,
@designieplay,
@devpress,
@doppley,
@elgranpoeta,
@eliorrios,
@eloghosa,
@emiliomoron,
@emimoron,
@engrsayful,
@eni-ola,
@face2face,
@fijimermaid,
@filotasriza3,
@forykw,
@foxicoreviews,
@franyeligonzalez,
@frederickbangs,
@fucho80,
@fun2learn,
@funmiakinpelu,
@futurekr,
@gandhibaba,
@gbenga,
@gifxlove,
@great-a,
@gungho,
@haidermehdi,
@hardaeborla,
@hassanabid,
@hawk-eye,
@hendersonp,
@humor-0404,
@ireti,
@jadams2k18,
@janettyanez,
@joelagbo,
@josediccus,
@joseph1956,
@josevas217,
@juanmolina,
@kamranrkploy,
@karamyog,
@kenny-writes,
@knowledgefruit,
@krischik,
@laloretoyya,
@lanzjoseg,
@lavanyalakshman,
@lebey1,
@lennyblogs,
@lfgiaa,
@lighteye,
@luckyali,
@lupafilotaxia,
@machnbirdsparo,
@madridbg,
@madushanka,
@majes.tytyty,
@mandate,
@mariu.espinoza,
@mato445,
@mauromar,
@mccoy02,
@menoski,
@metzli,
@mickvir,
@mikitaly,
@mintymile,
@mojubare,
@monz122,
@mtl1979,
@munawar1235,
@mynima,
@nonsowrites,
@ojerinde,
@oluwatobiloba,
@oredebby,
@pablo1601,
@papa-mensa,
@paragism,
@peerzadazeeshan,
@qsyal,
@r1s2g3,
@ramsesuchiha,
@rarej,
@rbalzan79,
@reeta0119,
@reinaldoverdu,
@resiliencia,
@retaliator,
@rishabh99946,
@ritch,
@roronoa07,
@sacra97,
@samminator,
@sandracarrascal,
@sapwood,
@saxopedia,
@sholly1,
@shortsegments,
@solarwarrior,
@stefano.massari,
@sumit71428,
@syedumair,
@taimoorahmad,
@taiwo-writes,
@talktofaith,
@tfame3865,
@thetimetravelerz,
@tocho2,
@tolustx,
@tomoyan,
@trabajosdelsiglo,
@tysler,
@unbiasedwriter,
@uyobong,
@valchiz,
@vimukthi,
@vlemon,
@whatageek,
@wiseagent,
@yohan2on,
@yonnathang,
@yusvelasquez