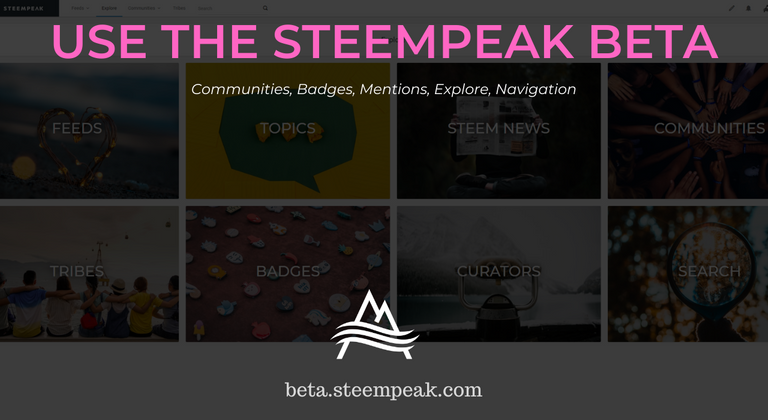 WHAT TO KNOW
UPGRADING DAILY Every day there are new features and changes and for those who love new bells and whistles this is the place to be. We post updates pretty often here https://beta.steempeak.com/c/hive-175001

COMMUNITIES ARE LIVE Communities are rolling and looking great.

FEEDBACK REQUESTED We love giving access to a raw live beta site because SteemPeak users know how we operate and that we thrive off of your requests and suggestions.

IT IS NOT FINISHED We would hope you know this by the very nature of the name BETA. But to make it clear you know and we know that Beta still needs lots more polish and lots more features. Several new features still have lots more to go.
Then again will SteemPeak ever be "finished"? ... nope because we'll always be improving.
WHAT TO LOOK FOR
There's a ton that's new on beta so get ready for some cool changes
COMMUNITIES
First check out communities - https://beta.steempeak.com/communities
SEARCH: It can be a bit overwhelming searching through the 600+ communities. We've given some suggestions but also they're organized with an algorithm from Steemit INC showing actively followed. Once you follow them
SUBSCRIBE: Find a good community you can subscribe and then you'll have among many things a cool short cut on the top menu.
CREATE: If you're the type that loves building groups of people online go try it out. Also go tell your friends that they should be building communities on steem.
EXPLORE
The explore page https://beta.steempeak.com/explore got a huge facelift YESTERDAY!
This is a great place for a user (new users) to understand what all they can do to find users and to find content.
We suggest using explore to subscribe or favorite different topics, communities, badges, users...that way you can use navigation to go back to your favorites faster.
NAVIGATION
Check out the new top menu... the goal is to make it very fast and easy to get where you want to be.
Is it filling your needs?
Shortcut for your own profile is now top right menu.
SteemPeak.com has lots and lots of features the goal is to help users get access to them all... and quickly... while not feeling overwhelming.
NOTIFICATIONS
We've switched to a much more complete system designed by @roadscape of steemit inc.
It will now show mentions, follows and community actions as well as a few other things.
It also shows votes above .02 which is interesting.
There are no customization tools for this notification system at the moment and not completely certain if there will be.
BONUS: If you have multiple accounts and use SWITCH ACCOUNT then the notifications system will make you really happy.
BADGES
An exciting new feature https://beta.steempeak.com/badges
This is a visual indicator of a group/list of users.
It's built on the back of a decentralized list of users... using an account system similar to community "hives"
However on SteemPeak qualified lists become badges and then you get some cool new graphical utility.
Presently you need to ask the @steempeak team if you want to create a badge right now. It will open up to the public later.
---
WHY BETA AND NOT ON MAIN SITE?
The main answer is that the 3rd party API that we use for communities and notifications is presently a BETA api and can change at any time. However we're still considering launching it on the main site knowing that our users will likely be understanding at sudden changes. We'll also consult with Steemit INC as to what they're planning on doing.
What would you like to see us do?
---
A WORD ABOUT STEEMPEAK COMMUNITY
https://beta.steempeak.com/c/hive-175001
This is where we're posting very frequently about BETA UPDATES
We also have pinned posts where you can easily give feedback and a member of the team will see.
Anything that you think someone else will benefit from hearing or seeing the response from put it in the community.
---
A WORD ABOUT MOBILE
The beta site works on mobile and we have a list of things to improve still... however we want to do an app and re-design this year... so we're not focusing as heavily on mobile in this particular release.
With that said if there's anything particularly annoying please let us know it's gonna take some time for an APP so we need to make sure Mobile is still a very pleasant experience for you right this moment.
---
A WORD ABOUT OUR WITNESS
Running strong in the top 20 for many weeks now.
We've long since added a backup block producer server and tested it and our monitoring software which includes an administrative interface to give SteemPeak admins access to witness things.
We've noticed it's a matter of one whale sized voter separating witnesses 9-19
So we'd like to invite everyone to throw a vote our way. We'd really appreciate it.
@SteemPeak -> https://steempeak.com/@steempeak/



This works for all witnesses btw