UPDATE JUNE 2020: This FAQ post has the up to date info on creating badges
https://peakd.com/hive-198327/@peak.answers/how-to-create-a-badge-on-peakd-com
---
EDIT: THIS POST HAS BEEN RE-WRITTEN FROM A STEEMPEAK POST TO A PEAKD POST ... INCLUDING CHANGES OF LINKS. However references to SteemPeak promotion will remain since the promotion was done by @steempeak
Badges are a brand new feature for PeakD
This post will give RULES / HOW TO / PROMOTION
There are already many badges already live in our list of badges
https://peakd.com/badges
Some things still to come
Badge creator step by step UI
Ability to change the creator/recovery account
UI for user to proudly display or hide badges
Display a badge on a post
Easy badge URLs on peakd.com example: peakd.com/b/utah
---
OUR BADGE LIST PAGE
BADGE CREATOR TOOLS... Coming soon
A nice step by step UI for badge creation hasn't been created yet. But making a public list manually and then having them white-listed is not very hard either.
At the end of the post we'll share how to manually make a public list.
QUICK STEPS
Create badge account
Edit details of account
Follow users on the account
Commnet here to be one of the first 50 approved
---
BADGE HOLDER DISPLAY TOOLS
We are also working on some UI to help those that are recipients of badges.
Users shoulds be able to quickly:
Choose which badges to prominently display (assuming they have a lot)
Choose which badges to mute (they don't really want the badge)
Maybe some they don't want to show prominently but they are fine with having.
---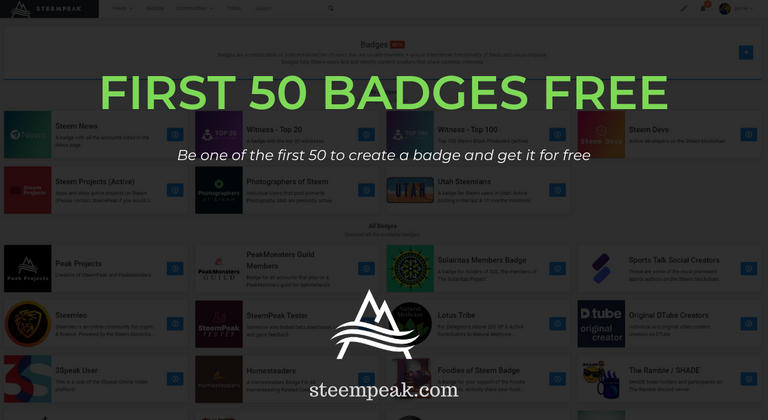 PROMOTION: FIRST 50 BADGES FREE
Badges are freely displayed to the RECIPIENTS from SteemPeak.
Free badges for badge CREATORS is a promotion we are presently doing.
First 50 qualified badges will be free for at least 2 years
TO QUALIFY FOR FREE BADGE:
We will your badges if you do the following:
Can follow our directions below on how to make a public badge.
(until we finish the badge creator tools)
Be one of the first 50 approved badges.
Be a great example of a good use of badges ... specially creative use showing something new.
(Our first badges are meant to be good examples of what is possible with badges)
We will also only approve positive badges.
Those are the types of badges we are gonna whitelist for now and add to the system for free.
DECENTRALIZATION:
Remember the public list aspect of the badges are a totally decentralized system... all the functionality we give to those lists are unique to PeakD. So public lists are completely decentralized but the badges are whitelisted by PeakD team.
---
RULES FOR BADGES
This is a new feature we are seeing all the ways badges can help our users so we reserve the right to change our policies on this.
Must provide utility to PeakD.com users
A high rate of muting the badge will result in removal of the badge.
(In particular mutes by users who have been given the badge)
Switching the description or name of the badge deceptively to something not in line with the original idea of the badge will result in removal of badge.
You can change qualifications of the badge as long as you go through and completely update the list of users to comply with the badge.
No opinion based negative badges.
Must describe what the badge is about and why someone got the badge (qualifications)
Creator account must be accurate ... meaning you may have to change it from the name of account creation services like blocktrades or oracle-d.
(Ability to change this is a feature we can help with soon)
---

Creating a badge is about creating an account that act as a public list for the badge to use.
STEP 1. Create an account name it "badge-" + (six digits)
EXAMPLES: @badge-777777 , @badge-874543
Choose any 6 digits available
You may use any system to create an account but we recommend direct creation because we will display the recovery account as the CREATOR... otherwise you'll need to do an action to change the recovery account anyway.
PeakD.com does have the ability to use an account creation token

STEP 2 - EDIT DETAILS OF THE BADGE... USING ACCOUNT EDIT TOOLS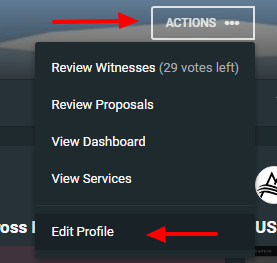 This is how you get to PROFILE SETTINGS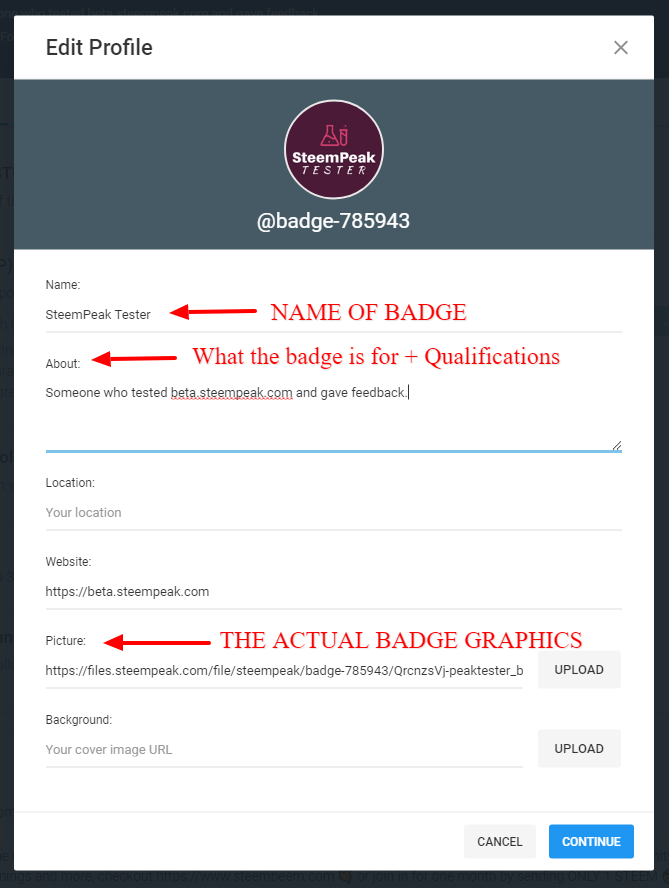 A: NAME OF BADGE... please make it describe the Recipients.
See all the badges presently approved for examples.
B: ABOUT ... This one is more demanding because we want you to describe what the badge is about AND the why a recipient qualified to get the badge.
C: GRAPHICS ... Upload a SQUARE image that is at least 600x600. Or put a URL there.
STEP 3 - ADD RECIPIENTS
You now have an account where you can FOLLOW USERS.
We require you follow a good chunk of who you will eventually follow.
Let's say about 50% in order to get approved.
Use the normal follow tools while logged in as your badge.

NOTE: You'll need SP to add users to an account. The resources credits needed to add people to accounts by default is limited. But you can add resource credits needed to add more users by delegating SP.
Go directly to profile - https://peakd.com/@badge-888888


You can delegate to the account and then when you're done you can un-delegate by changing delegation to 0 or some smaller number.
STEP 4 - GET BADGE WHITELISTED
Put your badge name in the comments below.
Say why you think the badge will be useful
I'll review submissions chronologically from this post and approve.
If something is not listed correctly i'll say what needs to be reviewed.
---
WHAT HAPPENS AFTER 50?
Our goal is to populate the badge list https://peakd.com/badges
So that's why we're giving away so many of them while developing new tools for badges.
We will still run promotions from time to time until the rest of our tools are completed.
They will likely be to get certain types of badges or challenges to find the most unique or useful badges.
Special promotions may be something like:
First to do 10 Location based badges

First to do 10 automated badges (coded to curate automated follow/unfollow)

Best 3 new badge ideas win
... Stuff like that.