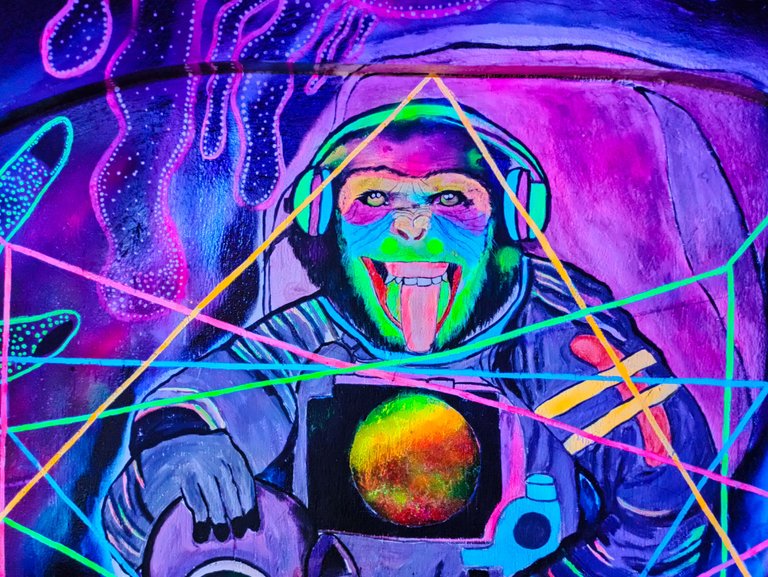 Okay. Did that title entice you to click on this post? Read on! Or not. It's your time you're wasting.
It's not what you think it is! I am now in Oslob with
@indayclara
to continue with our almost one week of freediving adventure. As she noted in her
post
, we were back at our happy place (Panagsama, Moalboal) last Sunday. After checking in at Pescador View at around 8:15 PM, we decided to look for a place to eat. We felt hungry after more than three hours of catching up with the latest happenings both in the real world and in Hive. We decided to stroll along Panagsama Beach until Savedra to look for an open restaurant. It was so quiet considering that it was Sunday night. If it was pre-pandemic, that area would have been complete chaos with a lot of tourists, both local and foreigners, walking that narrow path. That time, we were the only ones there.
We frequently pass by that area near French Cafe, but we ignored the other side where the sardine run is usually located. It was a common sight for us so we just usually pass by and find some interesting places to dine in. That night, because almost all of the establishments were closed, one small restaurant caught our eye. We stopped and found these interesting murals. More on that later. I'll explain that Big Daddy Hungarian Sausage first to clear that away.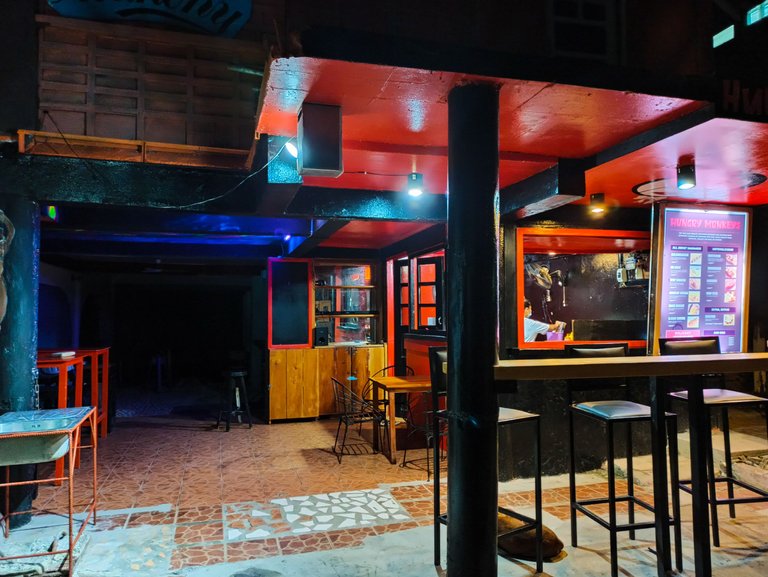 This is what you will see at the front of the restaurant. There's an extension where you have direct access to the sea, but it was under renovation.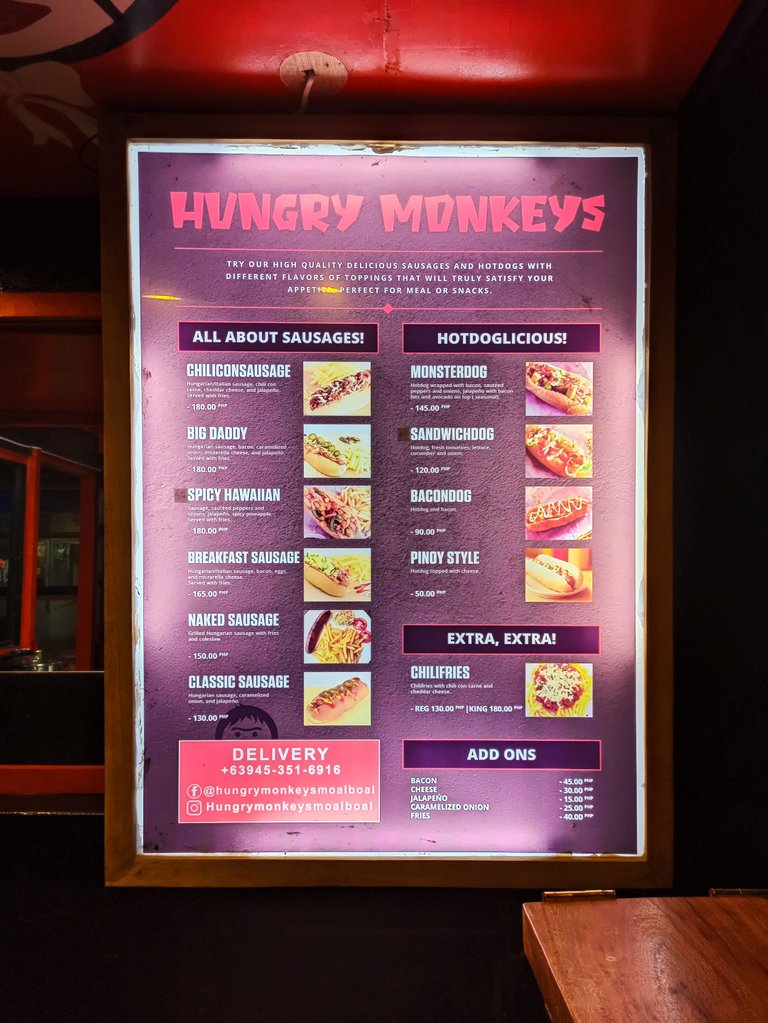 The restaurant is
Hungry Monkeys
and I just did a quick check on their social media presence and I found out that they have awesome
reviews
on Facebook. If you happen to visit Panagsama, Moalboal, please do try that place out. Anyway, we checked their menu to decide if we would have to stay or walk for another minute or so to find a place to eat. I was interested in their sausages. Knowing
@indayclara
, she immediately exclaimed: "I want Big Daddy!", which really made the restaurant owner cackle with delight. I was about to choose something else, but the owner said that it's a Hungarian sausage. I'm sold out when it's Hungarian so I decided to also have that one. Hence the title, Big Daddy Hungarian Sausage. It's not something else different. It's just the name in Hungry Monkeys' menu. Wait, why am I explaining myself?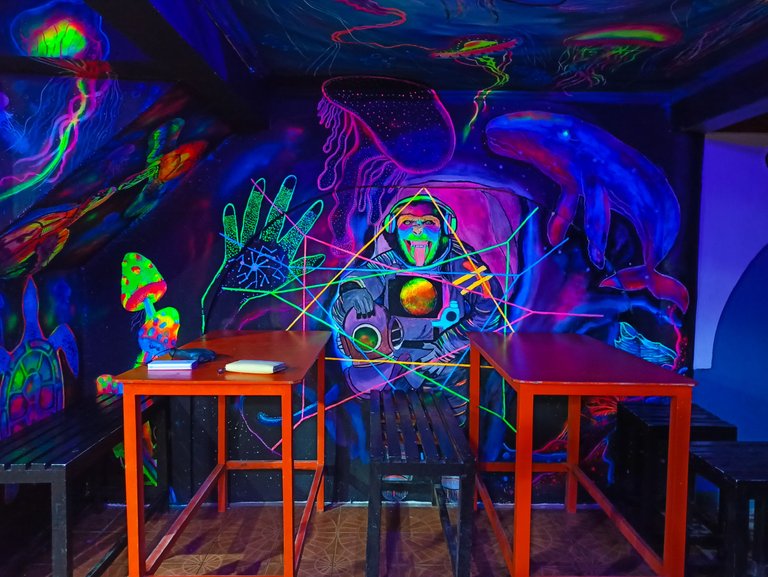 We noticed these dope murals on one part of the restaurant. It's not big, but it's so cool. It's made with glow-in-the-dark paint, hence the effect.
The Murals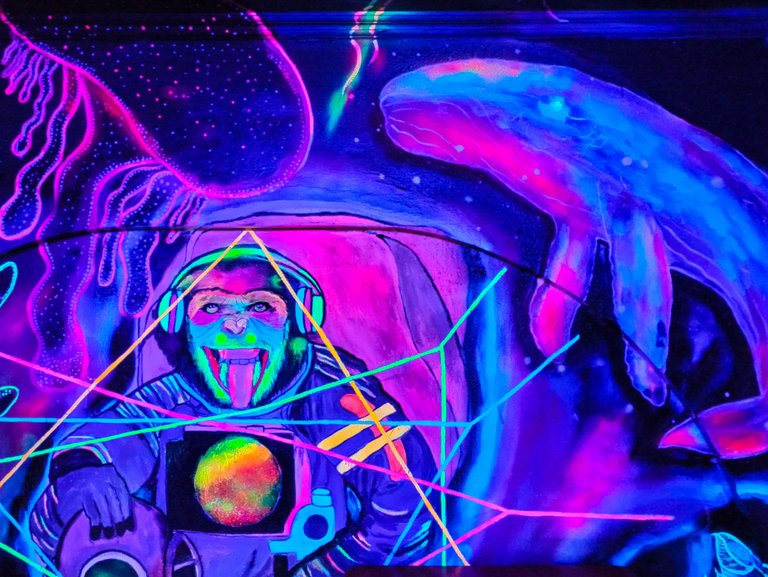 The centerpiece is a monkey, but I'm not sure if it's a DJ or an astronaut. Is it hungry though? 🤔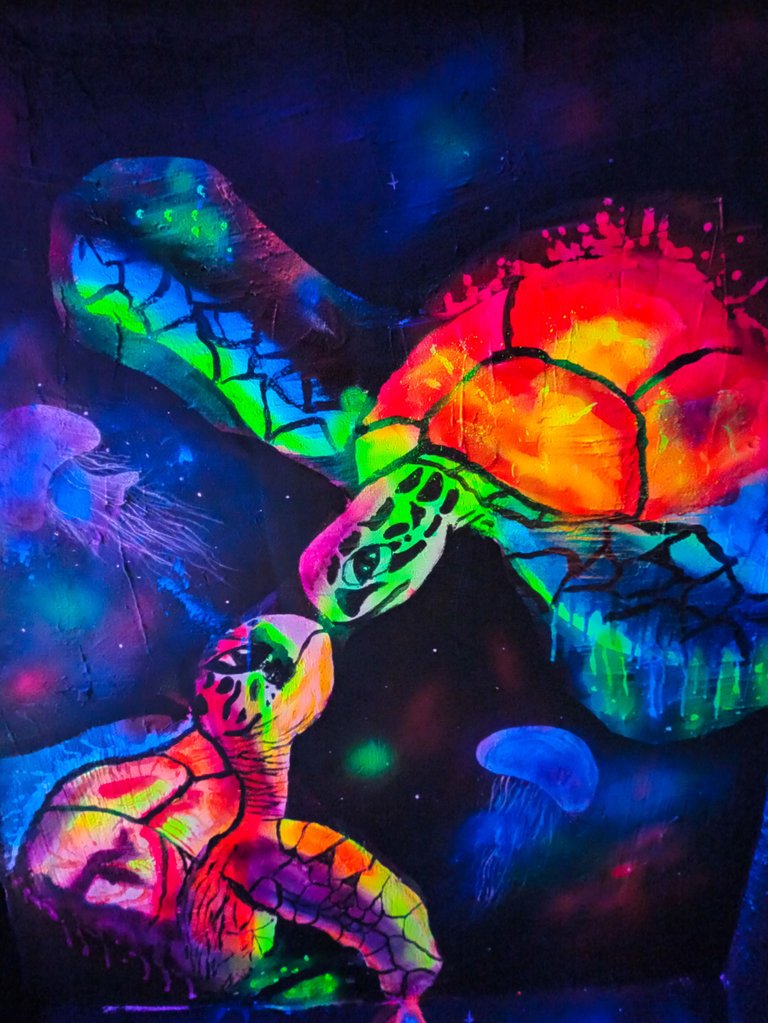 Represents Panagsama, Moalboal so well. Watch out for my new video with the turtles soon!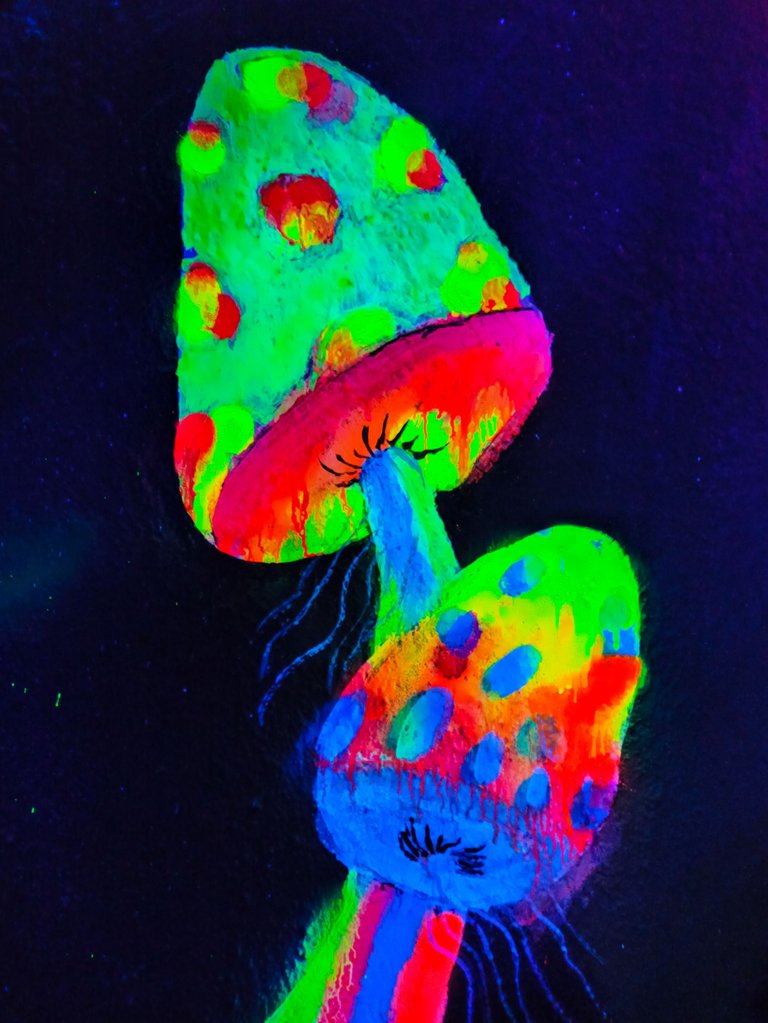 Psychedelic shrooms? I don't know what this means, but it's awesome!
---
Ah! Jellyfish! They're also abundant in Moalboal, especially during this time. FYI: @indayclara has been relentlessly scratching itches all over her body caused by the jellyfish as I was writing this post. 😁
Other Details: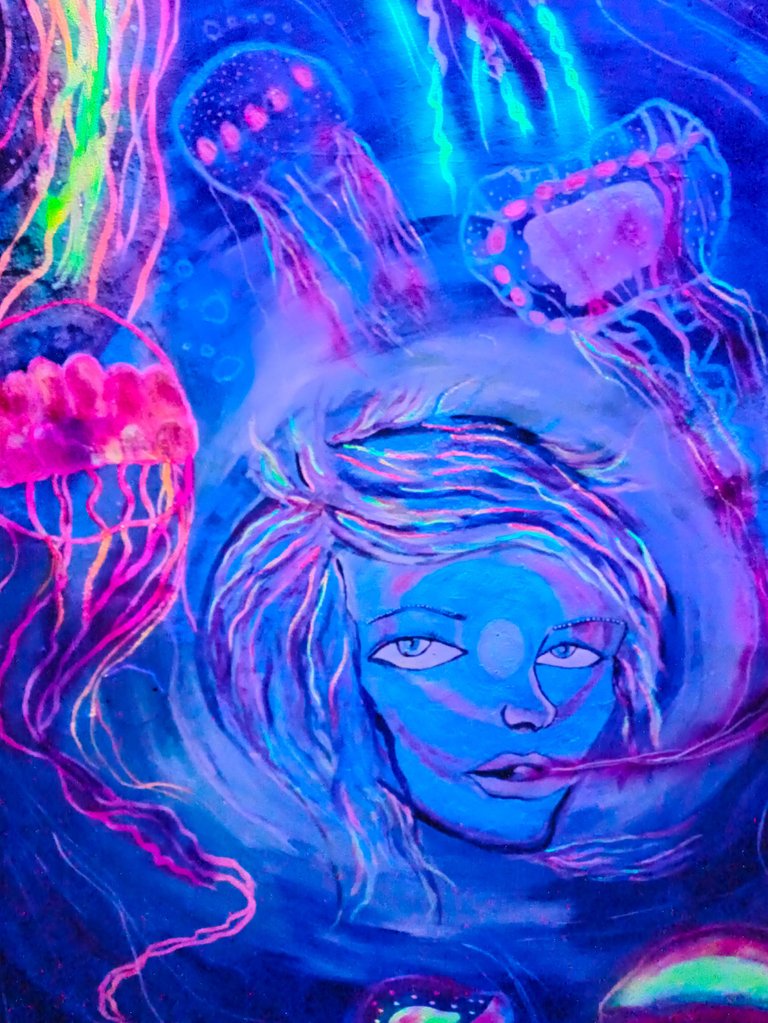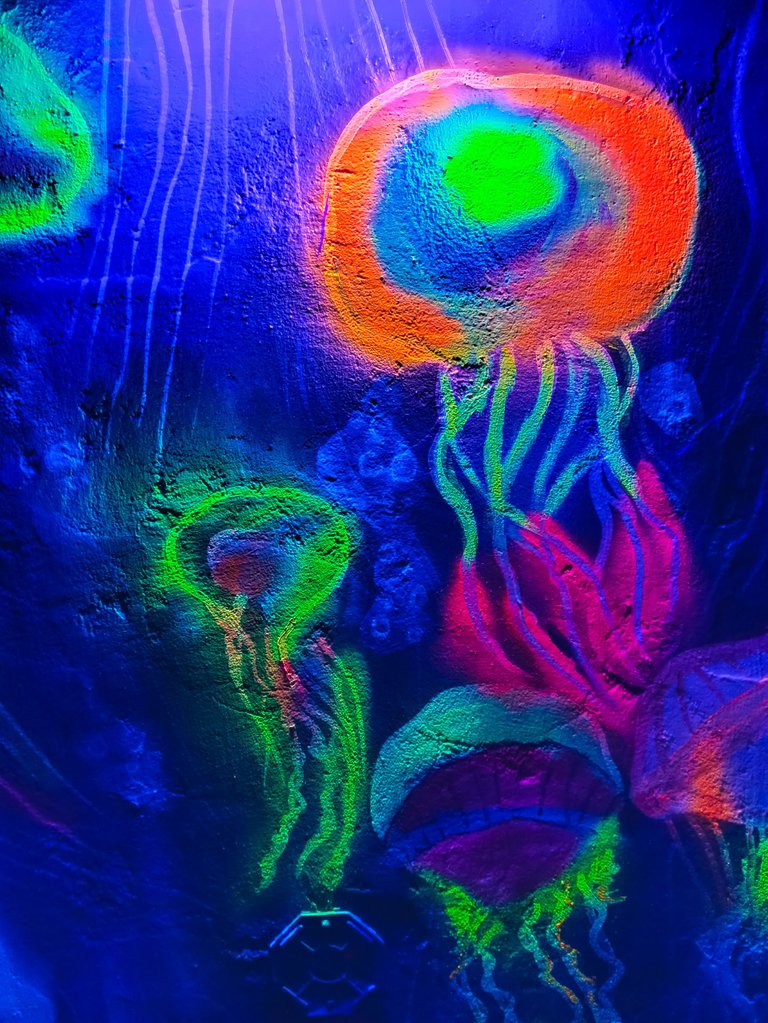 Still can't get over with the awesome details!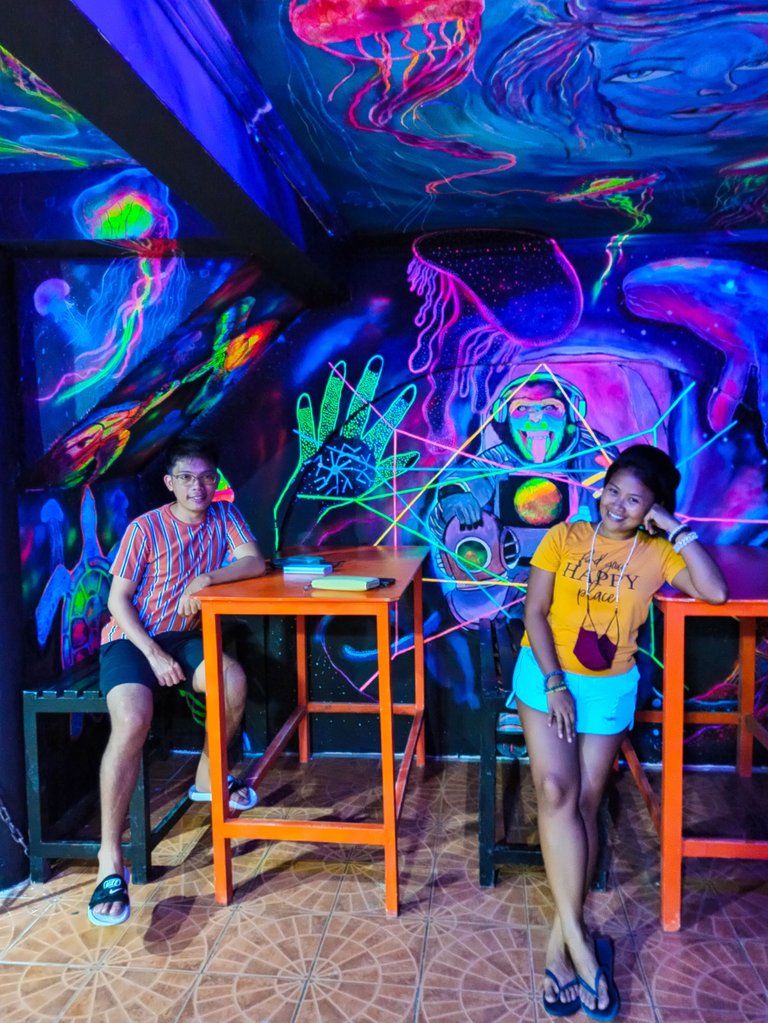 Yep! That's considered other details.
The Musings
Here's the scalding tea:
"When people are so full of themselves, they will be their own undoing."
We were really excited to eat at that restaurant. We talked a lot while eagerly waiting for our orders. However, our excitement was cut short because there was this group of locals, all men, who came to the restaurant. It's clear that they were drunk and wanted to continue their drinking session. It was fine until one of them became so loud and unruly.
I was fine with it because I always don't care about what they're doing as long as I'm in my element. I usually can't be bothered as long as I'm not directly affected, but
@indayclara
was pissed by that loud man that she decided to take out our orders. As much as we wanted to dine in, she can't withstand the level of arrogance and loudness of that man. While waiting for our orders, we just continued talking while he was particularly loud at the other table. There were four of them, but he was distinctly different. It was clear there was a liquor ban because the owner told them to just keep it down or stay at the dimmer part of the restaurant to avoid the authorities that roam around, but they didn't budge. He just told the owner that if ever they're caught, just mention his name to the authorities as if he's some kind of Superman.
I was partly eavesdropping on their conversations while curating and I can say he became more arrogant for every minute that passed. Our orders took that long to prepare that we had to endure his arrogance. I kept my cool, but
@indayclara
was losing it that she talked to the owners.
It was still fine with me because we would be leaving anyway after our orders were ready. Until one of them noticed me and asked where we're from. I told them we were from the city. They continued to ask if we're already booked and what activities we would be doing in Panagsama. I answered that we would just be freediving. That was when that arrogant guy asked who's our instructor. I answered that no one because it would just be a fun dive.
He continued that we're not really freedivers. We just claimed to be one. I answered, "Oh! Okay!" That was fine with me because I never claimed to be a pro freediver. I just love freediving and I don't care if someone will call me a "feeling freediver". That was
@indayclara
came back from talking with the owners and said that I should not answer anymore. I kept quiet.
He continued talking about how rich people will just buy gears and immediately call themselves freedivers. I think that's partly true, but I'm not even rich. I'm just thankful to Hive for the gears that I bought. He even added that if we would be having a competition at that moment, he would reach 60 meters. He's so full of himself. I didn't bother anymore, but I laughed in my mind. I thought he might be lacking something for him to compensate that much that his confidence reached the level of cockiness. I mean men have to compensate if they lack something. Maybe his sausage is not Hungarian enough? 😏 Or there's a significant lack of educational attainment? ✌ Or it was a full moon, that's why people were so full of themselves? Dunno. I just know it's not worth the energy to have discourse with.
I just leave it to the universe. His cockiness will be his undoing.
We left the table and talked to the owners to hasten the preparation of our orders so that we can leave immediately. The worst part was that they even tried to go where were. He's really something.
We just enjoyed our Big Daddy Hungarian Sausage at Pescador View, our usual place in Panagsama. Here's the Hungarian Sausage that I was talking about: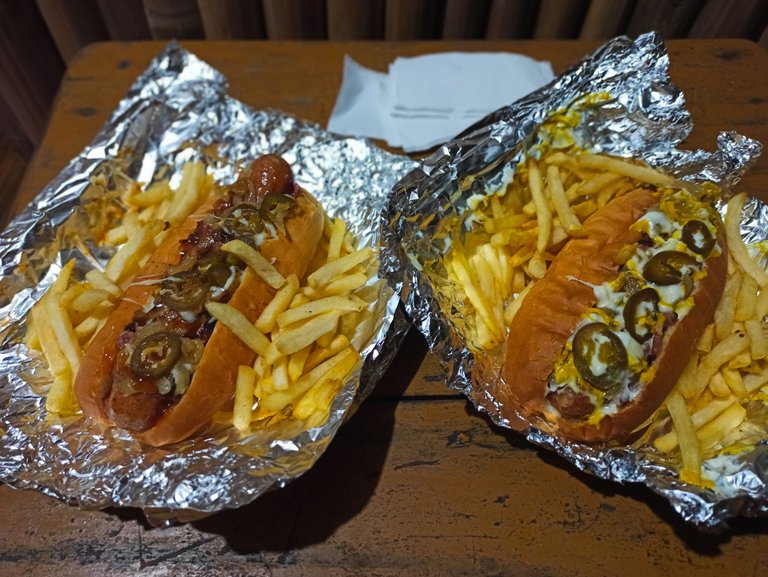 I guess that's all for this post. Please don't be too arrogant people. Tone down and have some tea. See you in the next post! Hopefully, it will be another freediving video, but let's see if
@sabanalchristian
will be done editing that video.
---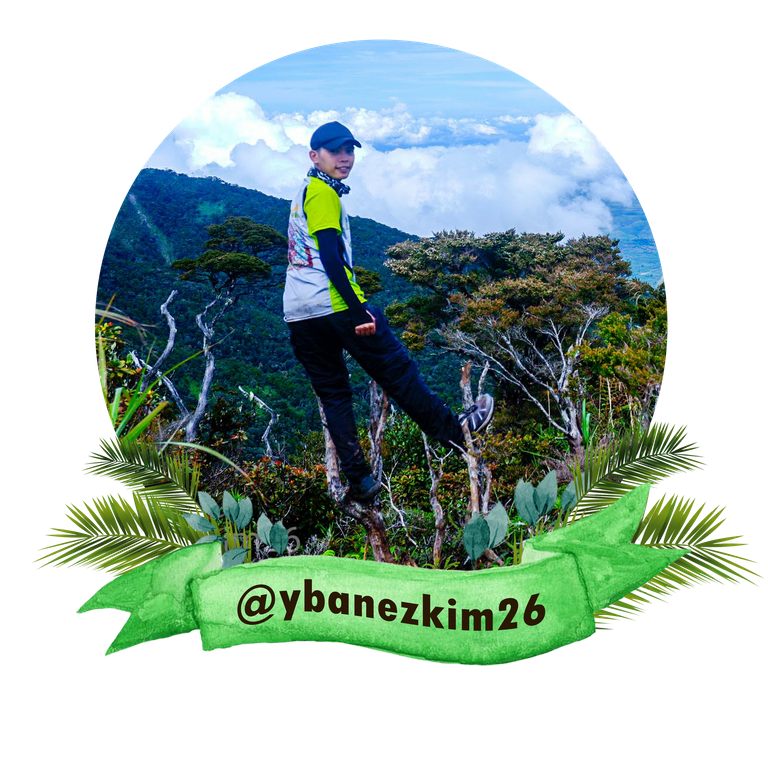 Kim Ybañez
Welcome to Kim's small corner in Hive. He is a chemical engineer by profession, but a blogger by passion. He is a wanderlust and an adventure seeker. Join his quests as he visits secluded destinations, climbs mountains, tries new and exotic dishes, and explores his country (The Philippines). He's also a trying hard photographer so stay tuned as he shares his photos and his thought process while creating them.
If you like his content, don't forget to upvote and leave a comment to show some love. You can also reblog if you want to. Also, don't forget to follow him to be updated with his latest posts.