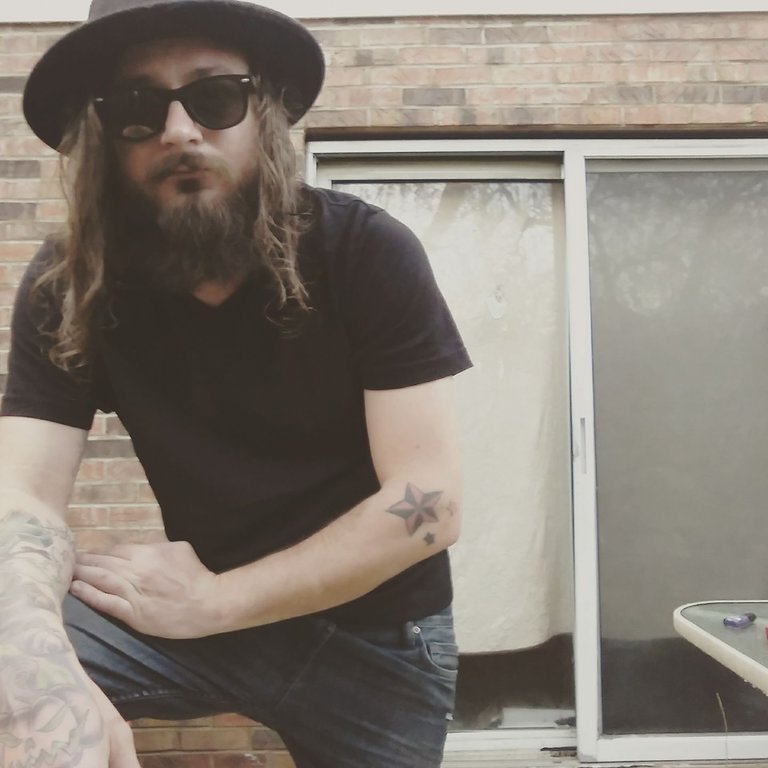 Introductions, introductions.
It's always hard being the new guy at the party. In the past, my time was spent lurking in the background trying to swig down copious amounts of booze down before the host realized no one knew who I was. If I were lucky, maybe I'd even sneak a block of cheese out of their fridge and secretly eat it in the bathroom before they'd notice it. This is essentially party crashing, vagrant edition.
Lots has changed since this period of my life, but that doesn't mean I've become any more eloquent during introductions. What do you say to people that you don't know? Hive is an interesting platform, and I think I can bring stories here that only I can tell because they come from my life. Sometimes it's better to learn about people through things they like. Music is integral to this. I believe you can learn a lot about a person by the music they listen to, so I thought what better way to introduce myself than expose you all to music that's made me who I am.
Not much seems so simple anymore wait, scratch that, how about, Nothing seems as simple as it used to be, yeah I like that better.
I remember being an adolescent running amok with my friends and inhaling the best times of life. Throughout my life, I have done a lot, ran my own skate shop at only 15, and played in a metal band that became one of the most listened to on Myspace, haha, it's funny how much we go through in what seems like a small amount of time, yet the world keeps spinning.
Trucking through the mud of my past, I picked up amazing music, music that rattled my bones and gave me a euphoric head change, something that makes me completely engulfed by waves of emotion, feeling every subtle note touching me like a cold summer breeze. Everyone finds little pieces that fit so well with them, no matter where you got them. Maybe you got them from an ex-girlfriend/boyfriend. Maybe you got them from a party you were at, picked them up by walking past a bar or a coffee shop or even heard them in a movie or video game. We grab these songs and run with them, making out like a bandit and holding them close to our hearts. We spill them with us everywhere we go, "music is a beautiful thing, man."


Below is a list of artists/bands that changed my life entirely, and I hope that some of these will shake your bones as they did with me.


Brown Bird
Danger and Dread
Down to the River
Fingers to the bone
Bilgewater
Thunder & lightning
---
The Growlers
Black Memories
Good Advice
Going Gets Tough
Magnificent Sadness
Rare Hearts
Humdrum Blues
Tell It How It Is
Monotonia
---
Benjamin Tod
Hungry for You Blues
Busted Love
Who I AM Ain't Who I've Been
Gasoline
I Will Rise
---
Lost Dog Street Band
Fall From Grace
The Way I Am
Baby I Got You
When I Went Down To Georgia
Dirty Dog
Oblivion
Green Eyed Gal
September Doves
Hard Road Again
---
Bayside
Winter
Blame It On Bad Luck
Masterpiece
Don't Call Me Peanut
Devotion and Desire
They Looked Like Strong Hands
---
The Black Keys
Tighten Up
Howlin' for You
Gold On the Ceiling
Lo/Hi
Fever
Act Nice and Gentle
---
Bob Dylan
It Ain't Me Babe
Like a Rolling Stone
Blowin' In the Wind
Don't Think Twice, It's All Right
The Times They Are A-Changin'
---
Brand New
Play Crack the Sky
Waste
Same Logic/Teeth
Gasoline
Sink
Daisy
Sowing Season
Jesus Christ
Deguasser
Failure by Design
---
Colter Wall
Thirteen Silver Dollars
Codeine Dream
Kate McCannon
You Look to Yours
Sleeping on the Blacktop
The Devil Wears a Suit and Tie
---
The Devil Makes Three
Never Learn
North Carolina
Bangor Mash
Tow
Black Irish
Worse or Better
A Moment's Rest
Hand Back Down
This Life
Gracefully Facedown
Do Wrong Right
For Good Again
Help Yourself
---
Pete Bernhard
Mint Condition
Straight Line
Sugar Cane
Warning
Satisfied
Left Behind
Carpenter
Fix it Up
---
Foster the People
Helena Beat
Call It What You Want
Houdini
Broken Jaw
Waste
Best Friend
Don't Stop
I Would Do Anything for You
---
Glass Animals
Gooey
Hazey
Toes
Black Mambo
Life Itself
Heat Waves (stripped back)
Tangerine
Agnes
---
The Hill Country Devil
Sweet Daffodil
Glory
Kerr County Dopesick Blues
New Kind of Lonely
Rats Get Fat
Forever Gold
---
Jack Johnson
Banana Pancakes
Better Together
Sitting, Waiting, Wishing
Breakdown
---
Jeremie Albino
Hard Time
Shipwreck
Storm
Klondike Man
---
The Lumineers
Dead Sea
Slow It Down
Stubborn Love
Gloria
My Cell
Salt and the Sea
Sleep on the Floor
Angela
---
Mint 6 Ten
Time Sheet
The Sweet Embrace
Murder I Wrote
Burnt Aventura
'91
Caroline Trace
---
Modest Mouse
Trailer Trash
Shit Luck
Lampshades On Fire
Dramamine
King Rat
3rd Planet
Bukowski
Satin In a Coffin
Ocean Breathes Salty
The World At Large
Bury Me With It
Ice Cream Party
The Sun Hasn't Left
We Are Between
Broke
---
Seahaven
It's Over
End of the World
Understanding
Honeybee
Slow Down
Plague
Thank You
Goodnight
---
Sierra Ferrell
In Dreams
Why'd Ya Do It
Rosemary
Jeremiah
---
Tyler Childers
Lady May
Feathered Indians
Purgatory
Play Me a Hank Song
Shake The Frost
Creeker
House Fire
Ever Lovin' Hand
All Your'n
Coal
---
You Me and Everyone WE Know
Shock and Awe
The Next 20 Minutes
Some Things Don't Wash Out
Carolina Heat
Dirty Laundry
The Press War
Do It Again
---
The White Stripes
Jimmy the Exploder
Dead Leaves and the Dirty Ground
Hotel Yorba
Icky Thumb
The Denial Twist
Blue Orchid
My Doorbell
Hypnotize
The Air Near My Fingers
---
Posessed By Paul James
Take Off Your Mask
When It Breaks
Shoulda' Known Better
Color of My Bloody Nose
Oh To Rhythm
There Will Be Nights When I'm Lonely
Feed The Family
---
Johnny Hobo and The Freight Trains
Love Songs for the Apocolypse
New Mexico Song
Acid Song
Harmony Parking Lot
Whisky Is My Kind of Lullaby
Diy Orgasms
---
Thank you for taking the time to read this; I hope some of you have found something you liked. Unfortunately, not all were mentioned, but I damn near got most of them!
Judging by the music I've shared, what kind of person would you guess I am?