I haven't written a middle of the night post from bed in a very long time. I used to do them often in the first couple years, since wjen I should be sleepibg was one of the times I had free to write. I still tend to write late, but it is 330 in the morning and this is now late for me.
My daughter has been up a couple times in the night and I wanted to let my wife get a decent rest, so I stayed up to tend to her, as I am a heavy sleeper once out and my daughter would wake up my wife. She has been sleeping well for awhile mostly, so this is an unusual night and even more so, as she woke crying. Probably having dreams about the amusement park we visited. Boring dreams.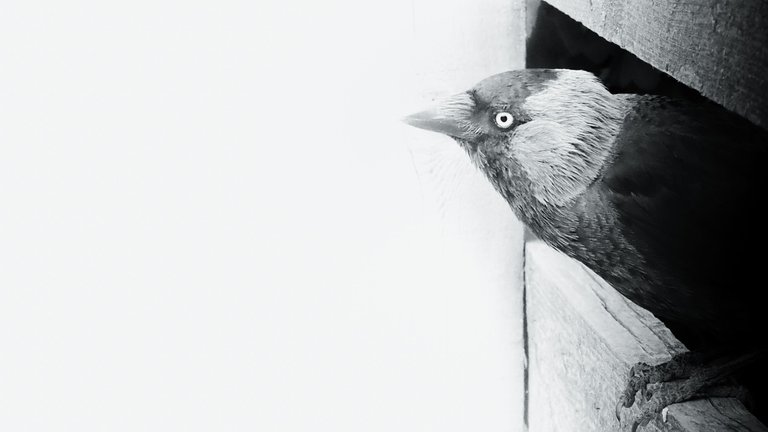 I took this photo of a young magpie poking through a wooden fence today and edited it a bit to be more interesting. It kind of looks like a pencil drawing now but it is better than it was and is now useful for something. The original was just really lame and and flat, with nothing of note to draw the eye.
I feel I am not going to last long writing this post.
But, I guess I can't really be faulted for too many short posts. This one is probably already longer than many that get committed to the blockchain. It is something I sometimes wonder about for in the future, where we will be able to look back on the immutable Hive Blockchain like a time capsule and ask ourselves often,
"Why would anyone want to save this forever?"
Humans are collectors though and even when we were hunter gatherer nomads, we would find useless things to carry with us, like shells and beads. Perhaps it is part of what drives our problem solving skills, as we have to balance what we can carry with our mobility. Carry too much and we lose the potential to move fast. Carry too little and we lose the ability to meet our needs.
Once we settled down though, we were able to open the storage and carry far more, since we no longer had to relocate often. Now, while we consume at the greatest rate the earth had seen, so much of our baggage is mental and emotional.
This is something else I have been thinking of lately, as I am not and cannot ever be completely sure of am that I lost in the stroke, meaning I can never know if I recover.
Though, wouldn't it be awesome if it had killed all the parts of my brain that hold me back from being the best version of myself? The unnecessary fears, the useless feelings of the past, the grudges, bitterness or behaviors, bad habits... There are many more things of course... I wonder how much of my brain would be left.
The best version of ourselves is what we are daily, but this is based on the conditions we have in the moment. Change the conditions and the results shift too.
Imagine having a perfect day where every decision made would be the ultimate decision that could be made, every movement the best movement, every thought immaculate. What would be the gap between this and the average day where we are affected by our dna and upbringing, experience and memories? I am guessing the gap would be large.
What would the outcome be of a perfect week or year?
Perfection is impossible though and even if it was possible, it would mean that there is no room for growth and innovation. What would be the perfect color? The perfect conditions?
Waiting for perfect, means waiting forever in eternal dissatisfaction. It is ko way to live.
Life is imperfect. May as well do our best with what we have available. Even if that is almost literally, a half-brained idea.
Taraz
[ Gen1: Hive ]