Hello Everybody
For about 20 years I have not painted and this is my first picture, not bad for completely out of practice.
Painting gives me a balance in the otherwise difficult world. I paint only on legal walls. It's just the best hobby there is, because you can express yourself freely, no one dictates you something. Sure the graffiti scene knows its conventions, but they can always be broken. Interesting is that people do not understand the writings and only find the colors beautiful. But I'm sure they have abstract images at home that depict nothing except shapes and colors. Here the letters are very concrete, even if coded and often only readable by other writers.
I would like to live from graffiti, yes why not, from it a drawing style can be developed, which can also bring benefit to others. In any case, this is a start here on Hive. Thanks for your support. Glad to exchange with you.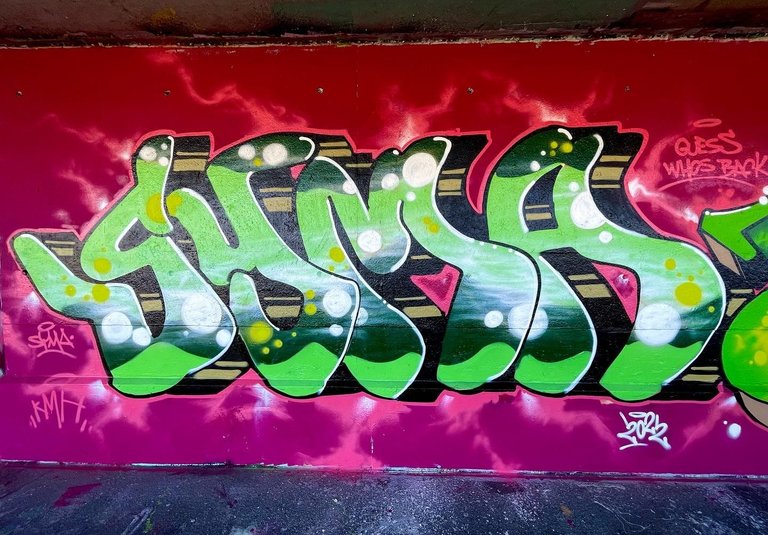 eit ca 20 Jahre habe ich nicht mehr gemalt und dies ist mein erstes Bild, gar nicht mal so schlecht für völlig ausser Übung.
Das Malen gibt mir einen Ausgleich in der sonst so schwierigen Welt. Ich male nur an legalen Wänden. Es ist einfach das beste Hobby das es gibt, da man sich frei ausdrücken kann, niemand schreibt einem etwas vor. Klar die Graffitiszene kennt seine Konventionen, doch die lassen sich immer wieder brechen. Interessant ist, dass die Leute die Schriften nicht verstehen und nur die Farben schön finden. Aber ich bin sicher sie haben abstrakte Bilder zu Hause die gar nichts Abbilden ausser Formen und Farben. Hier sind die Letters sehr konkret, wenn auch kodiert und oft nur für andere Writer lesbar.
Ich würde von Graffiti am liebsten leben, ja warum nicht, daraus lässt sich ein Zeichenstyl entwickeln, der auch anderen nutzen bringen kann. Auf jedenfall ist das hier auf Hive mal ein Anfang. Danke für Eure Unterstützung. Freu mich, mich mit Euch auszutauschen.