So often when it comes to automotive stuff it's the same price to upgrade something as it is to buy the stock part. Sometimes it's even cheaper. Well it looks like it's time for a mirror upgrade on my 2001 Ford Excursion... 7.3 Powerstroke Diesel Of course...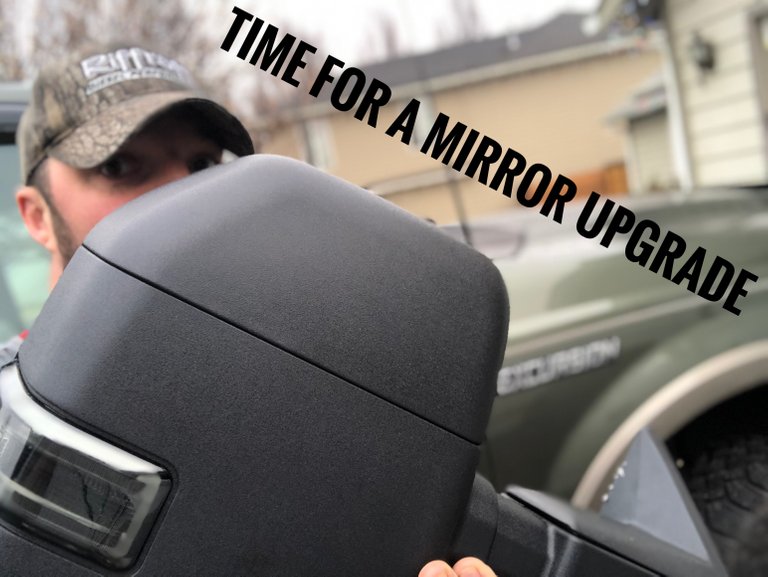 These new mirrors are from a 2017 and up Ford F-250/350. They have a slightly modified base that will fit any Ford F-250/350 from 1999-2008. Including Excursions from 2000-2005. My old mirrors didn't have the blinker/running lights and these ones do. Plus they seem to be a lot bigger. Big mirrors for a big rig! C'mon!!
These bad boys arrived on the door step this morning just in time. Mama-Splatts and I were gonna head out to Tri-Cities and do some Christmas shopping. Just in case we get wild and buy some large items, we can lock them up in the back, rather than just sitting on the back of my F350 flatbed.
After we get a few things taken care of this morning, my Son (@w-splatts) and I will be doing a little DIY project. I am thinking about doing a video on this one. I haven't done a DIY video in a while... or maybe just a write up... naaaahhh it's video time!! Stay tuned for the DIY mirror swap, this should be fun... I hope

Your Random
Dose of...