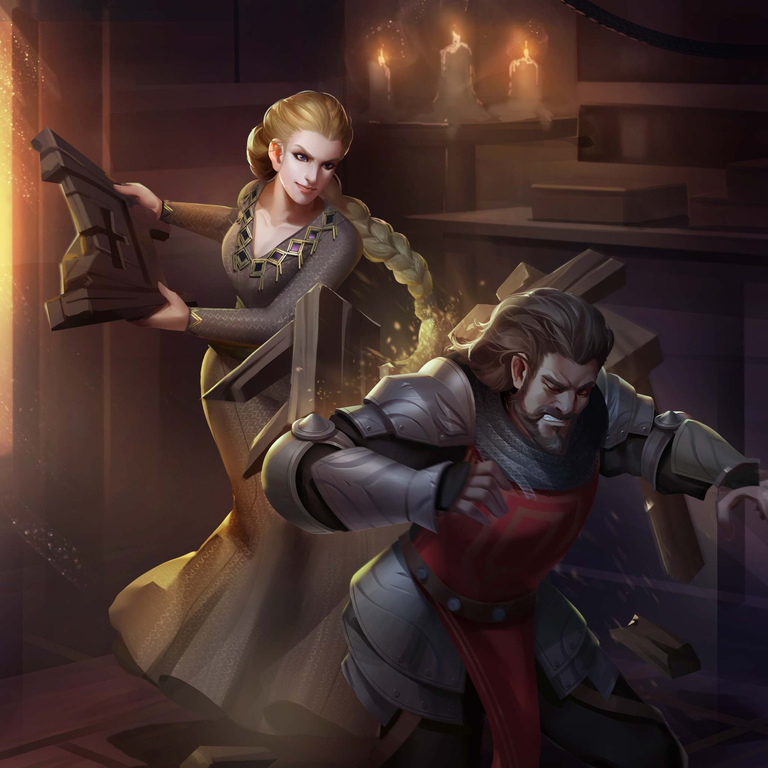 CREDIT: Gods Unchained: Raid Reveller art
Is This Deck Actually F2P?
I recently got a few YouTube comments from people trying to Raid Reveller me. "Hey Copper! This deck isn't F2P, how dare you! I don't own all the cards, therefore I'd have to BUY them. Ergo, this deck is not F2P!"
But what makes a deck qualify as F2P? Are they right in calling my video "clickbait" if I use the term F2P and there are only Core, Welcome Set, and Divine Order cards used? Not even a single legendary in the deck??
In Hearthstone, Legends of Runeterra, Magic The Gathering: Arena, Gwent, and on and on, you don't start out with every card magically unlocked. The same is true for Gods Unchained. The difference is when you buy cards in Gods Unchained, you can later resell them. The same is not true for any of the previously mentioned games.
This means you have some unlocking to do! Both from grinding to get the exact cards you want, but also cards you don't want which you can then sell!

How to Make Money
First let's quickly cover all the ways to make money in this game, because there are a multitude. I've already covered this in another YouTube video, so I suggest you watch that if you haven't. You can do ALL OF THE FOLLOWING without putting a dime into this game.
Weekend Ranked - Earn Core and Divine Order (the current expansion) packs for doing well.
Leveling up daily - Earn Core packs for leveling up; Rare pack every level not divisible by 10, in which case you get an Epic instead, unless it's divisible by 25, in which case you get a legendary pack! (IE. Level 10, 20, 30, 40 you get Epic packs, but level 50 you'd get a Legendary pack instead of an epic. You'd also get Legendary packs at 25, 50, 75, etc)
Blessing of the $GODS - Play 60 games a week, meet some other easy criteria, and get paid in $GODS tokens. This event is scheduled to end in 4 weeks. Thus far the max rewards if you've done it every week is 78.55 GODS tokens. (current GODS price $3.56 = $279 USD worth of GODS).
There are FREE tournaments to enter all the time! My team is even hosting a F2P tournament in a few days! And we'll be hosting plenty more tournaments in the future! These tournaments often have special rules limiting the amount of card sets you are allow to pick from, meaning there is no "pay2win" sets allowed as an excuse to not be playing in these events!

How to Turn Those Earnings into Cards
So you've earned a bunch of cards and $GODS tokens! You can now take your Core cards and $GODS tokens and use the Forge to mint new NFTs to sell and then buy the cards you are missing.
You can now take your Divine Order cards that you don't need and list them on the market to use that money to buy the cards you are missing. If you want to list in IMX-ETH, you can do so on TokenTrove.com. (It is far more user friendly than the official marketplace, however it currently only allows trading in IMX-ETH, and not in IMX-ETH/GODS/IMX.)
You can now take those GODS tokens and buy the cards you are missing directly from the official marketplace in $GODS!
Most of the cards I, or anyone else for that matter, list in a "F2P" deck are going to be extremely cheap (generally between $0.03 - $0.25 for Commons and $0.20 - $1.5 for Rares. Epics and Legendaries can certainly cost more ($7 to $50 generally) but the bulk of the decks are going to be made up from commons and rares, with a few epics, and typically 1-2 legendary cards max for f2p decks, with the majority having none whatsoever.)

Other Costly Sets
There are other sets in the game that are out of print and much more scarce. Genesis and Trial of the Gods cards are notably more expensive. Therefore you'll typically not find many of these cards in decks claiming to be F2P. That said, there are plenty of very cheap common and rare cards in both of these sets! Once you get into the Epics and Legendaries, that's where it gets very expensive in these sets.

Summary
As with all things in life, there's no hard and fast rule and exceptions will apply. You'll unlock most of the common and rare Core cards just from playing by level 100, though there will be those one or two cards you just can't seem to unpack. The Welcome Set everyone starts with 100%. And Divine Order you can earn in the weekend ranked event.
Sell cards you don't need, or use GODS to buy the cards you do need!
Thanks for reading, let me know in the comments what you think about F2P and what it should entail!
~Copper
Nothing in this article is Financial Advice. Don't forget you're playing a GAME! Have some fun!
---
Check out Copper's YouTube
Follow on Twitch, Live M/W/Th 6-9 EST
Join Copper's Crypto Cave Discord for P2E info
Follow Copper on Twitter