Come join in on the raffles and giveaways, all going down at 6PM ET!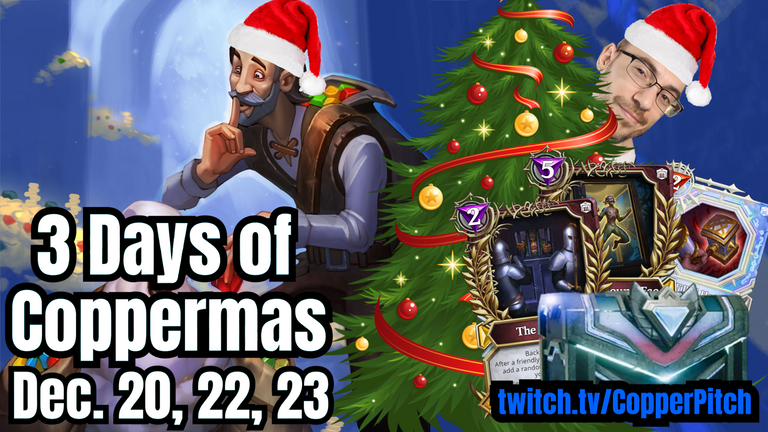 COME FOLLOW HERE AND JOIN THE EVENT, Live M/W/Th 6-9 EST
Today we're giving away either a Rare Trial of the Gods Chest, a Diamond Rage-Filled Hammer, or an ENTIRE Guild Order deck with multiple Legendary cards in it! We will leave it up to the Gods as to which one we give away each day!
We'll be hanging out, playing 1v1s for the first part of today (I've got a super special meme deck in store for you!), and then grinding out some Blessing of the $GODS and doing raffles!
Plus there's a couple new emotes just for the event this week!




---
Chat commands
$wa (your wax address) This will link your Wax address to the bot for high-fives, wax airdrops to chat, and free NFTs! (EX. $wa 4dnaw.wam)

!gift = For this week only!

50% chance to get a lump of coal
45% chance to rain 0.1 Wax on the chat
5% chance to rain 1 Wax on the chat
!stakepoints = Hang out, earn some loyalty points over time, and then stake them to earn CopperPitch NFTs

!high-five = 25% chance to catch a high-five from the CopperPitchBot and earn some free Wax cryptocurrency. (plus a 5% chance to catch a bonus high-five worth more depending on how many Stakes you have!)
~Copper
---
Check out Copper's YouTube
Follow on Twitch, Live M/W/Th 6-9 EST
Join Copper's Crypto Cave Discord for P2E info
Follow Copper on Twitter