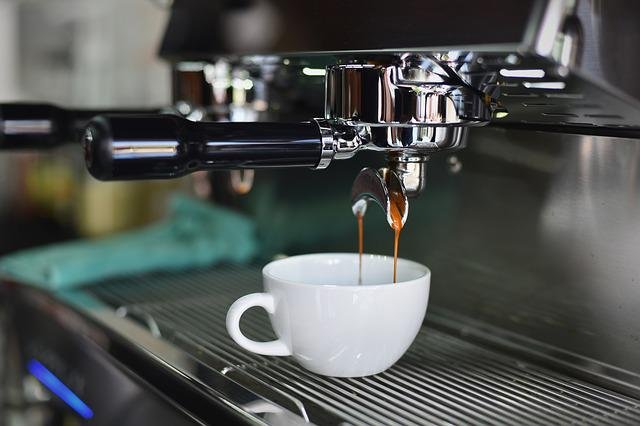 Image by StockSnap from Pixabay

This is my entry for The Ink Well Prompt #72: Guide

In spite of being a very peaceful and pleasant place, silence reigned when the barista called a person by name, the tension was so great that it was possible to cut the atmosphere of collective anguish with a knife.
It could be said that the Celestial Coffee Shop was very famous not only for its pristine and minimalist decoration but also for its 10,000 ways of serving coffee, as well as various foods: fruit juices, soft drinks, sandwiches, breads, cookies, among others.
So, the barista took the container of steaming, frothy coffee, and before putting the lid on, he glanced at the name scrawled on the cardboard; cleared his throat and pronounced loud and clear: "Tomas Keen."
Some gasped, even those who pretended to read the paper. The gazes of the diners narrowed, and after a breath of relief, they looked for the lucky-or should I say unlucky-who had risen from his table as soon as he had heard his name.
The man rubbed the sweat from his forehead and then scrunched his palms over his pants frantically; he walked slowly but determinedly, shook out the long sleeves of his shirt and it was then that I realized that we were all dressed similarly: white shirt and pants, even the women.
I was not alone, the table was shared with three other people, two of them relaxed their shoulders when they realized that they had not been called; however, the third one was enjoying a melody that only she could hear as she was wearing those trendy little wireless headphones that matched the theme of the establishment, unconcerned about what was going on around her.
It was a spacious and extremely neat establishment, white tables everywhere and an amazing natural scenery, a totally green hill stretched across the glass walls of the premises. Not everyone was reading a newspaper or a magazine, some were playing with their cell phones, while others were using their laptops.
The peculiar thing about the place was that although there were no unoccupied tables, no one was drinking coffee. Everyone was chatting casually, or so it seemed.
Try as I might, I couldn't remember how the hell I had gotten to this coffee shop. I wracked my brain trying to remember the last thing I had done, but my mind was still blank.
"Don't stress," the girl commented without opening her eyes.
"Excuse me?", I replied.
She fiddled, bored, with a pen between her index and middle fingers, swinging it back and forth quickly and without giving me time to ask her who she was, she barely brushed her finger against the back of my hand.
I thought it was a bit bold of her, but suddenly, a cluster of thoughts welled up like a fountain of water in my mind: I was walking down a street, looking distracted answering a text message on my smartphone when suddenly a car crashed into me while I was trying to cross the road.
My heart raced and I started hyperventilating. Was I dead?
"Calm down," commented the girl in the most calm manner, "it's not the end of the world."
"What's done is done, the good stuff is just beginning..." she paused and added "or the bad stuff."
My face must have been a sight for sore eyes for her
"Relax!" she said with a smile, "No one is judged until you are called" she mentioned pointing her gaze towards the counter.
Now I understood what was going on.
"All these people...?"
"Uh-huh," the girl replied.
Then it dawned on me that she wasn't wearing the same uniform as everyone else, she was wearing a red scarf and had on a white skirt. Somehow I had missed it.
"And I'm going to spend all eternity in hell because of a barista's decision?", I protested.
"Or in heaven," she completed as she took a cookie from the bowl in the center of the table.
I furrowed my brow. There had to be something I could do, someone to complain to, no one could decide my fate.
"Bingo!" the girl retorted. "The only one responsible for your life has been you and always will be you."
"That's not fair," I protested, "I couldn't control everything in my life."
"Are you seriously going to blame the driver of the vehicle?"
Her glare glared at me and she announced in a thick voice:
"Then you will spend the rest of eternity being cooked in a large kettle of boiling oil."
My legs trembled at the girl's words.
Immediately, she burst into laughter. After a couple of minutes that seemed like an eternity, she wiped a few small tears from the corners of her eyes.
"I think you've gone whiter than your clothes. Forgive me, I couldn't help it. It's hilarious the religious conception you all bring from your experiences in life."
My guide, since I had no other way to call her, sat up straight and again gave me a look, this time more benevolent.
"There is no place called heaven, or hell. Everyone has the opportunity to correct what they did in their life, obviously it's better to do it in life so you don't go through this place again and so your existence during that space/time has some value. When they call your name, you will go to a counselor who will help you choose a new life or lives that will allow you to correct the mistakes you have made."
She held my head in her hands as she held her gaze on my eyes and decreed word for word:
"You are not going anywhere to fry for beings with horns and pitchforks."
I was speechless for a second processing what she was saying.
"So, all this theatrics and angst?", I objected.
"It's just an illusion," she replied with a shrug.
I stood there thinking for a moment, my gaze was lost in the bowl of cookies in front of me perhaps much longer than I thought it would be.
When I came to, I was sitting on a bench, in front of a not very tall but quite large building, there were some people standing in front of the entrance. Next to me was my guide with a smile from ear to ear.
"Congratulations, now you can continue your apprenticeship; this is as far as I go."
I was going to protest, but for some reason I felt I couldn't let my guide down.
"Try to do better next time," she whispered, and she dismissed herself with a pat on my back.

See you next time...

Esta es mi entrada para The Ink Well Fiction Prompt #72: Guía

A pesar ser un lugar muy apacible y agradable, reinaba el silencio cuando el barista llamaba por su nombre a una persona, era tanta la tensión que era posible cortar la atmósfera de angustia colectiva con un cuchillo.
Podría decirse que la Cafetería Celestial era muy famosa no solo por su decoración nívea y minimalista sino también por sus 10 mil formas de servir café, además de diversos alimentos: jugos de frutas, gaseosas, bocadillos, panes, galletas, entre otros.
Así pues, el barista tomó el envase de café humeante y espumoso, y antes de colocar la tapa, le echó un vistazo al nombre garabateado sobre el cartón; aclaró su garganta y pronunció fuerte y claro: "Tomas Keen"
Algunos dieron un respingo, incluso los que disimulaban leer el periódico. Las miradas de los comensales se entrechocaron y tras un respiro de alivio, buscaron al afortunado o ¿debería decir desafortunado? que se había levantado de su mesa tan pronto había escuchado su nombre.
El hombre restregó el sudor de su frente y luego estrujó sus palmas sobre sus pantalones frenéticamente; caminó lento pero decidido, sacudió las mangas largas de su camisa y fue entonces cuando me dí cuenta que todos vestíamos de manera similar: camisa y pantalón blanco, incluso las mujeres.
No me encontraba solo, la mesa la compartía junto a otras tres personas, dos de ellos relajaron sus hombros al darse cuenta que no habían sido llamados; sin embargo, la tercera disfrutaba de una melodía que solo ella podía escuchar pues usaba esos pequeños auriculares inalámbricos de moda que combinaban con el tema del establecimiento, despreocupada de lo que sucedía a su alrededor.
Era un establecimiento amplio y extremadamente pulcro, mesas blancas por doquier y un asombroso paisaje natural, una colina totalmente verde se extendía a través de las paredes de vidrio del local. No todos leían un periódico o una revista, unos jugaban con sus teléfonos móviles, mientras otros usaban sus portátiles.
Lo peculiar del lugar era que aunque no había mesas desocupadas, nadie estaba tomando café. Todos charlaban despreocupadamente, o eso parecía.
Por más que trataba, no podía recordar cómo demonios había llegado hasta esta cafetería. Exprimí mi cerebro tratando de recordar lo último que había hecho, pero mi mente seguía en blanco.
"No te estreses", comentó la chica sin abrir sus ojos.
"¿Perdón?", respondí
Jugueteaba, aburrida, con un bolígrafo entre su dedos índice y medio, balanceándolo de un lado al otro rápidamente y sin darme tiempo de preguntarle quién era, apenas rozó con su dedo el dorso de mi mano.
Me pareció algo atrevido de su parte, pero de pronto, un cúmulo de pensamientos brotó como una fuente de agua en mi mente: caminaba por una calle, me veía distraído respondiendo un mensaje de texto en mi smartphone cuando de pronto un auto chocó contra mí cuando intentaba cruzar la vía.
Mi corazón se aceleró y comencé a hiperventilar. ¿Acaso estaba muerto?
"Tranquilo," comentó la chica de lo más tranquila, "no es el fin del mundo"
"Lo hecho, hecho está, apenas comienza lo bueno…", hizo una pausa y agregó "o lo malo"
Mi cara debió ser un espectáculo para ella
"¡Relájate!" dijo con una sonrisa, "Nadie es juzgado hasta que te llaman", mencionó señalando con su mirada hacia el mostrador.
Ahora entendía lo que estaba sucediendo.
"¿Todas estas personas…?"
"Ajá", respondió la chica
Entonces caí en cuenta que ella no llevaba el mismo uniforme que todos, usaba una bufanda roja y tenía una falda blanca. De alguna forma lo había pasado desapercibido.
"¿Y pasaré toda la eternidad en el infierno por la decisión de un barista?", protesté
"O en el cielo", completó ella mientras tomaba una galleta del bol que estaba en el centro de la mesa.
Arrugué el ceño. Debía haber algo que pudiera hacer, alguien con quien quejarme, nadie podía decidir mi destino.
"¡Bingo!", replicó la chica. "El único responsable de tu vida has sido tú y siempre serás tú"
"No es justo", protesté, "no todo lo pude controlar en mi vida"
"¿En serio le vas a echar la culpa al conductor del vehículo?"
Su mirada me fulminó y anunció con voz gruesa:
"Entonces pasarás el resto de la eternidad siendo cocinado en una gran paila de aceite hirviente"
Mis piernas temblaron ante las palabras de la chica.
De inmediato, rompió en una carcajada. Después de un par de minutos que parecieron una eternidad, borró unas pequeñas lágrimas de las comisuras de sus ojos.
"Creo que te has puesto más blanco que tu ropa. Perdonadme, no pude evitarlo. Es hilarante la concepción religiosa que todos ustedes traen de sus experiencias en vida"
Mi guía, ya que no tenía otra forma de llamarla, se sentó derecha y de nuevo me echó una mirada, esta vez más benevolente.
"No existe ningún lugar llamado cielo, ni infierno. Todos tienen la oportunidad de corregir lo que hicieron en su vida, obviamente es mejor hacerlo en vida para que no pases por este lugar nuevamente y así tu existencia durante ese espacio/tiempo tenga algo de valor. Cuando digan tu nombre, irás con un consejero quien te ayudará a elegir una nueva vida o vidas que te permitirán corregir los errores que hayas cometido"
Sujetó mi cabeza entre sus manos mientras sostenía su mirada en mis ojos y decretó palabra por palabra:
"No vas a ir a ningún lugar a freírte por seres con cachos y tridentes"
Me quedé mudo por un segundo procesando lo que decía
"Entonces, ¿todo este teatro y angustia?", objeté
"Es sólo una ilusión", respondió ella encogiéndose de hombros.
Me quedé pensando por un momento, mi mirada estaba perdida en el bol de galletas que tenía enfrente quizás mucho más tiempo de lo que creí.
Cuando volví en mí, estaba sentado en un banco, frente a un edificio no muy alto pero sí bastante amplio, había unas personas de pie frente a la entrada. A mi lado estaba mi guía con una sonrisa de oreja a oreja.
"Felicidades, ahora puedes continuar con tu aprendizaje; hasta aquí llego yo."
Iba a protestar, pero por alguna razón sentía que no podía defraudar a mi guía.
"Trata de hacerlo mejor la próxima vez," susurró y se despidió con una palmada en mi espalda.

Hasta la próxima.