The King's Cross station in north London is the main train station for journeys from London to the north east of England and Scotland. The actual station itself was opened in 1852 and if you look carefully you can still see parts of the old buildings. About 10 years ago the inside of the station was modernised and a new roof was installed. It's a stunning piece of work and is described as a reverse waterfall where water gushes up from the ground and spreads outwards above you. It's a mesmerising view, so much that I spent so long having my coffee on the terrace looking at it, I nearly missed my train to Edinburgh!!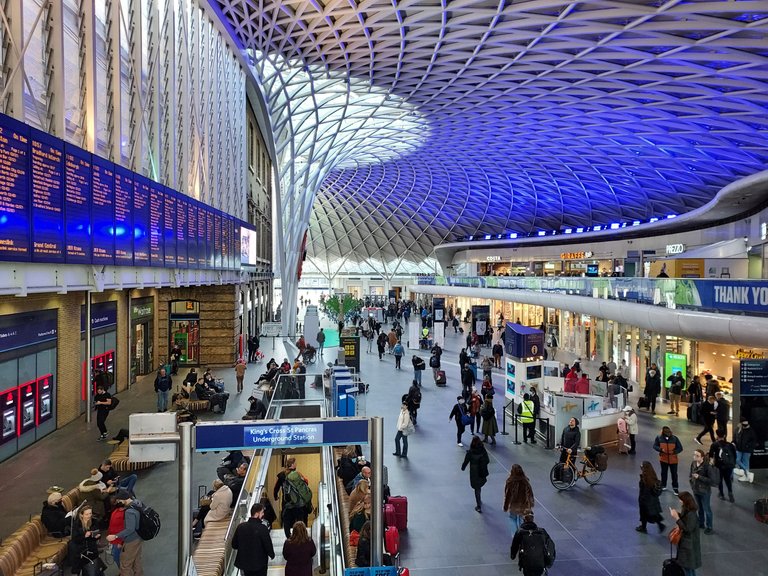 It was the beginning of November when I was here, and November is always a poignant time for many countries due to Remembrance Day. Every year we wear poppies to remember those who died in the war. Poppies can be found all around the country in different forms and there was one single massive poppy in the center of the station concourse. A dash of red attached to the white structure. Almost like a drop of blood on a piece of white paper to remind people of the past. A subtle but vocal message.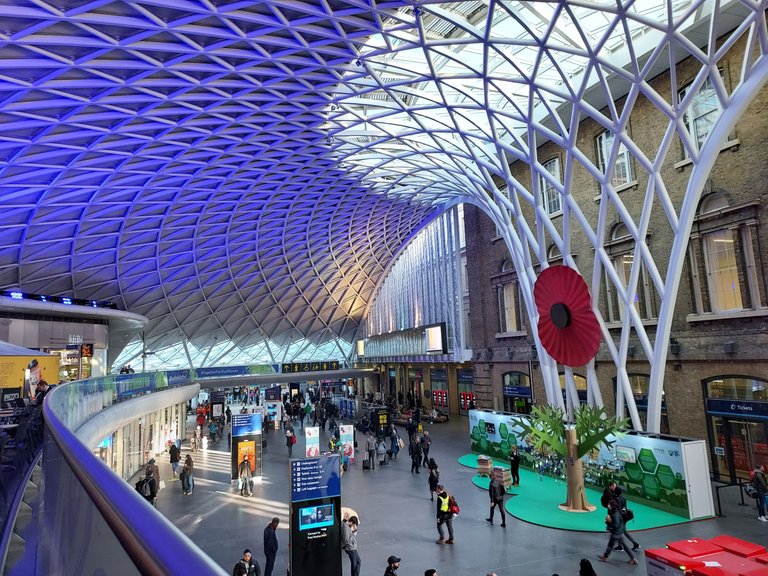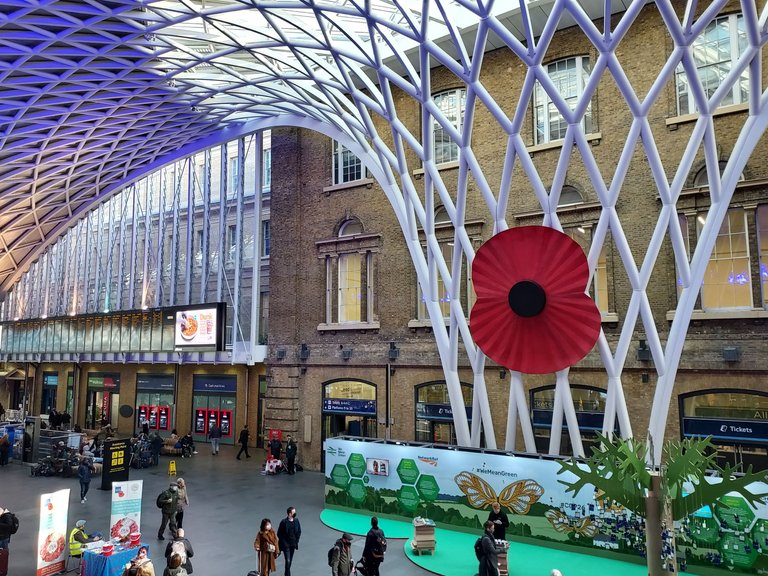 ---
COP26
In November 202, UK hosted the COP26, the UN climate change conference. It was held in Glasgow in Scotland. Since many attendees probably fly into London they would have to catch the train up north from King's Cross. There were massive banners all around the station as it was a major global event.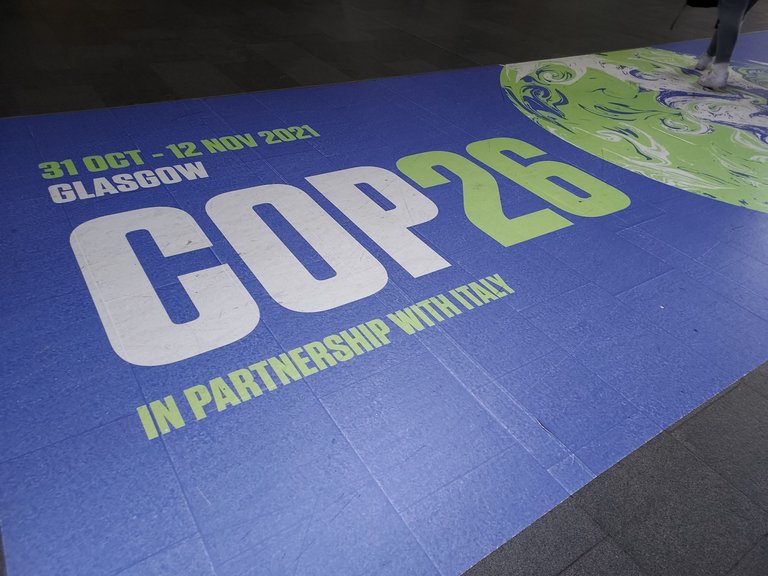 When we arrived at Edinburgh Station, there was a massive gathering point for COP26. Edinburgh and Glasgow is about 75 km apart and it seems some attendees were staying at Edinburgh and commuting over to Glasgow. To be honest, it's a bit ironic that a climate change conference generates so much carbon footprint...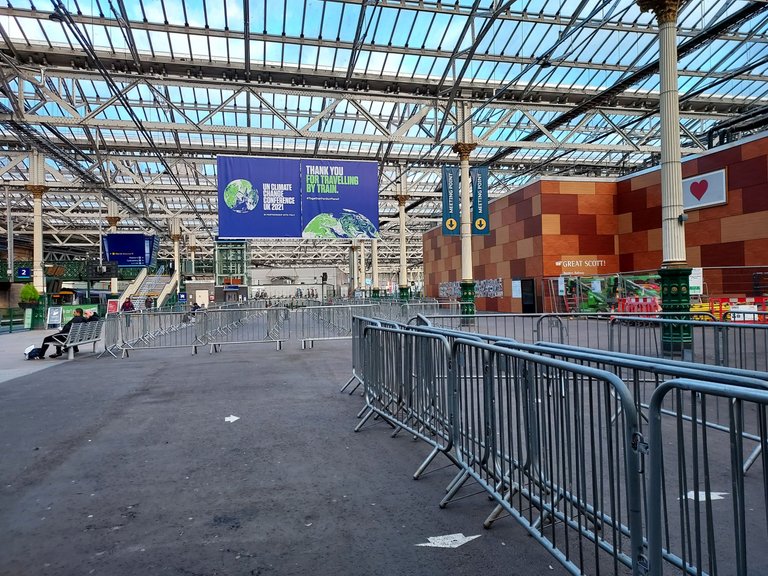 ---
Platform Nine and Three Quarters
King's Cross station is probably most famous for one thing, and there's a special reason why I took a photo of just these two platforms. Harry Potter fans will know why. Platform Nine and Three Quarters is where students from the Hogwarts School of Witchcraft and Wizardry go to catch the Hogwarts Express. I wonder if many real passengers who catch a train on platform 9 or 10 will try to look for platform 9 3/4?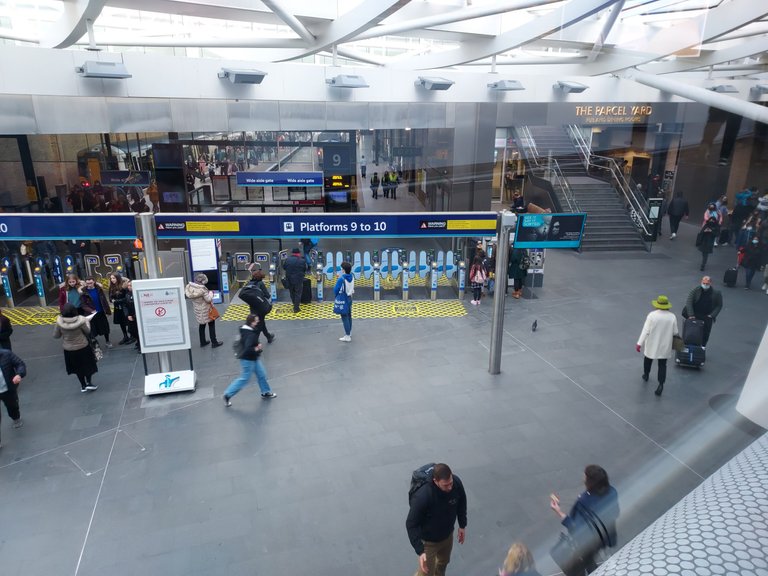 For real HP fans, you can see the wall which Hogwarts students dash through to get to the platform. It is located by the Harry Potter shop which is conveniently located by the real platforms 9 and 10. I was going to take a photo of it, but there was a constant flow of people. I decided to go and get a coffee first and come back later for the photo, but then I ran out of time because I had to catch my train. Sorry to disappoint you guys and girls if you're a HP fan.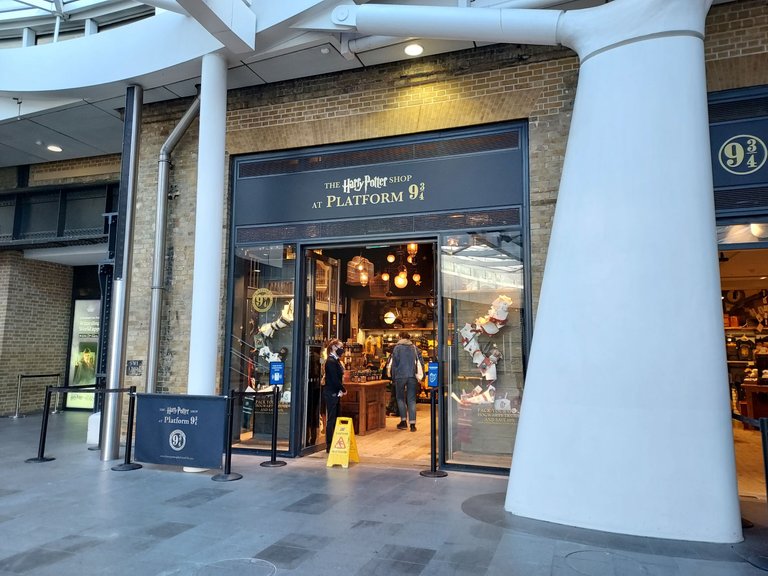 ---
Time to catch my train
The purpose of my visit to King's Cross was to head up to Edinburgh, the capital of Scotland. I've posted about that before and if you're interested to find out more about Edinburgh you can check out this post of Edinburgh day and night and this post about a very picturesque village called Dean Village.
I'll show you what the platform looks like here. I love the blend of the airy ceiling and the beautiful arches supporting them. It's like I'm gong across some viaducts even before the train has left the station here.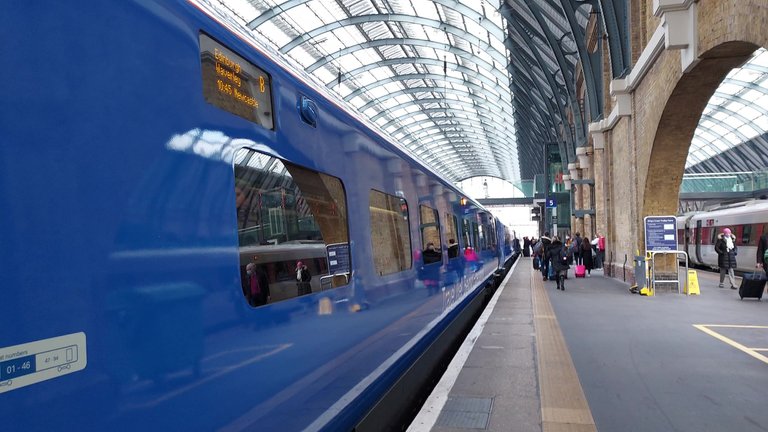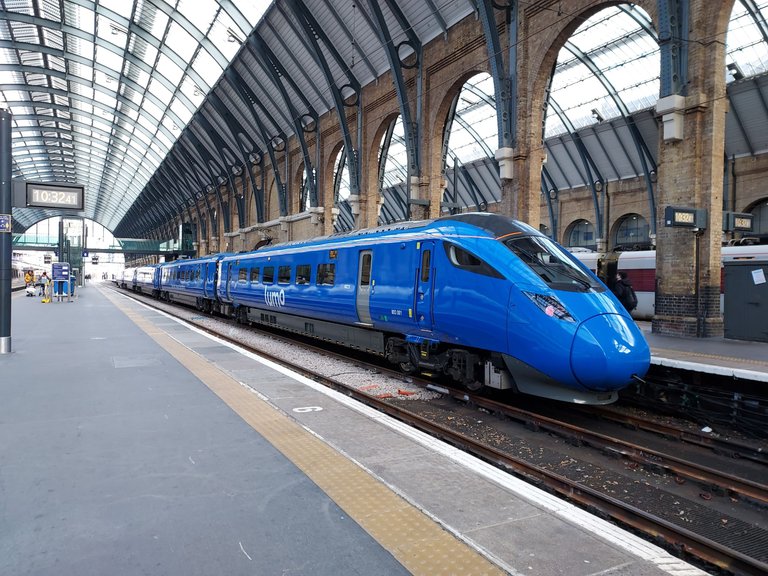 Four and a bit hours later, I arrived at Edinburgh Waverley Station. The station is in the center of the city and is a lot more impressive than it looks from this single entrance. Pity my 48 hour visit to Edinburgh didn't give me enough time to explore the station.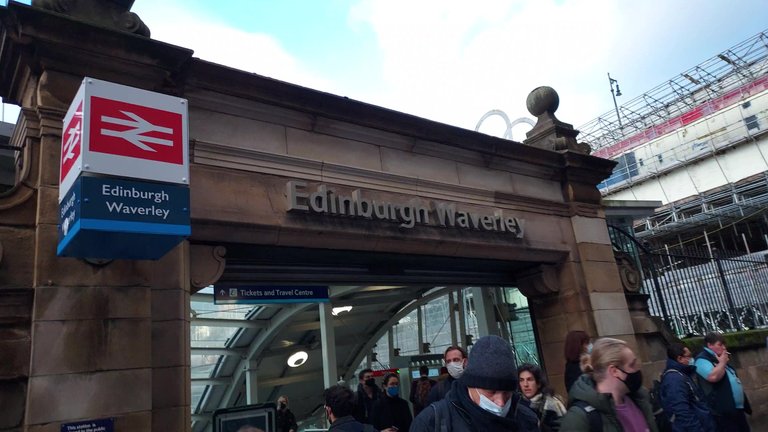 Luckily I managed to take this photo in the waiting room when I was waiting for my train to return to London. Now you know what I mean when I say impressive?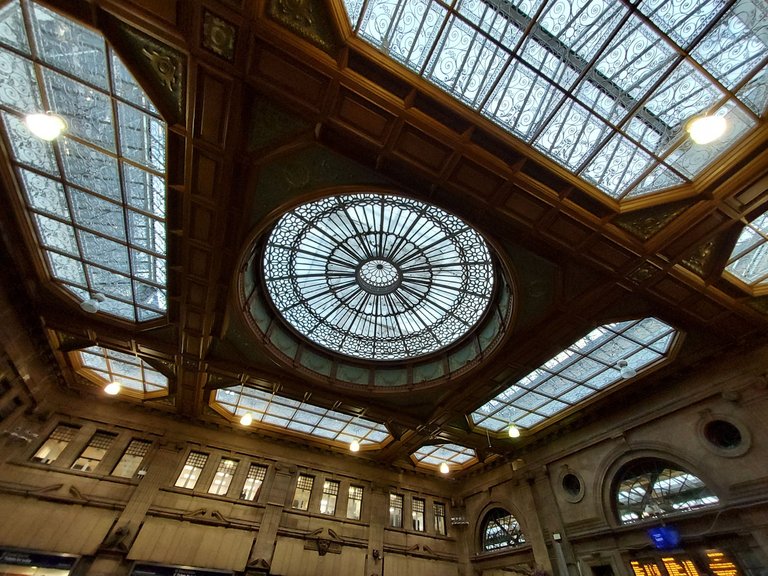 ---
I started a Train Spotting Community recently for all things related to trains. Would love it if you can subscribe https://peakd.com/c/hive-170068/created and maybe show us what trains in your countries look like or share any train related content.
---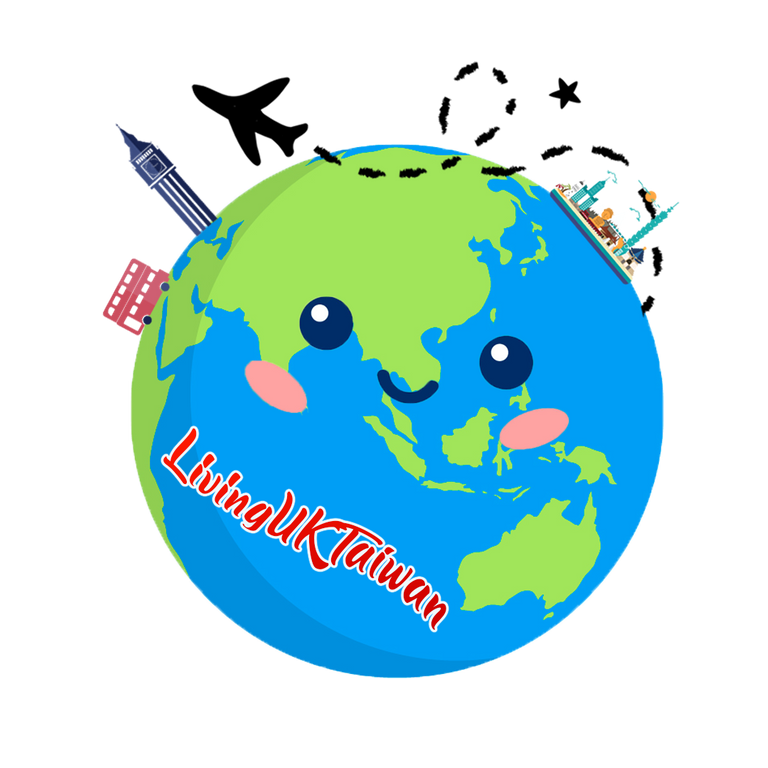 You can checkout all my travel post on the Pinmapple here or click on Mr Pinmapple below