13th November 2022
It was four months ago since we last hiked a mountain. When summer arrived, we decided to stop hiking because it was too hot, especially on top of the mountains, which is prone to heat stroke. Now that autumn has arrived, I long to return to the trails, but my travel companion and other friends are always working, even on holidays. This left me with no choice but to wander by myself, wishing that one day I could return to hiking.
This morning, I was holding a marker and pondering what to make for the ongoing Weekend Experience Concept. I remembered our last hike on Kam Sui Shek Teng, I saw a beach at the bottom of the opposite side of the mountain, and I wished to visit it after that hike. Unfortunately, I couldn't make it until now for some reason.
So I decided to make it a reality this weekend. As you read on, you'll discover how. This is something I really want to do one of these days.
---
I packed my belongings and prepared to return to Sai Kung, where the mountain and beach are located. I was alone, but I was determined to hike again because I missed the trails. Fortunately, there are always hikers on Sundays, so hiking a mountain alone is not dangerous. This time, I'd aim for Sai Wan beach at the mountain's base rather than the peak.
I began my journey in Sai Kung, where I had to take a bus to Sai Wan Village. After half an hour, I arrived at the trailhead and began my journey without hesitation. Alone but not lonely
Seeing myself alone on the trail makes me miss my travel companion. If I had someone to talk to while hiking, it would have been more enjoyable. But this is preferable than be bored in my room all day.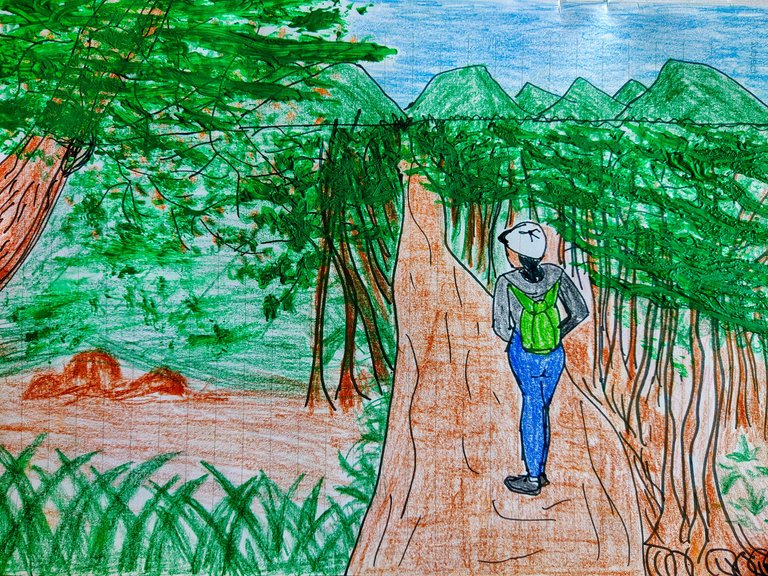 I used a marker here but after randomly drawing it, I found it too ugly and I planned to redraw it. Yet, I became lazy and so I just colored it, added some green paint, and then continued drawing the rest
The trail to the beach begins at an intersection that leads in three directions: to the reservoir on the right, to the waterfalls on the left, and Sai Wan beach in the straight direction, which takes another half hour or so to reach the bottom of the mountain.
I can see the beach at the bottom from the top of the hill. The more I look at it, the more excited I get. I've planned some activities for myself at the beach, including some *"me time." I didn't bring any gadgets or online interactions, but I did bring some books to read and entertain myself.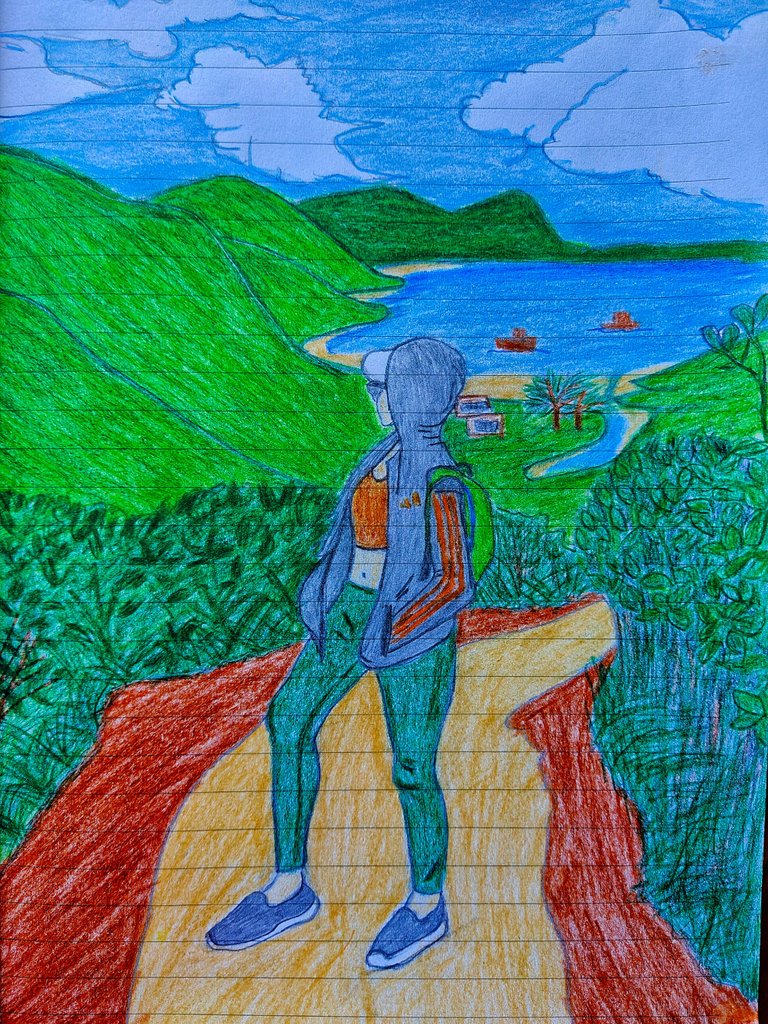 I used a pencil this time so I could make my drawing better
I walk on while listening to music on my phone. On occasion, I would pause to photograph the scenic view. Every shot reminded me of my friend, who is an expert photographer. Hiking alone isn't boring because the scenic views make me feel like I'm not alone and that I'm at home. I adore nature and long to be immersed in it.
To get to the beach faster, I jog down the sloping trail to the bottom of the mountain. It's a secluded beach and a hidden paradise that few people know about. As a result, a limited number of visitors can enjoy the beach exclusively.
A cool breeze greeted me, as did the soothing sounds of the waves, white grains, and a few visitors going about their business. I laid my mat on the sand and put on my belongings before going to the restroom and changing my clothes. People are respectful and wouldn't care about other people's belongings, so leaving things unattended isn't an issue.
I chose to buy a refreshment from a small store nearby. I pour myself a glass of watermelon juice and gather my books and music for a relaxing weekend.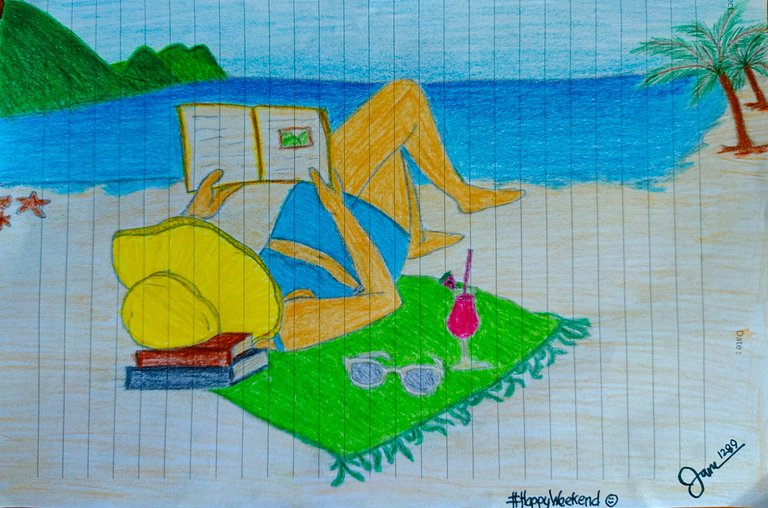 After four months of anticipation, I was finally able to visit this hidden paradise. My day was spent listening to music, reading books, and sunbathing. Later, I chose to soak my body in the water with other Filipina visitors.
Alone, but not lonely. My weekend ended great and I'm looking forward to visiting the waterfalls near the area in my next journey.
---
That concludes my weekend experience. Three art in one day, not bad and I kind've missed it. It's been a while since I draw one. So thanks to @galenkp for adding this concept this time.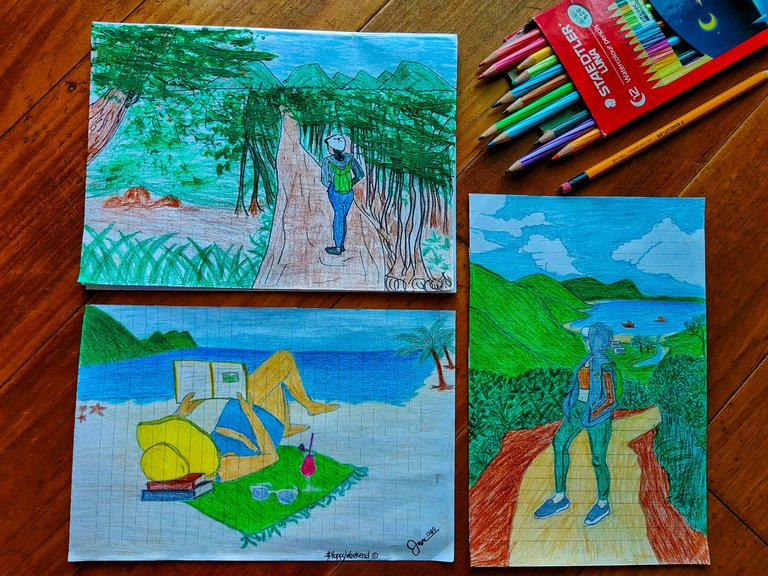 The concept I chose for this Weekend Engagement was: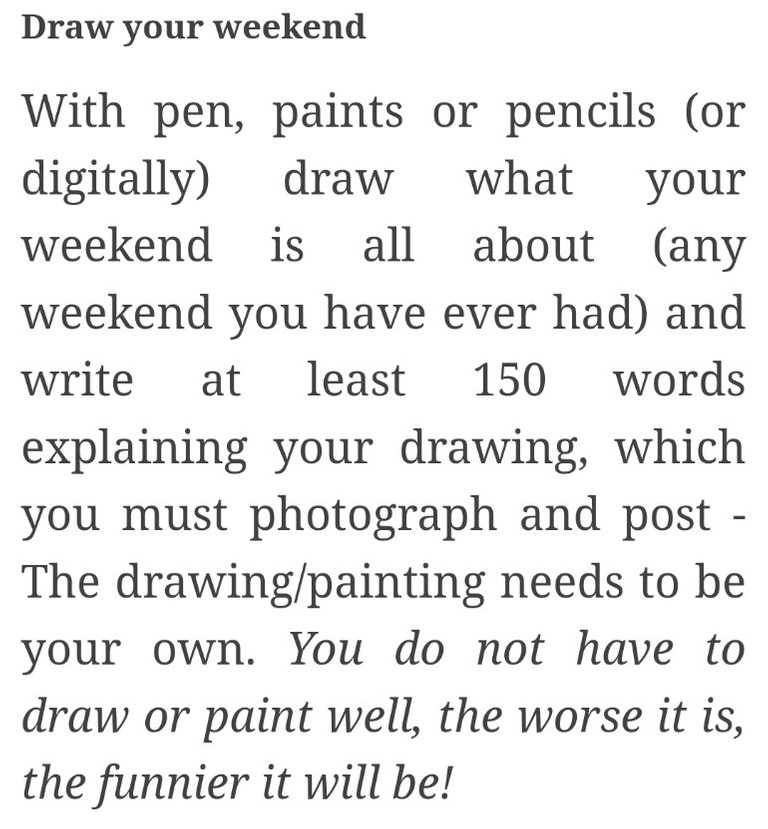 The drawings above were inspired by these two photos taken during our last hike to the said mountain. The lady lying on the sand is just a random one and that's exactly what I want to make someday, to take a break from online grinding.
That's all for today. See you at the next Weekend's Engagement.
Happy weekend 😊.
(All photos are mine)