This publication was also writen in SPANISH and PORTUGUESE.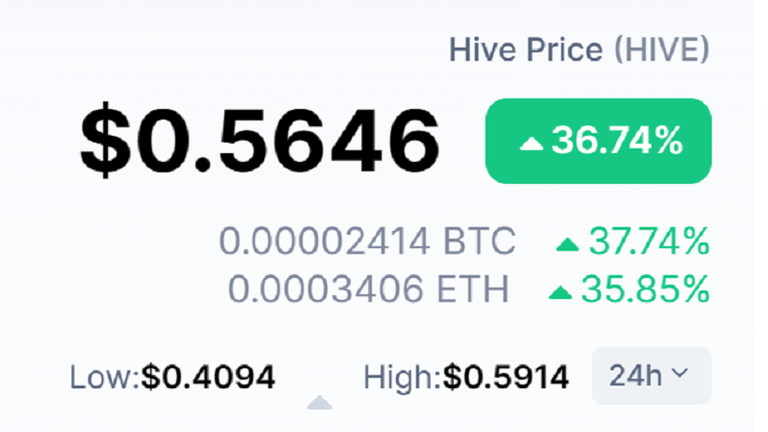 CoinMarketCap
The world of decentralized finance is really a box of surprises and within this great ramification that is the ecosystem on which the Hive space is based, the most unexpected surprises (positive or negative) always arrive when we are not expecting them. A proof of this is its current value, which is above US$ 0.55 and with an increase projected in the next few hours (or who knows days, weeks or months... it doesn't hurt to dream, hahahaha!).
I have no idea what the reasons behind this sudden increase are, but the fact is that these unexpected movements always work as an extra motivation for users (at least for me) to continue believing in the potential of this project. Ups and downs are part of the journey and understanding this as early as possible is essential to avoid possible frustrations. Whether in the short or long term, good and bad times will exist.
Probably this "boost injection" will not be sustained for a long time, because I believe in a less accelerated valuation so that it is more stabilized. However, this does not preclude strategic moves to the loot that some users (for personal reasons) are considering making. I confess I'm pretty excited to see this scenario, but I still believe in much better days, and I don't intend to make any withdrawals for now.
Seeing this appreciation happen heats up the scenario, increases user productivity and creates a positive wave within the system. The bad side is that many people still haven't learned that one of the secrets of growing up here in the ecosystem is to be part of it not only during these more positive moments, but mainly in negative moments. Basically, because it is in times of devaluation that the chances of making a profit are always increased.
---
Hive está volviendo a la cima.
El mundo de las finanzas descentralizadas es realmente una caja de sorpresas y dentro de esa gran ramificación que es el ecosistema en el que se basa el espacio Hive, las sorpresas más inesperadas (positivas o negativas) siempre llegan cuando menos las esperamos. Prueba de ello es su valor actual, que se encuentra por encima de los US$ 0,50 y con un aumento proyectado en las próximas horas (o quién sabe días, semanas o meses… ¡no está de más soñar, jajajaja!).
No tengo idea de cuáles son las razones detrás de este aumento repentino, pero el hecho es que estos movimientos inesperados siempre funcionan como una motivación extra para que los usuarios (al menos para mí) sigan creyendo en el potencial de este proyecto. Los altibajos son parte del viaje y entender esto lo antes posible es fundamental para evitar posibles frustraciones. Ya sea a corto o largo plazo, existirán tiempos buenos y malos.
Probablemente esta "inyección de impulso" no se sostenga por mucho tiempo, porque yo creo en una valoración menos acelerada para que esté más estabilizada. Sin embargo, esto no excluye los movimientos estratégicos del botín que algunos usuarios (por motivos personales) están considerando realizar. Confieso que estoy bastante emocionado de ver este escenario, pero sigo creyendo en días mucho mejores, y no tengo la intención de hacer ningún retiro por ahora.
Ver que sucede esta apreciación calienta el escenario, aumenta la productividad del usuario y crea una ola positiva dentro del sistema. El lado malo es que mucha gente aún no ha aprendido que uno de los secretos de crecer aquí en el ecosistema es ser parte de él no solo en estos momentos más positivos, sino principalmente en los momentos negativos. Básicamente, porque es en tiempos de devaluación cuando las posibilidades de obtener ganancias siempre aumentan.
---
Hive está voltando ao topo.
O mundo das finanças descentralizadas é mesmo uma caixinha de surpresas e dentro dessa grande ramificação que é o ecossistema no qual o espaço da Hive é baseado, as mais inesperadas surpresas (positivas ou negativas) sempre chegam quando nós não estamos esperando. Uma prova disso é o seu valor atual, que está acima dos US$ 0.50 e com uma projeção de aumento nas próximas horas (ou quem sabe dias, semanas ou meses... não custa sonhar, hahahaha!).
Eu não faço a mínima ideia sobre quais são as razões que estão por trás dessa valorização repentina, mas o fato é que esses movimentos inesperados sempre funcionam como uma motivação extra para os usuários (ao menos para mim) continuarem acreditando potencial deste projeto. Altos e baixos fazem parte da jornada e entender isso o mais cedo possível é essencial para evitar possíveis frustrações. Seja no curto no longo prazo, momentos bons e ruins irão existir.
Provavelmente essa "injeção de ânimo" não irá se sustentar por muito tempo, porque eu acredito em uma valorização menos acelerada para que ela seja mais estabilizada. No entanto, isso não inviabiliza movimentos estratégicos para o saque que alguns usuários (por razões pessoais) estejam pensando em fazer. Eu confesso que estou bem animado em ver esse cenário, mas eu ainda acredito em dias bem melhores, e não pretendo fazer nenhuma retirada por enquanto.
Ver essa valorização acontecer aquece o cenário, aumenta a produtividade dos usuários e cria uma onda positiva dentro do sistema. O lado ruim, é que muitas pessoas ainda não aprenderam que um dos segredos de crescer aqui no ecossistema é fazer parte dele não apenas durante esses momentos mais positivos, mas principalmente em momentos negativos. Basicamente, porque é em momentos de desvalorização que as chances de lucrar sempre são aumentadas.