Is Swapping 104.9 HIVE to 583.1 LEO a good deal? I think it is. What do you think?

I just decided to deposit a little above 100 HIVE into hive-engine to beef up my investments in the second layer. The money was meant to be spread across a few tokens I'm presently stacking for curation, dieselpool and other investment options that are available. I usually would have done a 25% spread of the investment sum over 4 assets or so but everything just changed.
I swapped everything to LEO. 104.9 HIVE to 583.1 LEO. Just LEO. But that was a good deal picking that quantity of LEO at $0.192 each. Thanks for the dieselpool that makes it easier in few seconds and it doesn't bother the market price of the token. It was just a 0.25% price impact. Quite little.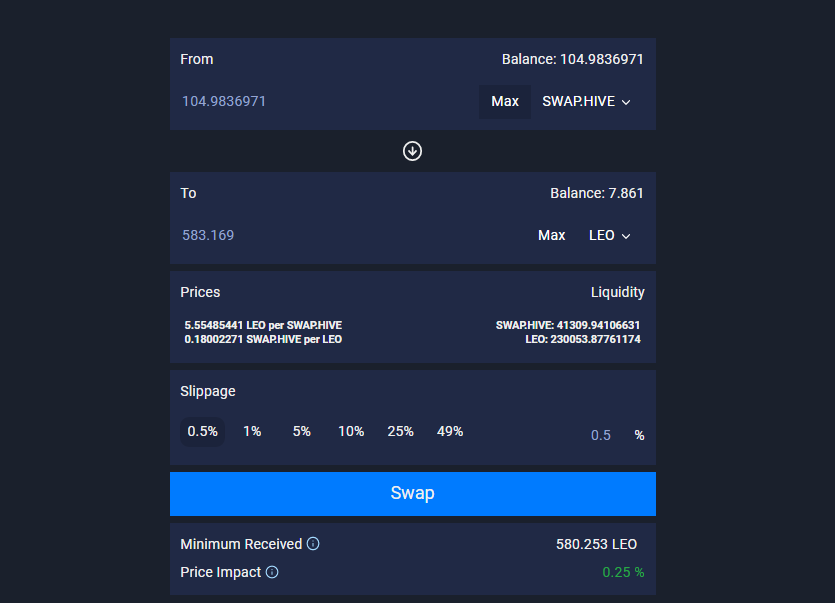 But why I'm I stacking LEO?
I can't really tell why I got so drawn to LEO at this time. My instincts could just be right or I'm I FOMOing? I don't think so. LEO has been my second love after SPORTS. LEO made me rich between Q4 2020 and Q2 2021. I was able to spread my hive holdings with LEO profits. I had earned some good tonnes of LEO at less than 5 Cents and also purchased some good chunks. I was gathering as much as I could until the price reached 20 Cents. Thanks to @Taskmaster4450le and @Dtrade. They were my greatest motivators then and I can't forget in a hurry how helpful they were.
What do I do with these 583 Tokens?
My present LEO liquid balance stands at 583 plus 8 LEO that was earned with some fractions. The balance now stands at 591.. LEO. I'm not expecting some more immediately, especially as I missed creating contents some days last week. However, I wish I can hit the 1k LEO mark in the next few days. But what would I do with the tokens?
Hive blockchain presents us with arrays of investment options and each day they are added. Presently, there are a couple of ways that one can invest LEO tokens. The few I know are:
Stake them to curate LEO contents for 50% curation rewards
Add liquidity to diesel pools. LEO is presently paired with Four hive-engine tokens - SWAP.HIVE, BEE, CENT and ONEUP, three out of which offers LP bonuses. The least goes for 26% APY while its pool with ONEUP gives back over 200% APY.
Convert to bLEO in Binance Smart Chain and farm for CUB and more.
Convert to wLEO in Ethereum Chain and earn decent LP bonuses.
HODL them and take profits when the prices get better.
HODL to qualify for airdrops
That's the few I can readily remember. You can add the ones you know n the comments section. I'm still very indecisive on which to push my 591 LEO in the interim. Have you viewed this AMA report by @khaleelkazi where it was mentioned that LEO could go 1000x and reaching the top 100 market cap in the near term? That may sound impossible but I think I had a taste of it. I gathered LEO at 20 Cents and took profits at $1. That's many months ago. I think the cycle is about to repeat itself.
You will quite find a lot of talks about #ProjectBlank on @taskmaster4450's blog. He's led the band of terrific engagement within the LeoFinance community in preparation for Project Blank. In fact, the very reason the @leomarkettalk account was created. Meanwhile, it serves as a micro-blogging hub where people could come and discuss different topics relating to finance and cryptocurrency. That's just what Peoject Blank would represent and even more. We're anticipating this BIG addition to the LEO ecosystem around Q2 2022. It'll be characterized by an airdrop and that's another awesome reason to HODL some LEO.
This wasn't meant to be long post, but it turned out to be. I hope you caught some insight. It's just a good tme tto buy some LOE as I just did and that cheaper.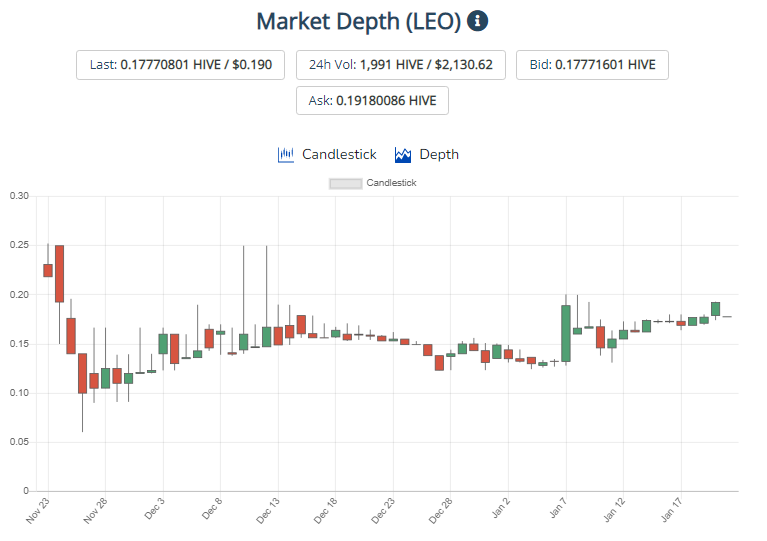 You can draw some insight from the above chart. It looks like the there's a bullish tendency in LEO pricing. You may not have to take me serious but I think my instincts is strong and I'm getting richer in the next few weeks with LEO.

gif by @doze
What is Hive?
Hive is an innovative and forward-looking decentralized blockchain and ecosystem, designed to scale with widespread adoption of the currency and platforms in mind. By combining the lightning-fast processing times and fee-less transactions, Hive is positioned to become one of the leading Web3 blockchains used by people around the world. source
What is Hive-Engine?
Hive-Engine is a smart contract platform on top of the Hive blockchain. It allows communities and businesses to build their own tokens, which are then built on top of the technology provided by Hive. This is the ultimate layer 2 solution. The token created on Hive-Engine is then immediately tradable with Hive on their exchange.
About me...
I am a called teacher, a serial entrepreneur and a Graduate of Agricultural Engineering. Nigeria is my root and a place full of opportunities. I dropped out of a Master's Degree program due to funds, yet I do not regret growing the courage to start my business from the scratch. Today, I've built layers of Businesses on the Hive blockchain in terms of Curation and it's a sustainable passive way of earning crypto while learning.
I am your favourite Hive Tribes Promoter and Curapreneur!
I am @Uyobong.
Let's connect on Twitter
Posted Using LeoFinance Beta