PolyCUB in the Press - LightBlockNews
PolyCUB is now on LightBlockNews courtesy of Yours Truly. Read, share and drop comments here.
---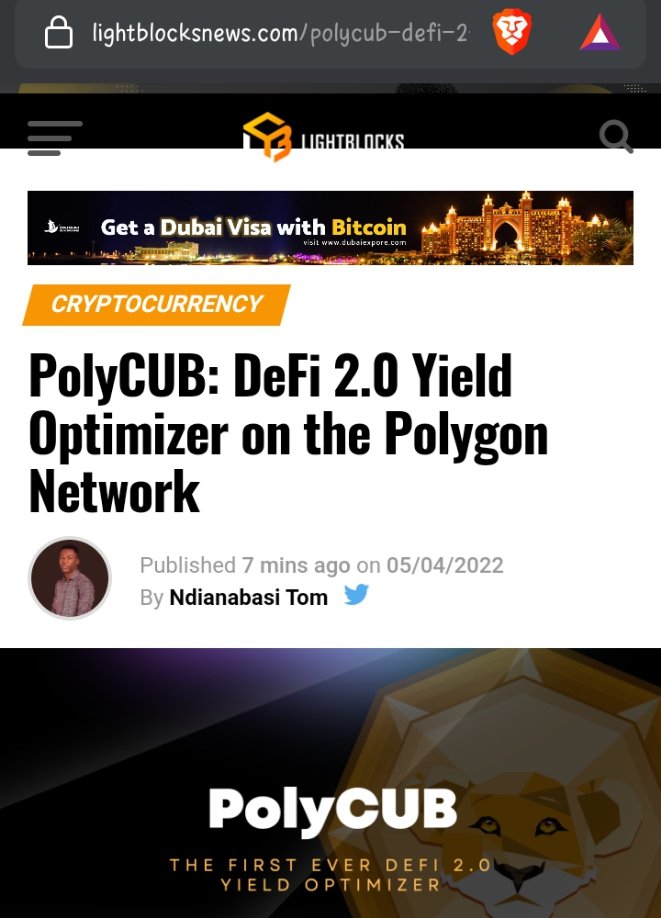 ---
The LeoFinance team has brought a good thing and rare opportunity to us, its primary community members, and the entire crypto community.
Interestingly, the project has received massive adoption in a few weeks. Also, we have seen the team expending so much energy on marketing the product.
Now, marketing PolyCUB isn't the duty of the marketing team alone; it is everyone's responsibility. For this reason, I've made myself an unofficial member of the marketing team (volunteer) and in turn, started my duties🤓. However, I hope to become a bonafide member of the LeoFinance marketing team.
---
On this note, I did a brief overview of PolyCUB (paying close attention to SEO and Readability concepts) on LightBlockNews, where I am a content developer. LightBlocksNews is a long-standing crypto news site with over 10k+ visitors monthly. All things being equal, I look forward to sharing updates on PolyCUB and LeoFinance on the news webpage more often. Also, should LeoFinance be open to a collaboration with this new channel, I can always come in handy.
---
Post Excerpts
As DeFi users and yield farmers keep switching platforms in search of better returns (yields) and safety, PolyCUB announces its arrival with an airdrop campaign.

PolyCUB, which is a yield optimizer platform that provides a safe and easy way for DeFi users to discover yield and earn on the Polygon Network is an extension project of the LeoFinance team. So, you can always trust PolyCUB to be sustainable.

The DeFi project aims at improving tokenomics and mechanics over existing DeFi yield optimizers. More so, it borrows the concepts of the following platforms to make it unique - Sushiswap, Adamant Finance, and Autofarm.

The platform is designed to have a self-sustaining, long-term deflationary native token with the ticker, POLYCUB.

Users can earn the native token by participating in any of the Kingdom vaults or by staking xPOLYCUB.

The sustainability of PolyCUB is built around the following: xPolyCUB Staking, PolyCUB Kingdoms as well as PolyCUB bonding, and Protocol Owned Liquidity (PoL).
---
Read the full article here:
https://lightblocksnews.com/polycub-defi-2-0-yield-optimizer-on-the-polygon-network/
Posted Using LeoFinance Beta