Hive @30 cents is a great time for accumulation
The price of Hive is down 92% since its All Time High. This means that the chances of price going (significantly) up again is much higher than for price to head lower in the mid to long term. Just look at the 52WK range: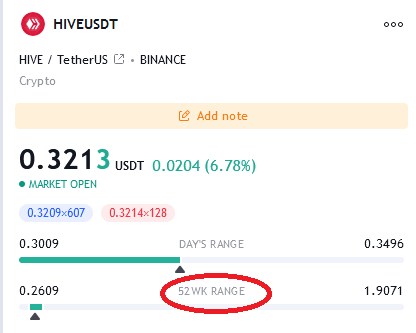 Going back one year gives us a high of $1.9 (which is almost half of the ATH!) and a ATL of 23 cents (which happened just several days ago!). This range is a good representation of how oversold or overbought a buying entry is. It is now basically at the bottom of this range which once again means that chances for price heading higher is very likely if you decide to invest in Hive and not trade it.
You now have a chance (not financial advice!) to buy a stake in Hive that will probably be much more valuable in the future (1-2 years) at a great discount. Only $1500 will buy you a dolphin status worth of 5000 Hive. And you will be able to earn passively 3% for staking it as Hive Power as well as another 8% for upvoting content. This is an easy ~11% APR or 550 Hive per year.
Will Hive go back to $1? I would say definitely, the question is just whether it is going to take 6 months or 2 years. If you share this outlook you can now start to value Hive as $1 which means that when you earn even 0.5 Hive on your post it will eventually be 50 cents. This can be a good motivator for posting when most get discouraged from a low price.
Overall it is also great for the chain the more dolphins and orcas it gets as the wales will not be so dominant. This means proposals will be more likely to pass without big votes, but it all means that its foundation is getting stronger and more resilient.
Last time I shared this chart: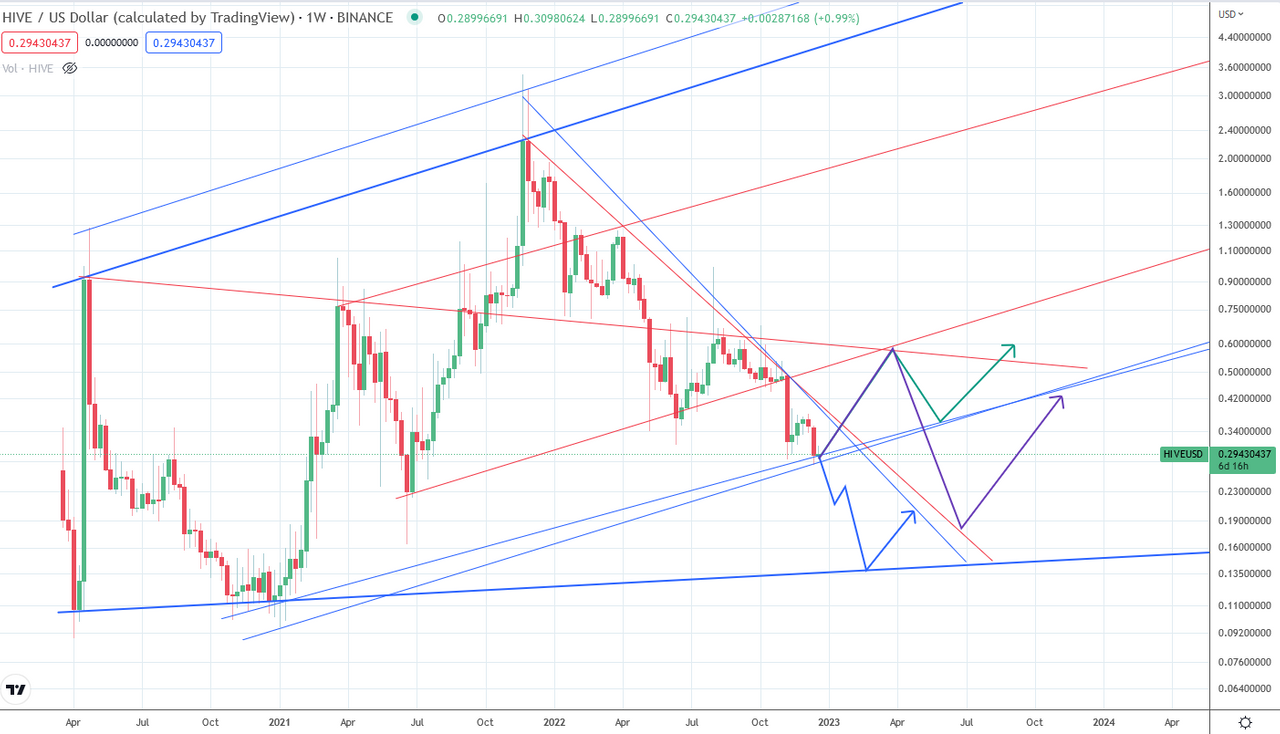 With todays price action there is a good chance that we are on track to the purple and green paths which means that the parallel channel seems to be holding. In fact, there is a good chance that we could see a pump to about 50-60 cents in the next 2 weeks. You could try to sell at those levels, or simply HODL since Hive will go to $1 in the future almost guaranteed.
---

⛅🌦🌧🌦🌧🌨☁🌩🌦⛅🌧☁🌤🌥🌪🌧🌨🌩⛅🌦☁🌤🌥🌤⛅🌤⛅🌦⛅

⛅🌦🌧🌦🌧🌨☁🌩🌦⛅🌧☁🌤🌥🌪🌧🌨🌩⛅🌦☁🌤🌥🌤⛅🌤⛅🌦⛅