Good day Hiveians!
Join me in analyzing the crypto markets!
If you have followed my blog, you know about KOIN
It's a new blockchain built by former Steemit developers that has now transitioned into mainnet and is listed on MEXC. I have followed KOIN for quite some time and I also made some TA in the early days when it was still an ERC-20 token before the snapshot. Coinmarketcap as well as Coingecko have both carried over the charts from back then which means that they are still important and will influence future price.
One of the last TAs I shared was this one which showed price just before the snapshot: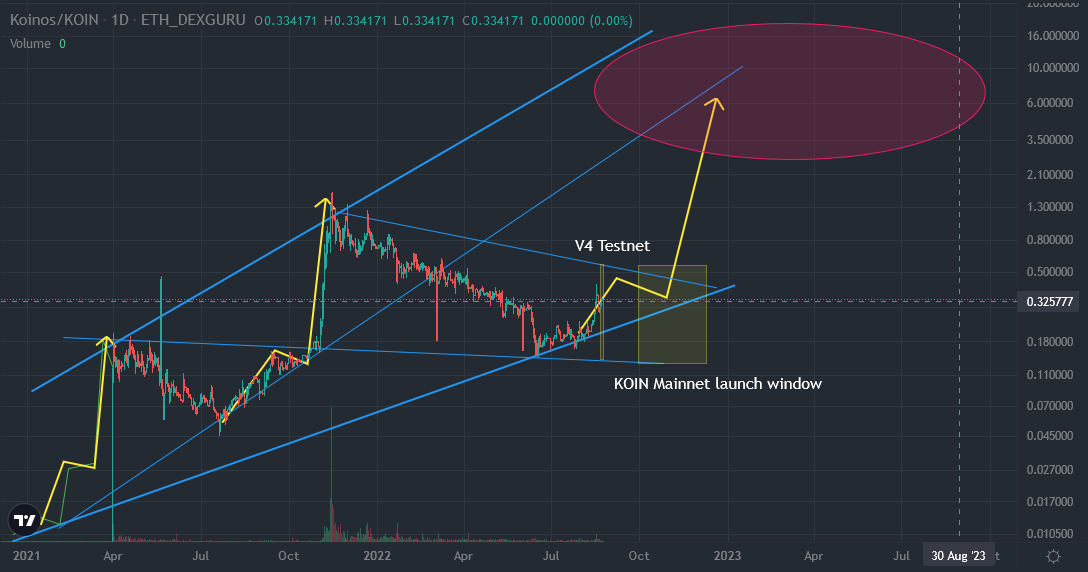 Turns out this was fairly accurate: we saw the smaller correction and then the jump before the snapshot was taken.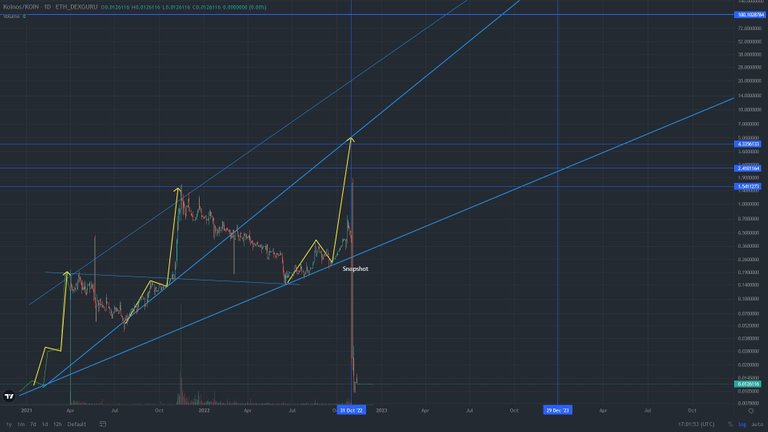 Price went to about 70 cents before it headed back down to about 45 cents when the snapshot was taken. The big drop after it was taken went to around 0 cents and should be ignored as it does not indicate the true price. Now that it is listed on MEXC, we have a new price movement, but it also connects back to this chart. Until it is listed on Tradingview I will use the charts on Coingecko as well as MEXC to make my analysis.
Notice the supporting trend line in the chart above. For December we have a support at around 35 cents. This is also exactly where price is currently "stuck". Here is the chart connecting the pre and post snapshot prices with the two strong trend lines indicating resistance and support. Price is at the far right of the chart now and is between those trend lines; hence it is "stuck" there for now.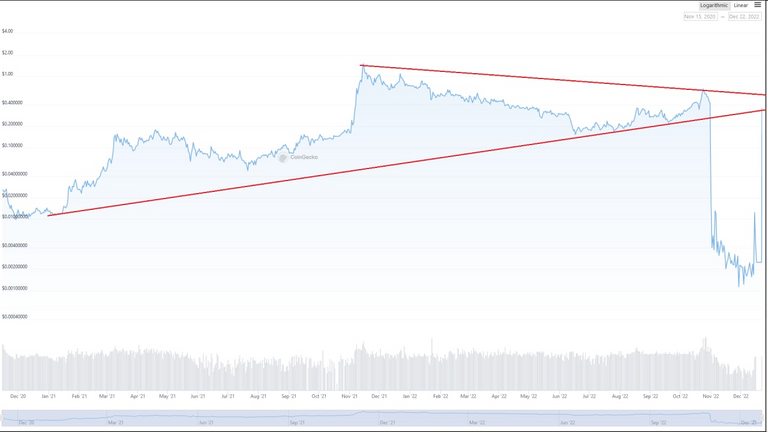 I think it makes sense to update the old chart with the new price and a possible movement for price in 2023. The impulse wave to the new highs indicated in yellow all follow a same movement: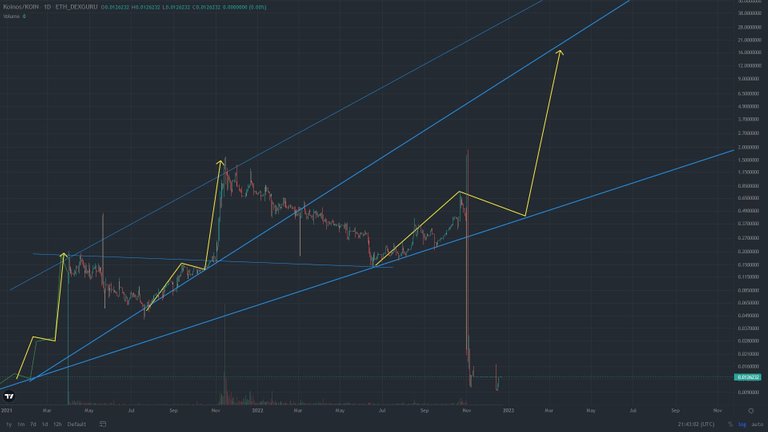 It's a 1-2-3 movement which could mean that for 2023 KOIN could continue near the support line and then break out to the top sometime in spring/summer. So far it is on track to a possible $10-$20 in 2023. Of course this is only from the TA side. The chain still faces many hurdles and needs a lot of development so that these prices can be achieved. But it is a very solid project that is quite revolutionary in the crypto space. Once this is acknowledged I think these prices are quite reasonable.
---
As a general reminder: Please keep in mind that none of this is official investment advice! Crypto trading entails a great deal of risk; never spend money that you can't afford to lose!

⛅🌦🌧🌦🌧🌨☁🌩🌦⛅🌧☁🌤🌥🌪🌧🌨🌩⛅🌦☁🌤🌥🌤⛅🌤⛅🌦⛅

⛅🌦🌧🌦🌧🌨☁🌩🌦⛅🌧☁🌤🌥🌪🌧🌨🌩⛅🌦☁🌤🌥🌤⛅🌤⛅🌦⛅