Good day Hiveians!
Join me in analyzing the crypto markets!
Hive's value in terms of $ is continuing to fall
In the last post I pointed out the importance of 29 cents, but discovered a new support: the falling wedge. So far this wedge is still holding, but today we are testing it once more. The trend line start in early 2021, so it is fairly well established: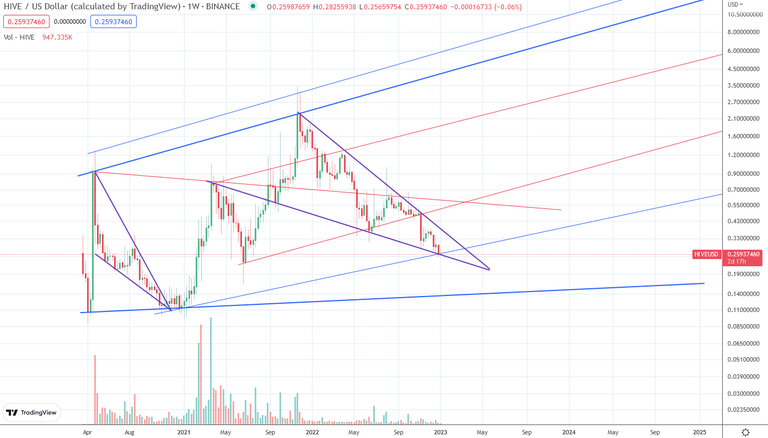 The space for that wedge is going to run out sometime in May if price continues to stay within it. Today with the Wolf Moon there seems to be a good chance that it could fail. Although I have distanced myself from the moon cycle, I am not completely discounting it (the blood moon of November is a good example).
However, we see another falling wedge in the chart from 2020. Here price fell right to the end of this wedge (and even below it briefly) before flat lining and then pushing higher. Falling wedges are a more bullish pattern than bearish ones, but the other pattern that is competing with the wedge is the head and shoulders pattern that could still take price to the bottom support of about 14 cents. It's not like this is a long way to go now...
If we do see the wedge pattern playing out, it could look something like this: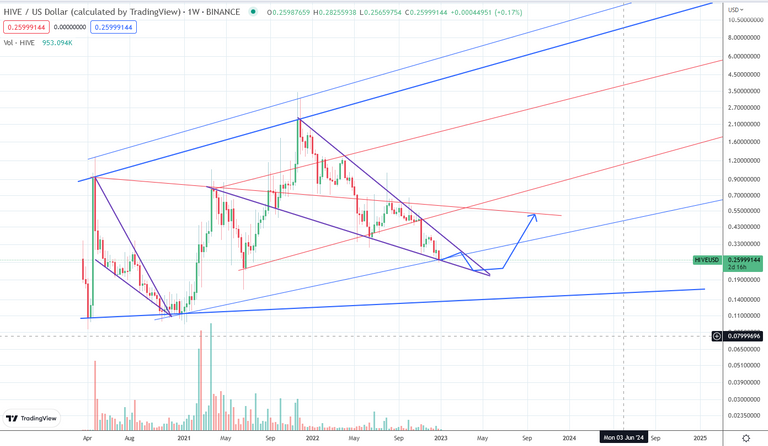 This is based on the 2020 one, but since they are so similar I think it makes sense to take it as a reference. Even with this pattern Hive would fall to about 20 cents (perhaps with an 18 cents wick), before recovering. This recovery would be slow, taking until summer 2023 for a trend reversal. In the second part of the year price could then tackle the orange horizonatlish trend line at around 50 cents.
The bad news would be that essentially for all of 2023 Hive would be trading somewhere in the 20-30 cent area. The good news would be that we would have a trend reversal at around the middle of the year. Basing this on 2020, it should finally be the big trend change taking us to higher highs again.
---
As a general reminder: Please keep in mind that none of this is official investment advice! Crypto trading entails a great deal of risk; never spend money that you can't afford to lose!

⛅🌦🌧🌦🌧🌨☁🌩🌦⛅🌧☁🌤🌥🌪🌧🌨🌩⛅🌦☁🌤🌥🌤⛅🌤⛅🌦⛅

⛅🌦🌧🌦🌧🌨☁🌩🌦⛅🌧☁🌤🌥🌪🌧🌨🌩⛅🌦☁🌤🌥🌤⛅🌤⛅🌦⛅