Good day Hiveians!
Join me in analyzing the crypto markets!
Hive has once again made a new lower low
And this happened while most of the crypto market was able to defend the critical support area, preventing a lower low. It would be good to know who is currently selling Hive since I doubt it is the active community here. People talk about buying Hive and HODLING or BUILDING their stake. If so, then it is once again the traders who are dumping coin mostly on Upbit and Binance. It could also be Justin Sun or his allies dumping the Hive they got in some of their accounts after the split. It is unfortunate that prices keep falling, especially when the rest of the market is keeping up better.
Hive at these low levels is great for its distribution. There is a real good opportunity now to buy and power up a couple of thousand Hive and get a stake in this blockchain. There is so much development here that I am not really worried about the future of the chain. After HF27 we also have one of the most advanced and fastest blockchains out there. With these kind of fundamentals Hive is not going away anytime soon.
29 cents has to hold on the weekly chart
If not, there is actually a high chance for Hive to keep falling as the parallel channel will have failed.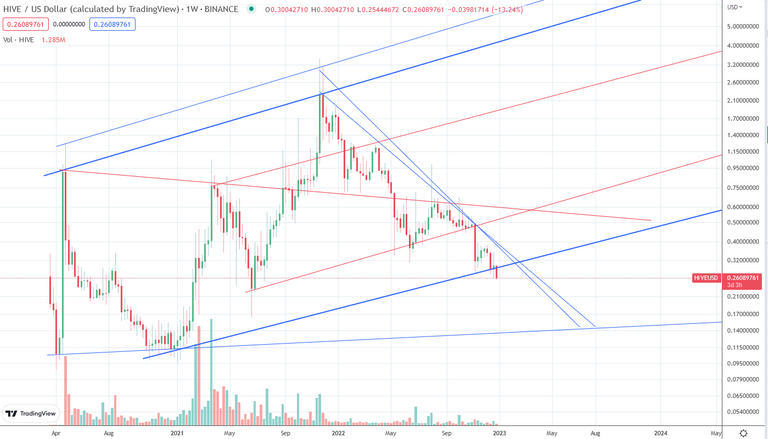 However, there is one more key support that I am seeing at current levels which could be enough to catapult price back to over 30 cents. It forms a falling wedge which can be a bullish pattern. I didn't quite see this wedge before and the longer I look at it, the more it seems like this could be a good support.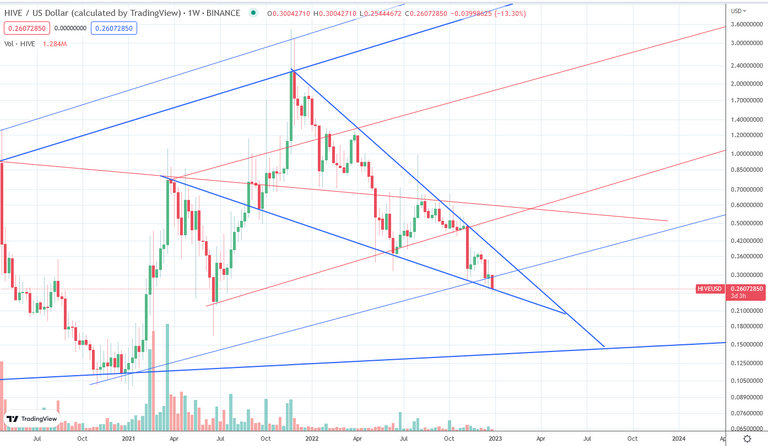 However, the head and shoulders pattern could continue to play out as well in which case price could fall to the ultimate bear low of about 14-15 cents. This would be a whopping 47% drop from current levels.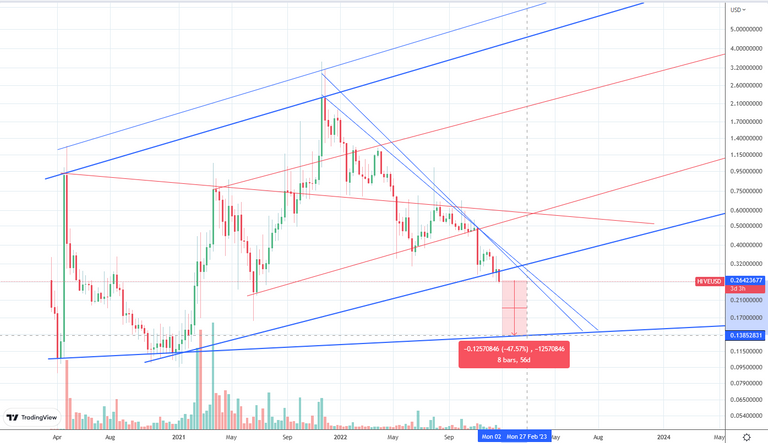 Sunday close will be important for Hive. If price fails to close above 29 cents I believe the 14-15 cents area could be a real possibility, something that I have so far dismissed as being too bearish. But I guess that is what bear markets do: they end in ultimate capitulation. Be prepared!
---
As a general reminder: Please keep in mind that none of this is official investment advice! Crypto trading entails a great deal of risk; never spend money that you can't afford to lose!

⛅🌦🌧🌦🌧🌨☁🌩🌦⛅🌧☁🌤🌥🌪🌧🌨🌩⛅🌦☁🌤🌥🌤⛅🌤⛅🌦⛅

⛅🌦🌧🌦🌧🌨☁🌩🌦⛅🌧☁🌤🌥🌪🌧🌨🌩⛅🌦☁🌤🌥🌤⛅🌤⛅🌦⛅