Welcome to this month's ETF Investment Update
Guest author: @hoosie
What is SPI?
SPI tokens are growth investment tokens that pay a weekly dividend. They have been circulating for over 2 years, on STEEM HIVE. Mostly sold for 1 HIVE, each token today is worth over 4 times its HIVE issue value and 12x its dollar value. On top of that, token holders receive roughly 8% every year from weekly dividends. We raised $13k from issuing SPI tokens which has been used to grow a diverse portfolio of investments, many of which provide streams of passive incomes. SPI tokens are part ownership of all SPinvest tokens, accounts, assets and income. The price of each SPI token is its liquidation value as SPI tokens are 100% backed by holdings. Hardcapped to roughly 94,000, no more can be minted or issued. Adding, hold and compounding has us on the road to major growth and these tokens are still growing in value.
SPI tokens are part ownership in an actively managed fund. We have our hands in over 20 investments with the lion share being HIVE, BTC & ETH. We do not FOMO or chase pipe dreams. Tried and tested works best and is safest. Our motto is "Get rich slowly" and compounding down on sound investments is our game. You should invest in SPI tokens with the mindset of not selling for 3-5 years minimum. Follow @spinvest for weekly holdings and earnings reports.
Introduction
I invest in stock markets through Exchange Traded Funds (ETFs) and Share Funds via Fidelity UK. My investment strategy is for long term gain (5+ years), and I tend to DCA in when I can (but I wouldn't bet my mortgage on it or put my family at financial risk). I invest in ETFs and funds as I like spreading my investment across a basket of shares, as opposed to trying to pick individual shares, which would be too risky for me. I tend to stick to solid funds within the US, UK and Europe, and have a liking for tech funds. I do not day-trade, or look for short term flips. Please take that into account, and always do your own research!
What's Happening This Month
Monthly KPIs
I use a number of Key Performance Indicators to help me gauge how the overall markets are performing and it also helps me to try to understand where money is moving.

As per the monthly change column only one thing has made any major movement over the last month - which I'm sure we are all well aware off !:
BTC has done pretty spectacularly lately - a 37.5% increase over the month - quite nice, and also represents a lot of movement of investor capital into BTC,
The FTSE100 (a key index for UK shares) is actually fairly high currently, which is quite a surprise considering recent financial turmoil in the UK - and it also gained over the month,
The S&P 500 (a key index for US shares) is quite low when comparing to its price over the year, but has made a small gain in the month,
Gold is fairly high and also made a gain in the month.
Apart from BTC nothing really stands out in terms of movement over the month, however, when looking at annual aspects, both BTC and the S&P500 are pretty low compared to the yearly highs, and gold is fairly high indicating there is a lot of investor money sitting there currently.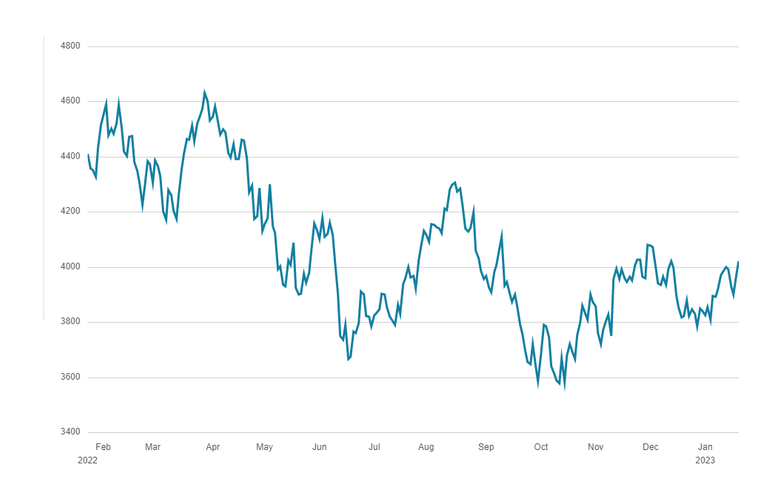 Credit: S&P 500 Annual prices - BBC News website accessed within an hour of making this post
I thought it worth dropping in a graph of the SAP500 performance over the year (above). Its a bit of a mixed bag really - on one hand you could say its on a downward trend across the year, or that in the last 3 months it seems to be picking up.
Overall my reading of things is that US shares are at a low just now, and if I had some spare cash to DCA into some funds or ETFs, I'd probably look at some US funds. However, its worth noting recent news about large layoffs at Amazon and Microsoft, with the expectation that a number of other large global tech companies are also likely to follow suit due to difficult worldwide trading conditions - and that raises questions as to whether US tech stocks are likely to go even lower or not. However, I take the DCA approach, and try to buy cheap where I can, and I wouldnt hesitate buying into some US tech funds at this point in time, with some small sums of money, with the expectation that over the longer term, I'd do well from them.
Recent Trade activity
I noticed that I had a small amount of spare cash in one of my trading accounts from some dividends, right at the end of December. I decided to invest that in the Schroder Income Maximiser A Inc fund (SCMIZ), with the reason being:
Its a fund that solidly pays out quarterly dividends at a rate of around 7% APR ( I know thats not great when comparing to todays inflation rate - but its a rate I can count on),
I'm wanting to build up my regular dividend income a little higher in order to help pay my monthly trading fees, and have some extra left over to buy into other funds,
The price was OK, not as low as I would have liked, but I was focusing on dividend income,
The fund accepts low investment amounts, which was helpful as I didnt have that much to invest,
Its a fund I know well and trust, and have been investing in for quite some time.
So not a major investment by any stretch of the imagination, but a little squirt that will help towards ongoing passive income, which I will re-invest into other funds along the way.
Monthly Fund Focus
Each month I'll review one of the funds I use (or am considering using) and take a look at its key features and its performance. This month I'm picking:
Legal & General Global Technology Index Trust R Acc (LGTXA)
I've picked it because its been a real favourite of mine over the last few years, but has taken a substantial kicking this last year (due to various world wide problems), and I wanted to look at how its performing at this point in time.
The objective of the Fund is to track the performance of the FTSE World -Technology Index (the "Benchmark Index") on a net total return basis before fees and expenses are applied. Therefore, the Fund's performance may differ from the Benchmark Index due to the deduction of fees and expenses and the impact of any tracking error factors. The Benchmark Index is comprised of shares in companies from the developed and advanced emerging markets that are engaged in information technology and are included in the FTSE World Index. The Fund is a Replicating Fund as it seeks to replicate as closely as possible the constituents of the Benchmark Index by holding all, or substantially all, of the assets comprising the Benchmark Index in similar proportions to their weightings in the Benchmark Index. The Fund will have at least 90% exposure to assets that are included in the Benchmark Index.
Credit - Fidelity.co.uk website - accessed on 24/01/23
Key Features:
Its a tracker fund as opposed to a managed fund so has nice low ongoing fees (0.32%),
Current price at 24/01/23 (GBP) £0.9245, 12 month low £0.8589, 12 month high £1.113,
Its dividends go back into the fund to improve the fund price, and as such are not paid to fund holders directly,
The fund is growth focused, and has investments across 261 stocks.
The fund's money is invested 80% in the US, 10% in Asia, 5.5% in Europe and 3.4% in Japan,
Some key holdings in the fund include Apple, Microsoft, NVIDIA, Taiwan Semiconductor and Samsung Electronics.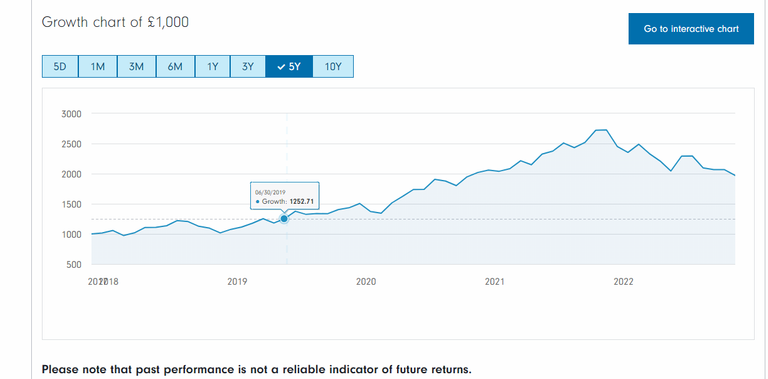 Credit - Fidelity.co.uk website - accessed on 05/01/23*
The 5 year performance chart for the fund showed pretty impressive performance right up to the end of 2021 where it peaked - hence my initial interest ! Oh, and please note Fidelity's disclaimer at the bottom of the image - very apt !!!!
I know this fund is taking a battering, as is the rest of US tech stocks, however, I'm sticking with it, I'm a long term investor, and I believe these tech companies are innovators and will do what they can to ride the storm and come out the other side fighting. I think its a good time to DCA in, especially noting the large US holding, and when I get some more available funds a little later in the year, this will be on the shopping list for me.
Round-up
So thats my update for the month. Its a rocky time in the markets and caution has to be taken. Who knows if we are at the lows, or whether it can go lower. I feel comfortable enough to DCA in with spare sums of cash when I have them, as I believe over the longer term (1+ years) the markets will recover.
If you have any advice to share or tips for funds, I'd love to hear about them - and feel free to leave feedback on the post - I'd love to know what you think !!!
All the best @hoosie



Want to know more about SPI tokens and investments ? Check out the latest posts here.


Want to know more about the Saturday Savers Club ? Check out the latest posts here.
Posted Using LeoFinance Beta