I'm in a financial situation now where IF I can just get my mortgage in the UK paid off, then I can pretty much just live off that income, if I could have it to spend rather than having to use it to pay the mortgage off.
Admittedly living off this small rental income would be marginal and I'd have to make some downward adjustments and kick-in with the off-grid no-money stylee a bit harder, but it's possible.
Oh and this means I have to stay in Portugal, I couldn't go back to the UK, rent my Portugues properties out and afford to live in the UK, this is only a one-way street!
But that's all fine, so paying off the UK mortgage is the new goal and I'm giving myself three years, by which point I'll be 52....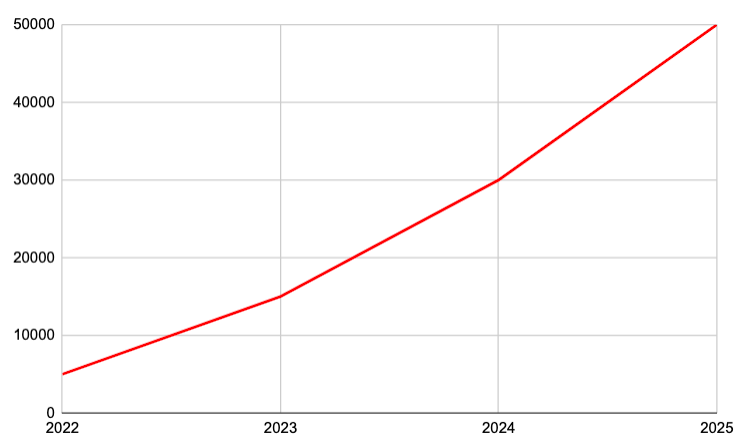 Funnily enough this was my mid-range full-retirement age target when I first set off on this mission in 2014, eight years ago now, and after 4 years semi-retirement I think another three is pretty good going!
Three years is a nice window for me….
It gives me another three years to be able to benefit from another crypto bull run (which may or may not happen)
Another small loan I have ends in around three years, so that coincides nicely!
It means I won't have to put up with market-interest rate for too long, only 18 months! (My cheap interest deal ends end of 2023).
I don't need much to pay the mortgage off, only $50K
And a three year target allows me time to stack that money in order to pay it off, in fact I may over-pay year on year we shall see.
I'm going to go for an extended stack plan, stack a smaller amount year one, then increasing years two and three.
So my targets will be…
$5K by the end of 2022
$15K by the end of 2023
$35K by the end of 2024
$50K by mid 2025.
I am cheating a little bit here as I've already got that $5K stacked, although Summer (July and August) is probably going to be tight and I could easily spend that on other Investment items…
And I do like to be ahead of the game!
And this is comfortable - that $50K is EASILY enough to pay off the mortgage, in fact by the time I get to mid 2025 that might even be enough to pay the mortgage off AND buy a van.
The next project after paying the mortgage off is a Van conversion - just something I've long fancied doing but never done, but I want to spend AT LEAST $15K on a nice van and then at least another $3K on converting it - it's got to be nice, but that's for later.
If I don't make the $50K goal
Well I could sell my house in Penamacor, that should net me $20K.
I could take a small loan out and pay back over 5 years, the interest would probably be similar to what's left on the mortgage.
I could just WAIT for another 6 months, 12 months, whatever… if it's a matter of a few thousand dollars….
Final thoughts…
I LIKE THIS GOAL, I LIKE IT A LOT!
Time to get stacking!
Posted Using LeoFinance Beta