When I was still working as a teacher and on my path to Early Retirement Extreme (Lite) I worked out, in 2016, what percentage of one's life an average worker in the UK would spend at work, something I was very sensitive to at the time given my all-consuming career choice.
I recently visited my calculations to see if things had changed this year, and they have, quite significantly and knocked up this little infographic....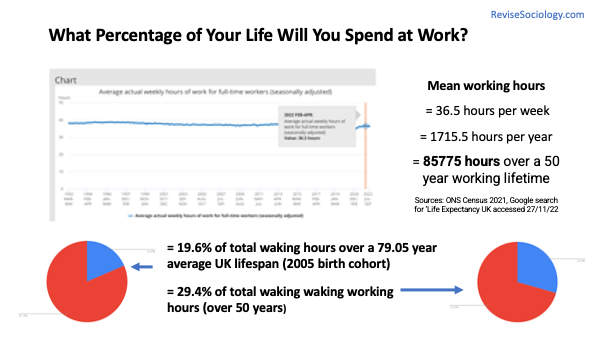 Based on the current average working hours of 36.5 per week and a 50 year working life factoring in 5 weeks holiday per year, then the average person will spend 19.6% of their total lifetime waking hours at work, and 29.4% of their total working-life waking hours, so half way between a quarter and a third.
Just six years ago in 2016 that second figure stood at 35%.
It's a combination of the Pandemic and Rising Life Expectancy...
From 35% to 29% is quite a drop in 6 years, and that's down partly to the fact that people are living longer - a longer life means proportionately less time working, but mainly due to a reduction in working hours - which in turn is mainly down to the Pandemic - hours were slashed during lockdown and just haven't quite recovered!
Progress...?
Obviously there will be a lot of variation around these stats depending on age, gender, class background, type of job, and of course income, but it's interesting to note that the statistical baseline is that only 30% of time while working is spent at work, which isn't too bad.
Of course I guess a lot of people will have to add on travel time to that, but again that's something that the Pandemic has helped to reduce due to the increasing prevalence of people working from home.
I almost hate to admit this, as I do so love critiquing and damning ordinary society, but this looks like progress - although maybe the reduction in working hours over a lifetime isn't set to last given the recent increase in cost of living - a lot of people are going to have to find more hours going forwards!