Circle is the company which issues the well known stable coin USDC, and according to a recent Coin Bureau video (link below) we have reason to be concerned over the centralising tendencies of this company.

Circle did not start out as a stable coin company but was founded back in 2013 as 'Circle Internet Financial Inc' by Jeremy Allaire and Sean Nevill who had previously worked together for years setting up and then selling on IPO companies.
Jeremy Allaire especially has strong links to centralised pro-fiat institutions such as the IMF and the WEF - he was in fact at DAVOS earlier this year.
Early on in Circle's history Allaire and Nevill wanted to use BTC as the base currency of a new financial system, which they envisioned as closed and centralised rather than open and decentralised.
Because BTC wasn't suitable for this they tried to force it to fit primarily by pushing for Bitcoin's block size to be increased, but they were unsuccessful in achieving this aim.
By 2017 they'd raised over a hundred million dollars from Corporate investors and had had meetings with the IMF, of which Jeremy is a member.
In 2018 they raised $100 million from Corporate sponsors to build USDC on Ethereum, and have since gone more chain agnostic especially since the DEFI summer of 2020 which seems to have been the main reason for USDC growth since 2019.
Circle have also been having high level meetings with the IMF about the possibility of setting up Synthetic CBDCs - involving a possible partnership between Circle and the Federal Reserve - and the IMF are interested - the only question is which blockchain(s) to build this on.
They also work closely with CLS bank - who are 'the largest bank you've never heard of' which settles 2 TRN worth of transactions between the largest bank in the world.
Circles Assets = government debt
USDC's current $40 billion market cap is backed by FIAT assets, 80% of which are held as short term government debt and 20% as cash.
So this basically means that when you buy USDC you are helping fund the U.S. government.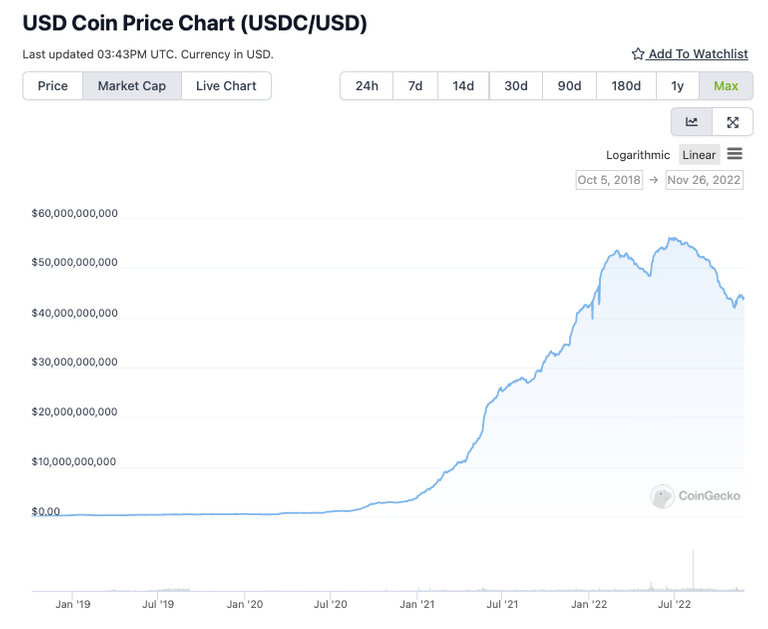 Circle to rule them all...?
Circle could potentially have a stock listing in the next few months, at which point the founders might earn themselves enough money to exit (something they have a history of doing) with the company then being sold on to who knows who... maybe one of the corporations who have helped fund it over the last few years?
NB They recently struck a funding deal with BlackRock for £400M!
Circle also has a history of campaigning for regulation, which is nothing unusual in the financial space - but one imagines they want the kind of regulation that favours them = more centralisation.
Circle has the power to freeze all its stable coins - which is terrifying given its connections to the IMF etc. and many other decentralised stable coins are backed by USDC so this may have a knock on effect.
To make matters worse in 2022 Circle rolled out the Verity platform - which focuses on generating digital identities, so imagine those linked into CBDCs and USDC!
The centralised future...?
Coin Bureau imagines a possible future in which every national country will have synthetic issued by Circle and backed by government debt.
With Circle's links to the FED this could mean that in the future they might have access the money printer, and sufficient liquidity to buy up many POS contract and control what happens. ETH controlled by Circle...Hmmm?!?
Circle could end becoming not only the most valuable crypto company in the world but possible the most valuable company on the planet if it can recalibrate the entire financial system global.
Meanwhile BTC and physical cash might remain safe havens, and in fact Jeremy Allaire is keen on both, suggesting that he knows which direction Circle and the global FIAT financial system are going!
On a positive note if Circle does work with FIAT institutions to set up CBDCs this may legitimise crypto in the eyes of general public, and once USDC follows FIAT down the value sink-hole, BTC may bounce back to becomes the world's reserve currency.
To find out more...
Posted Using LeoFinance Beta