Today's U.K. budget involves the government taking more from companies (large and small), higher income earners, and those who benefit from capital gains, while protecting the incomes pensioners, benefit claimants and the low-paid from the ravages of inflation.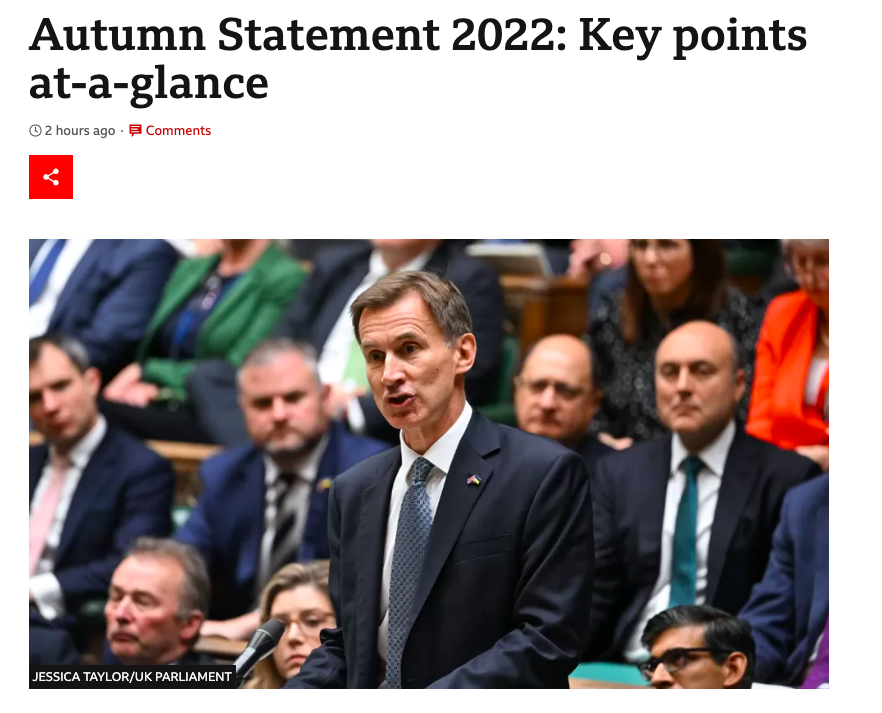 While I personally think it's quite a balanced budget, it's very un-tory - making those who make more money support those who don't make very much money or make non at all!
But I guess they're at liberty to do this because there's no viable party further to the right that would be prepared to give a more neoliberal budget, and in fact even the suggestion of such a budget two months ago by Liz Truss managed to crash the UK economy, so this is basically all the Torys can do!
Headline Budget Points
There's a massive reduction in the upper 45% tax threshold, down from £150K per annum to £125K per annum when it now kicks in - so they're taking a lot more from around the top 5% of income earners, fair enough.
The government is going to maintain the treble lock on pensions and pensions and benefits payments are going up in line with inflation - by 10% next year, costing the government £11bn.
It's really bad news for middle income earners as all tax thresholds are frozen until 2028, that means more people being dragged into the lower tax and upper tax bands as wages presumably rise in line with inflation - the lowest kind of stealth tax.
There's a fairly substantial increase in the minimum wage from £9.50 to £10.42 an hour - great for the workers, not so great for any small business owners!
There's going to be a 35% windfall tax on energy company profits until 2028, fair enough!
Local Councils can increase council tax from up from 3 - 5% - more pain for all of us but nowhere near enough of an increase to allow local councils to meet all their duties or stop some of them going bankrupt.
Capital gains tax free amount to be cut from £12K to £3K over two years. That's pretty bad for me TBH.
In terms of spending there's no overt cuts, in fact the government is committed to current targets until 2025 but after that slower increases, so it's bad news for anyone depending on public services - enjoy them while you can!
Finally the government says it's going to invest £600 billion over 5 years in infrastructure projects - I'm all in favour of this.
Very finally the government cut import taxes on over 100 goods - I guess this is one of the advantages of Brexit - cheaper imports, which is great for British Businesses, err NOT!
A few thoughts...
It's a pretty measured budget, obviously designed to stabilise the UK economy, but it's going to hurt ordinary working people massively and mainly by stealth with the tax thresholds being frozen for five years, that's a very long time.
Britain's in strike-mode at the moment - postal workers, train workers, and more recently nurses, and there is literally fuck all in here for any of them.
I'm not convinced maintaining the pensions treble lock is a good idea - not all pensioners are poor after all, that needs to be more nuanced somehow, especially when pensions are such a massive part of the budget.
The plan very much rests on inflation coming under control and the UK economy getting back on track - if that happens then we're fine, but honestly, what are the chances of there NOT being another crisis of some kind before 2028....?
VERY MINIMAL, and so there's probably more pain to come!
Personally I would have liked to have seen a bit more of a squeeze on pensions and benefits - say a 7-8% increase so they're suffering in line with those of us actually paying taxes, and then more of that devoted to support for small businesses and a more significant increase in the minimum wage, along with a lot more investment in specifically green infrastructure.
Posted Using LeoFinance Beta