The current cost of living crisis got me to thinking about how easy or difficult it might be to 'feed the world' (excuse the Band Aid line!) in the future.
It turns out that we've almost certainly got the resources taken into account population projections and potential land for agricultural production...
I found this great meta-analysis of over 50 studies on projected calorific intake of the global population - from the journal Nature:

It estimates that the daily global kilocalorie consumption will increase by between 41-51% to 2050, taking the global calorie consumption to an epic 12 000 000 000 000 000 per day, or 12 million billion Kilocalories a day globally.
The different scenarios take into account different levels of socioeconomic development, hard to predict hence the range of predictions.
Then there's the matter of the amount of land we'll need to service that increase in global calorie loading - and the FAO estimates we'll need to find an additional 70 million HA to give over to food production - and there's plenty of land - it's just mostly in Africa and Latin America....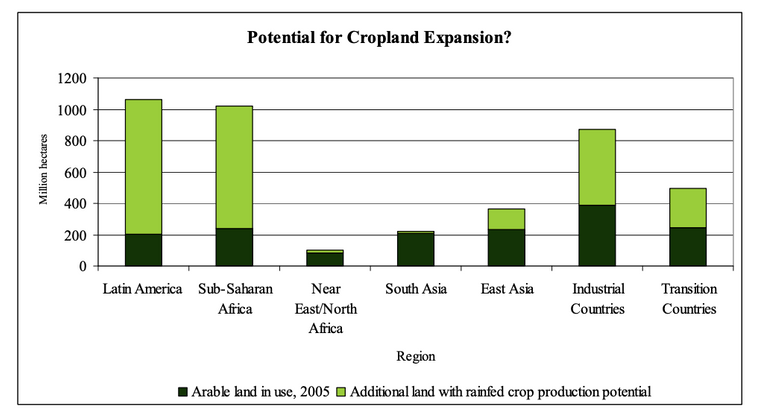 Of course it's not quite that simple, a lot of that land is what COULD be given over, but a lot of it has to also support biodiversity and then there's the fact that there's about 3 times as much water in Latin America compared to Sub-Saharan Africa.
But it's comforting not note at least that we've got the land it's just a matter of whether we can hold together the fabric of our global society long enough to be able to develop the infrastructure to use that land sustainable, and of course make sure the many currently underdeveloped countries in that region Africa get their fair share.
So we can do it, it just very much depends on the extent to which we can realise global peace IMO!
Hmmmm, for some reason my optimism has just disappeared!
Posted Using LeoFinance Beta