This is a huge achievement for me because I have dwelled on the thought that achieving 10K HP is a goal I have to achieve before the year ends. We are 5 months into the year, we have 7 months before the year ends. I have come to the realization that having 10k before the year ends is almost impossible so I will try my best to keep doing what I do and whatever becomes the end result of what I am doing, I am grateful. I have thought of different strategies to achieve that, but the whole crypto market is going down.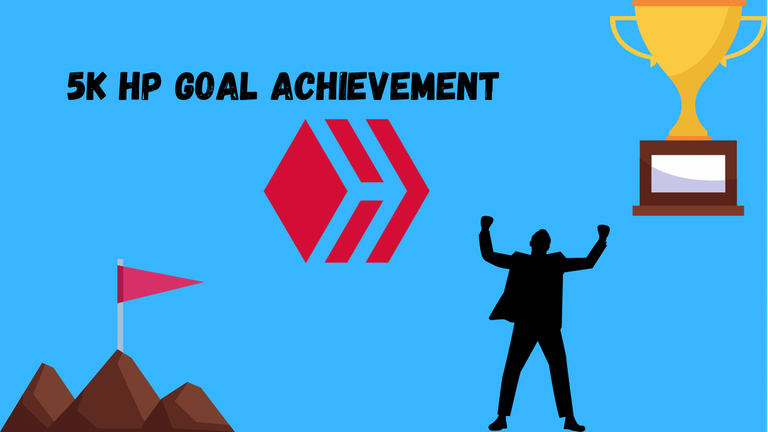 I thought of using my weekly HBD earning to trade other coins outside Hive, make profit, use them to buy Hive and power up. Unfortunately the total crypto market dipped, and right now my investment is currently at loss and I am not selling. 5k HP is a big deal for me, even though the price of Hive is not where it used to be, no matter what, I still look at my HP and calculate them with the all time high's price which is $3.4. This is just to encourage me that I am making progress, all I need is patience. My current account value might be reading around $2k but my head is reading $17,000.
Before writing this post I was having a long sleep because, I wanted to take a day off from Hive, the crypto market or worrying about what project to buy. Because, this past week has been a tough one especially when you have all your investment in crypto. Crypto value is down, defi token value down, so the dip is one of those days where you need to cut your spending. There is nothing you can do except wait for the market to regain its price back. In as much as this is hard, I can't help but feel grateful because, there is an opportunity to making money daily both actively and passively through crypto. So just as much as I have been having fun with the Green Days and upside, I might as well try to have fun with the dip days and downside.
There are lots of things to do during the dip to distract you, you can't control the market, you just have to be patient. The first thing I had to do which is essential was take a 3 hours sleep in the afternoon. I was beginning to get scared for my health because I don't get enough sleep. I sleep about 3-5 hours a day, my friend and family used to ask me, how is that short daily sleep enough for me. I always used the "I am grinding" excuse all the time. But this time, the body needed that sleep. So I will stop fighting the urge to sleep, and sleep. There is enough time to make money when I wake up, I think it's time I stop listening to those motivational speakers like Steve Harvey. Those people can make you feel like sleeping is a lazy activity, especially when you are not financially buoyant.
So back to trying to achieve my 10K HP goal before the year ends, I will be honest with you, at this point I don't have plan, but to keep doing what I am doing and looking for more opportunities. The reason I wanted to have 10k HP is because, I want my vote value to be worth $1 when I upvote posts. But with the price crash, I don't think 10K HP will give that type of vote value anymore.
Still grateful for Hive and the community for always giving me the opportunity to set goals and work hard in trying to achieve them, it always makes me stay focus. I love Hive, and while this might be the best time to accumulate more HP, I would advise that while grinding always find time to relax, sleep and take care of yourself. You can never solve all the problems in the world(In Nigerian term "Problem no day finish")
Thank you for reading I hope you had a nice day today
Posted Using LeoFinance Beta