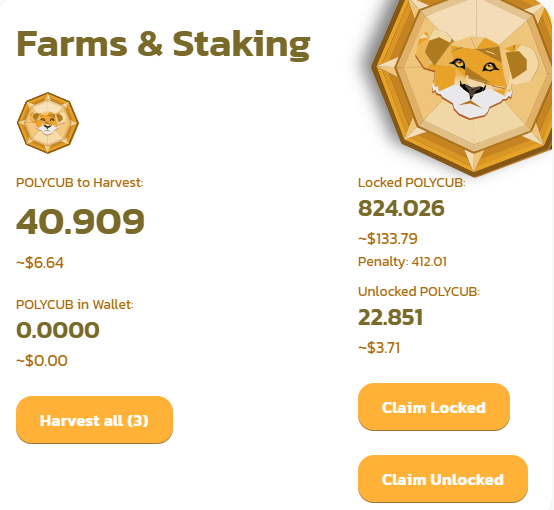 source
Before the emergence of #CUB and #Polycub my intervention into decentralized finance was with uniswap with #Wleo. I stayed there for a while. High fees pushed me away since I am not changing high amount from Ethereum blockchain. I think it opens my eyes to really make sense of the power behind DEFI. From there I could transfer from any ethereum based token to #wleo. It was fairly quick and prompt but the fees are overwhelming. The formation I get is crucial to see what crypto can do with DEFI.
Another aspect of DEFI is the participation of everyone. You can be a provider by using your funds. You can simply use the service to get your tokens from point A to point B. This is what #CUB and #Polycub are doing in that aspect, providing liquidity and ease of exchange from point A to point B.
In the meantime DEFI brings a lightbulb moment if you have crypto holding in place where you do not earn on them.
Usually if you have BTC and Ether at a certain time, you are waiting for them to rise and then you can pull the profit. Keep in mind impermanent loss is part of the equation. Nevertheless when you are in the positive you can erase that loss for another token. This is what you get with #Polycub. It has more to do with earning #Polycub. You get to test the system and learn your way around Polygon.
As you can see on the pic I am testing the claim for lock and unlock token. This is genius the way it is set. You have a choice to claim right now or claim later. Important fact to hold #Xpolycub cause you will get it back in the long run. I know the price of Polycub is not as high as before but again this is a test bed going forward.
There are many systems like Polycub out there. One thing you know clearly this one you can rest assured your funds are roaming around Leofinance, Hive and the community. I know trust is tough but we have to start somewhere. I have been around Leofinance since Steem so I know the team.
You may not be able to understand everything running a DEFI system but it helps to acknowledge there are other things you can do with crypto.
No need to hold tokens and wait for it to rise. You can utilize a DEFI like #CUbfinance and earn interest while holding. It gets me to understand why the DEFI will be around and getting better everyday. With smart contract you can see why it has to get better.
It may sound difficult at first but in the long run, this is what crypto will be all about plus everything else like metaverse, NFT and many more the technology allows us to play with.
It is with great pleasure to see Hive and HBD are part of #Polycub. Soon it could pave the way for #Cubfinance to hold its way forward. Now everything is close to 50% off. The market has its way to tame the rise, it will do the same to propel the rise, be ready.
Keep vesting in you.
Posted Using LeoFinance Beta