It's been a wild ride for LeoFinance, LEO and WLEO. We've done this all before as we created the first version of Wrapped LEO and launched it into the Universe. Now we're back with an improved model, a high degree of security and a much bigger community.
In some ways, WLEO 1 was a blessing in disguise. It allowed us some time to go back to the drawing board on a number of aspects related to LeoFinance and the LEO token economy. With the knowledge of what happens when a wrapped token is introduced coupled with a desire to relaunch in a highly secure and compatible way, we've finally brought back WLEO.
WLEO 2 marks an important milestone for our project. LeoFinance is a cross-blockchain social platform. We're built using the most powerful aspects of Hive: fast, scalable and free transactions. Our platform bridges the gap to other blockchains by reaching out with projects like the LeoInfra Metamask integrations (allowing Metamask users to signup to LeoFinance/Hive in less than 30 seconds) along with vital aspects of our economy like Wrapped LEO (WLEO).
In this roundtable, we meet once again to launch Wrapped LEO. This time, we've got a lot of new changes under the hood and also a https://leofinance.io UI makeover. You may have already noticed the new wallet UI which enables LeoInfra cross-chain integrations.
These integrations allow you to seamlessly:
Link Your Hive Account to Your ETH Address (using Custom JSON)
Convert LEO into ETH
Wrap LEO
Unwrap WLEO
These features are still bundled under LeoInfra V1. As many of you know, we hid these wallet features after the attack on WLEO and they never got to go public (since they weren't finished with development prior to October 12th). They've finally made their way onto the production UI and as we move forward with other LeoInfra integrations (LeoInfra V2 launches in less than 10 days), we'll continue to expand our way into other platforms/blockchains.
Our main driver is more users and that is clear from every action we take. Whether its listing WLEO on Uniswap or finding a CEX to list our project or building a new feature into the UI. It's all about bringing the most value to our current userbase while expanding out in order to grow our core LeoFinance family.
In this episode of the LeoFinance podcast, we discuss the updates with WLEO, have our launch party shenanigans and also do live demos where we all wrap LEO and provide liquidity to the Uniswap pool. This episode will also be clipped up for specific tutorials on each aspect of wrapped LEO which will make it easier for current and future users to figure out how to wrap, swap and provide liquidity.
Roadmap Progress: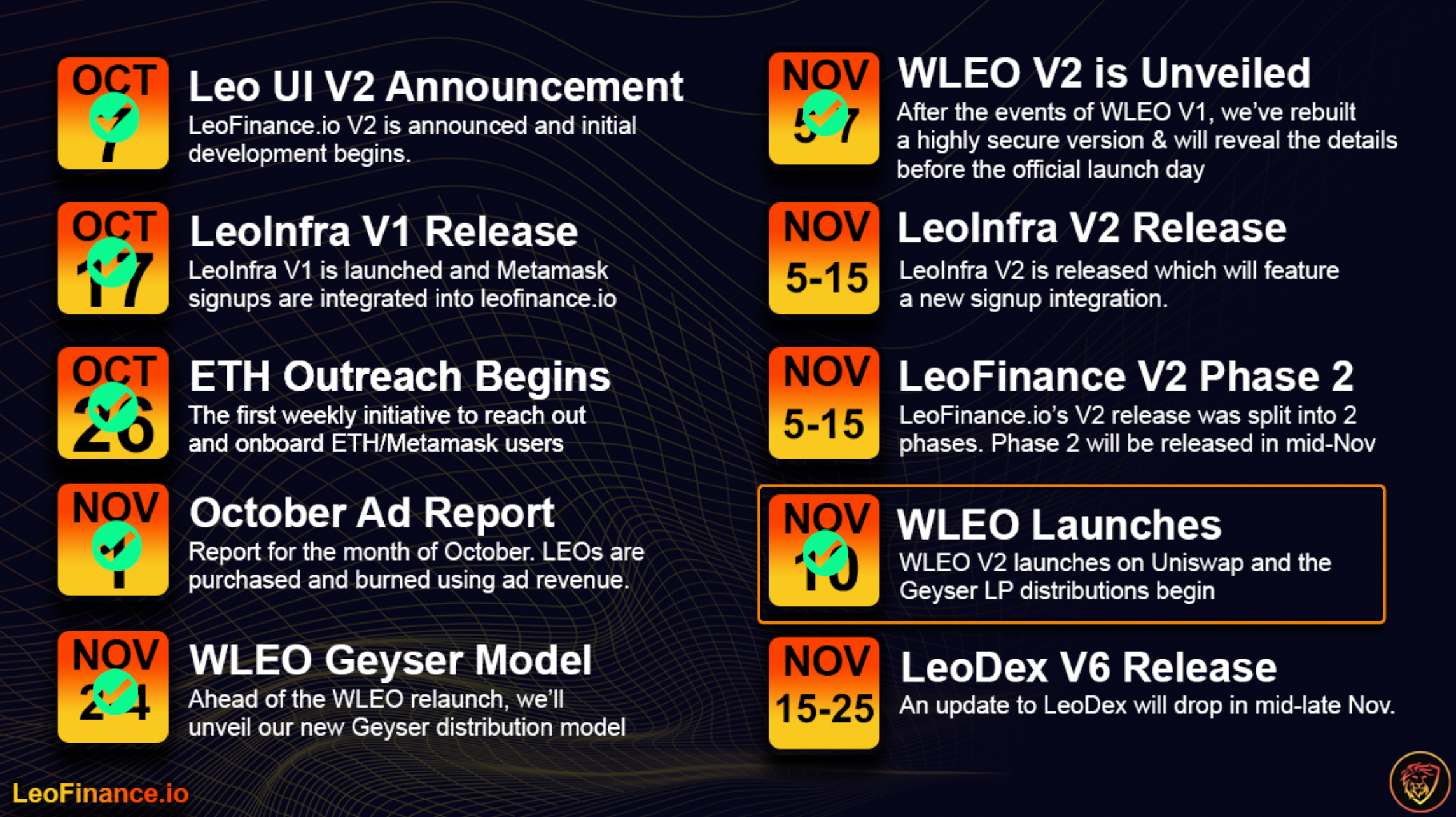 Our Roadmap is still roughly on target. We're delivering all of our updates by the end of the month and with the WLEO Relaunch today, we've now got only 3 items left to deliver:
LeoInfra V2 Release
LeoFinance V2 Phase 2 UI
LeoDex V6
We've already teased LeoInfra V2 here and there. We're integrating Twitter as the next major buildout under the LeoInfra banner. From there, we're going to launch a slew of marketing campaigns aimed at onboarding Metamask + Twitter users. The ability to onboard users through these two methods greatly expands our reach and the ease in which we can get a new user signed up. More details soon.
LeoFinance V2 Phase 2 introduces more than 17 major feature updates to the https://leofinance.io UI. We've already begun feature rollouts (as you've probably already noticed) with some of the V2 P2 features being released into production for live testing:
Voting Power Display
LEO / LEO + USD / USD Payout Display Options
Updated Navbar (My Feed | Explore | Curator's Picks)
New Curator's Picks Page (Featuring 100% Manually Curated Content)
New LEO Tokenomics Widget (Showing Staked, Liquid and Liquidity Pool Stats)
Auto Reblog Setting
Auto Post to Twitter
Auto Suggest Tags in the Publishing UI (New Today)
...
As we get closer to the official V2 P2 release date, you'll see more and more of the new features hit the live production UI for testing and feedback.

LeoFinance is a blockchain-based social media community for Crypto & Finance content creators. Our tokenized app allows users and creators to engage and share content on the blockchain while earning cryptocurrency rewards.
Follow @leofinance for official updates
Posted Using LeoFinance Beta