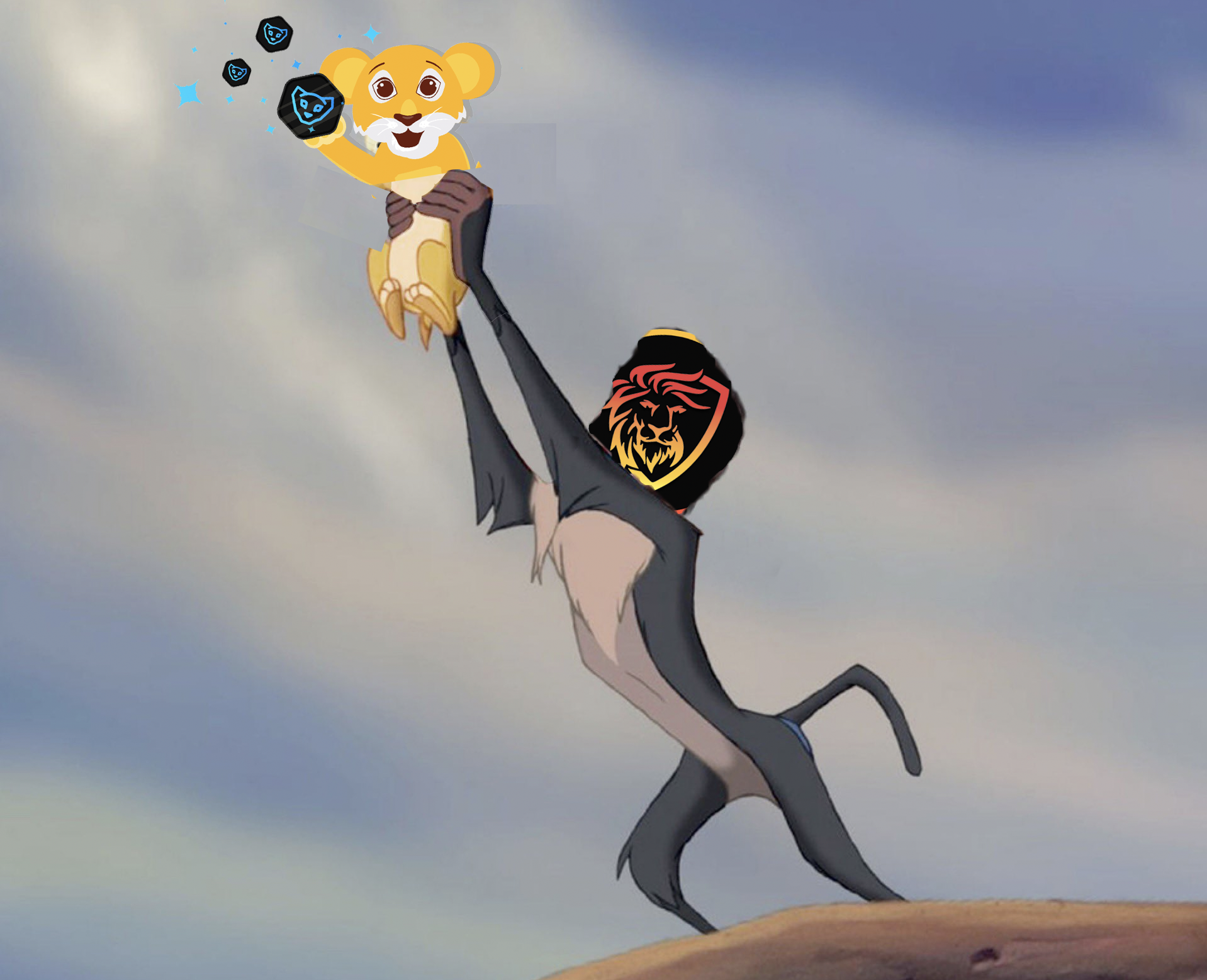 The time has finally come.. well a time has finally come. As many of you know, multiple branches of the LeoFinance project are currently being built out simultaneously. Lightning was one of our latest releases which introduced a specialized backend to create a better user experience on the LeoFinance frontend while positioning our UI to handle more cross-blockchain operations.
LeoFi and ProjectBlank are two other major branches of the project that have been getting a lot of dev attention in recent weeks. LeoFi has 3 major products being released in Q1 2021. Today, we'll announce future announcements about these 3 products and also announce a snapshot which will be taken 24 hours from when this post is published.
The DeFi industry is just getting started. Some people don't yet understand what is happening in the space but many others have realized that the products being built in DeFi are here to stay. LeoFi positions LeoFinance to capture a greater awareness both from a capital point of view and in terms of onboarding new users.
Throughout 2021, you'll find us focusing heavily on the DeFi space. Building and modifying smart contracts to serve our existing user base and simultaneously attract a wider crypto audience to our flagship application - https://leofinance.io - and the other apps that we build on various blockchains like Ethereum and the Binance Smart Chain (BSC).
New LeoFi Products
The purpose of this post is not to announce/discuss these products in detail. This post will focus more on how we're preparing for the launch of the first two products that are rolling out over the coming 2-3 days and the snapshot that will occur in 24 hours.
bLEO represents BEP20 LEO - a wrapped version of the LEO token on the Binance Smart Chain. The contract has been deployed and bLEO will be launched alongside LeoFi product #2.
A few LeoFinance detectives already snooped around and discovered the reservation of a new token on Hive-Engine: CUB.
Without giving away any real details about CUB, this is what the snapshot and subsequent airdrop in 24 hours is for. CUB will have something we're calling a "hybrid claimdrop".
The CUB token has some unique features and is not actually a Hive-based token. The airdrop on Hive is merely to distribute it to existing LEO POWER hodlers and WLEO LPs.
This token will be utilized for one of our largest project launches yet. Later this week, we'll throw a live launch party roundtable for bLEO and Project Cub. Stay tuned.
Hybrid Claimdrop, Snapshot and All of the Tokens
The airdrop we're doing for CUB is one for the history books. If you want to throw a fancy name on it, it's called a hybrid cross-chain claimdrop.
What this means is that a snapshot is taken of Ethereum-based WLEO-ETH Liquidity Providers on our Uniswap pair and LEO POWER hodlers (anyone holding LEO staked on the Hive blockchain).
Based on the amount of LEO staked or WLEO pooled on Uniswap, users will receive CUB tokens on Hive-Engine.
These CUB tokens merely represent a "coupon" or a claim on CUB tokens on the Binance Smart Chain (BSC). Almost like a temporary reverse wrapped token.
CUB does not really exist on Hive. It is entirely based on the Binance Smart Chain. We're using Hive as the distribution method both because LEO primarily exists on Hive and because Hive has the amazing functionality of fast and free transctions. There are over 2000 accounts hodling LEO.
Why Airdrop?
Normally, DeFi projects run a presale to sell an initial supply of their token in order to raise funding and get their product off the ground.
LeoFinance is a two year old project. We've been building in the blockchain space throughout the past two years and most importantly: we've been building community for these past two years.
Rather than hitting you with some random presale of a token, we're airdropping CUB for initial distribution, encouraging our users to try the new application and because... LEO 🦁
LEO lies at the center of our entire project. When we launch new applications - #ProjectBlank, #CubFinance, etc. - we want them to tie directly into the LEO token economy and our amazing community. How exactly we tie it in will become abundantly clear when Cub launches and when ProjectBlank launches - which are two very different platforms but have the same mission: expand the LeoFinance economy and userbase.
How Many CUB Will You Receive?
There is a pool of CUB tokens set aside for WLEO LPs and another pool of CUB tokens for LEO POWER hodlers. These two pools will be distributed evenly based on how much LEO POWER you have staked OR how much WLEO you have pooled on Uniswap
Note: LEO must be staked when the snapshot occurs. WLEO must have been LPd at least 1 week prior to the snapshot (this date has already passed, so you can't add liquidity and remove it 36 hours from now and get the airdrop for being an LP).
What is CUB?

The details of what exactly CUB is will be announced at a later announcement date. We merely wanted to announce that we'll be announcing this later at that announcement party.
In all seriousness, CUB is a DeFi-based smart contract application on the Binance Smart Chain. We've adapted a collection of smart contracts and Binance protocols to build an entirely new application for the LeoFinance ecosystem.
This new application has in-built mechanisms that collect revenue and burn both CUB tokens and LEO (bLEO) tokens. It will also feature bLEO pooling and token lock mechanisms (as a replacement to the Geyser).
The WLEO Geyser is still in place and will not be impacted by bLEO. Instead, we've created an entirely new system to handle bLEO. We view the WLEO-ETH pool as a stable and reliable yield-based pooling mechanism. The Geyser has relatively predictable returns and bLEO will likely have relatively unpredictable returns - although the APY is likely to be much higher (and more volatile). More details soon™️
Binance Smart Chain is a fork of the Ethereum blockchain and features fast and nearly fee-less transactions. With these features come a few tradeoffs, but BSC opens us up to a much wider audience and allows our existing Hive userbase to dip their toes in DeFi without paying $60 fees on the ETH network.
This project is the stepping off point to the release of a wide range of DeFi smart contracts that directly incorporate bLEO, wLEO and the entire LEO token economy.
On CUB's launch day, we'll release a separate docs/whitepaper outlining our vision for this application, LeoFi and how we'll continue to buidl in the DeFi space. This first application is built to serve both bLEO, the existing LeoFinance community and attract Binance-based DeFi users to LeoFinance and our suite of applications.
The Liquidity Dilemma
A few teasers about this project have already gone out on Twitter and Discord which have caused a dilemma. With the details above, I think it's much easier to see the dilemma here:
Staking LEO (or LPing in WLEO-ETH) will mean that you participate in the snapshot tomorrow.
With that said, bLEO and CUB are about to launch and having liquid tokens available is going to be important for participating in the launch of those tokens on Binance Smart Chain.
Knowing some of the details behind the hybrid claimdrop and what the new launch will entail, hopefully you'll have some sort of sense of what to do here for your personal preference. Some people may want to participate more heavily in the DeFi product we launch later this week and the future contracts we add to that application and others may want to just stake their LEOs and keep on curating.
A healthy mix of both is typically where I end up, but this is going to rely more so on personal preference than anything else. Some people have already realized that staking all their liquid LEO and buying up the liquidity remaining on the LeoDex and on Uniswap is a good strategy.
When bLEO launches alongside our new collection of smart contracts, we expect a mad dash for liquidity on BSC.
The CUB snapshot will occur at 9 AM CST on March 3rd, 2021
LEO POWER and WLEO LP balances will count toward this snapshot. After the snapshot occurs, CUB tokens will start to be airdropped to your Hive wallets. A post will drop right before the airdrop starts which will explain how exactly to utilize CUB to claim the drop on the Binance Smart Chain.
Since LEO balances are on Hive and wLEO balances are on Ethereum, we had to get pretty creative to do this airdrop. Coming up with this idea for a cross-blockchain hybrid claimdrop was pretty fun and it will be interesting to see how it plays out tomorrow and the days that follow.

LeoFinance is a blockchain-based social media platform for Crypto & Finance content creators. Our tokenized app allows users and creators to engage and share content on the blockchain while earning cryptocurrency rewards.
Support LeoInfra's Onboarding Efforts by Delegating HP to @leo.voter (Currently at 2.4M HP). We Use this to Claim Accounts and Delegate RCs to Newly Onboarded Users
Posted Using LeoFinance Beta