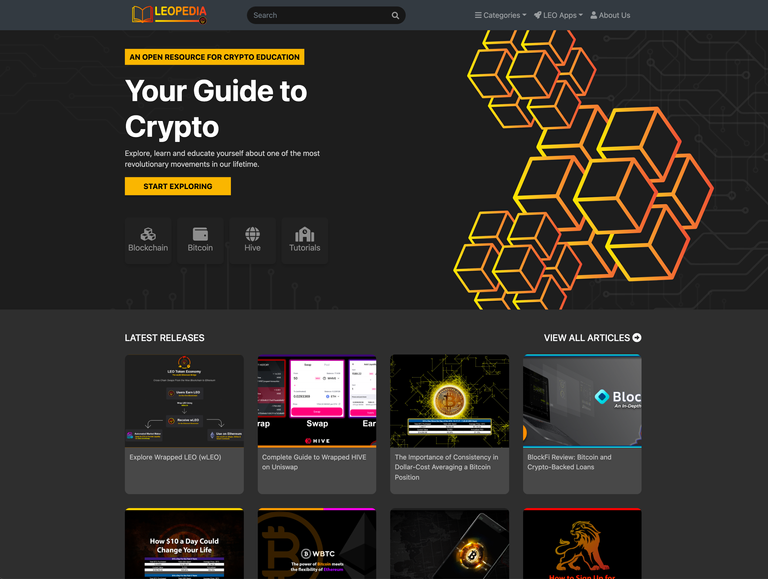 LeoFinance has been undergoing massive levels of expansion throughout 2021 and now into 2022. We're bringing a level of development never seen before for our project.
Development happens on the backend, it happens on the frontend but it also happens on the community end.
LeoPedia is a resource we built a long time ago. The mission of it?
Open access to a library of resources about cryptocurrencies and finance.
With that said, LeoFinance has taken on many other applications and hardcore developments. We need community leaders to step up and help take our existing and future apps to the next level by taking the reins on various aspects of the project.
@taskmaster4450 has led the charge on @leomarkettalk and the #DailyLeo Newsletter on Substack.
@jk6276 has taken over the @leoalpha initiative and turned it into even more than we had originally discussed. He's killing it as well!!
LeoPedia: The Ultimate Crypto & Finance Learning Resource
There are hundreds of pieces of crypto and finance content that are created every single day on https://leofinance.io.
The google rankings of LeoFinance continue to climb and we're seeing evergreen content bring in traffic at levels we've never experienced before.
With all of this content, some organization is needed.
As we all know, content is short-lived on Hive and LeoFinance. When a piece of content is made, it's only rewarded for 7 days and then it pretty much disappears from all feeds.
The goal of LeoPedia is to take the vast library of content that is being created daily on LeoFinance.io and archive it on a site that is organized and easy to access and share.
Great, evergreen content is created on https://leofinance.io by the LeoFinance community
The LeoPedia Community Leader is constantly on the lookout for content that fits this category
The community leader takes that content and uploads it to LeoPedia (a wordpress-based site)
The newly uploaded content contains linkbacks to https://leofinance.io and the author who created it
Over time, the community leader in charge of LeoPedia collects the top posts of each month. Ranked by the traffic they bring in to https://leopedia.io. The top traffic-generating posts earn a LEO bounty each month
Are You Interested in Becoming this LeoPedia Community Leader?
We're looking for 1 community member to step up and fill this role. You'll be expected to have a large amount of autonomy in selecting great content that fits the mission of LeoPedia. Then you'll take that content and follow the above steps: uploading it to https://leopedia.io, linking back to LeoFinance.io, etc.
Organization is Key!
Whoever takes over this role should be someone who is well organized and familiar with LeoFinance and Hive (and Crypto/Blockchain/Finance more broadly).
We're expecting high levels of engagement (uploading content on a daily basis that is found on leofinance.io and deemed to fit the LeoPedia mission statement is ideal!).
If you think this is you, then please fill out the google form here.
The form will just ask a few questions and then Khal will reach out to you for a quick interview.
LeoPedia's Potential
With all of the new entrants into the crypto space and all of the developments around Play-to-Earn, Liquidity Pools, Generating APY on Crypto holdings, Stock Market Investing / Robinhood craze... there's never been a better time to seed the ground of a one-stop-shop for investor education.
We have always believed that LeoPedia could become the new "Investopedia" for Web3: Community-generated content, tokenized and linked to the largest Web3 Financial Community on the planet, LeoFinance.
If you're in it for the long-haul and you can add massive value by taking up the torch of LeoPedia's Mission Statement, then please fill out the form and see if you're the right fit. Again, we're looking for one highly motivated and engaged community member to take on this role.
As far as compensation, you can work that out with Khal once he accepts you into the position. The rewards will most likely be paid out as on-chain upvotes + clout in the LeoFinance community and an ongoing salary can also be negotiated depending on the level of work quality you bring to the table.

LeoFinance is a blockchain-based Web3 community that builds innovative applications on the Hive, BSC, ETH and Polygon blockchains. Our flagship application: LeoFinance.io allows users and creators to engage and share content on the blockchain while earning cryptocurrency rewards.
LeoFinance | CubFinance | Hivestats | LeoDex | LeoFi
Delegate HP & Earn 16% APR, Paid Daily. Currently @ 2M HP

Posted Using LeoFinance Beta