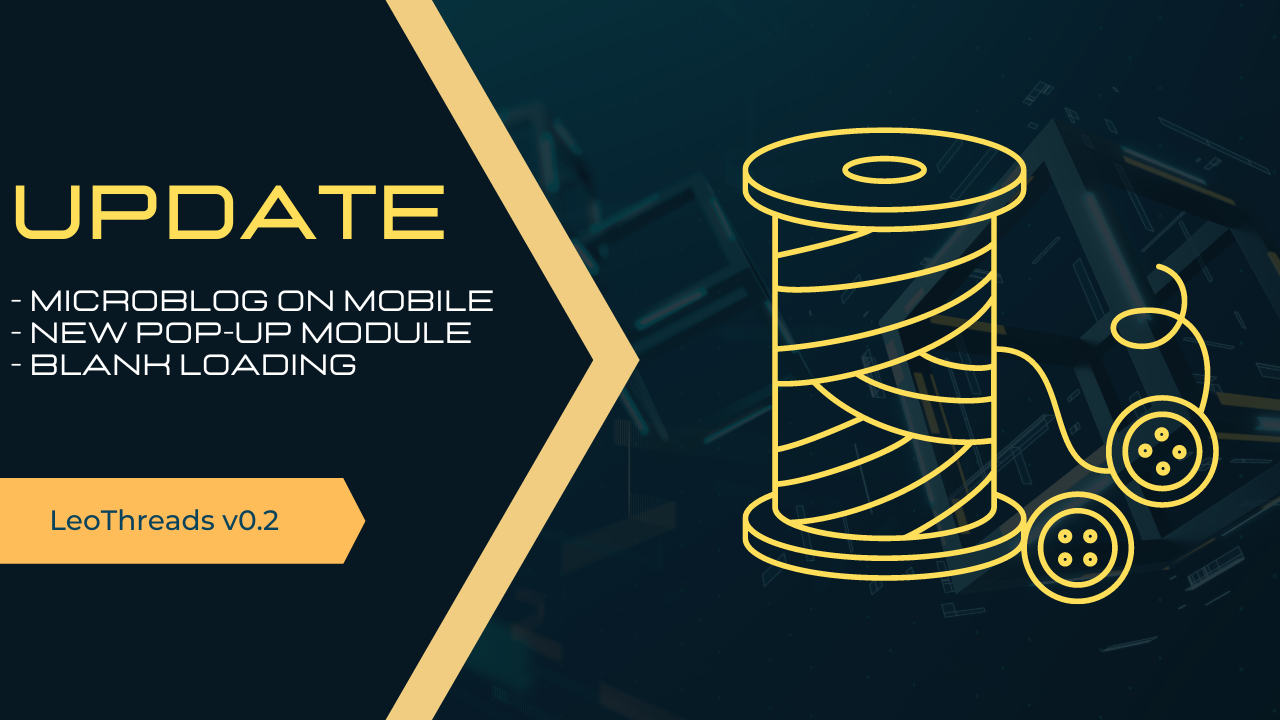 In This Release
In LeoThreads 0.2, we released an entirely new framework for Post, Feed and Pop-Up Modules.
This update brings a widespread improvement to the entire LeoFinance.io interface. If you've been using the UI for the past 3 days, you'll notice that this update went live and had a visual impact on all feed displays.
This is because we're using a completely rebuilt framework to handle post, feed and pop-up modules. Anything using the old modules was replaced with this new and improved version.
Why did we update all of these modules? There were several reasons but the most obvious issue was that many users were unable to use LeoThreads from their mobile device: This was largely due to the Pop-Ups not displaying correctly due to outdated support modules.
With LeoThreads v0.2, this has now been resolved.
---
Hive user but haven't tried Threads Microblogging yet? Try it now at https://leofinance.io/threads
---
New Pop-Up Reply Window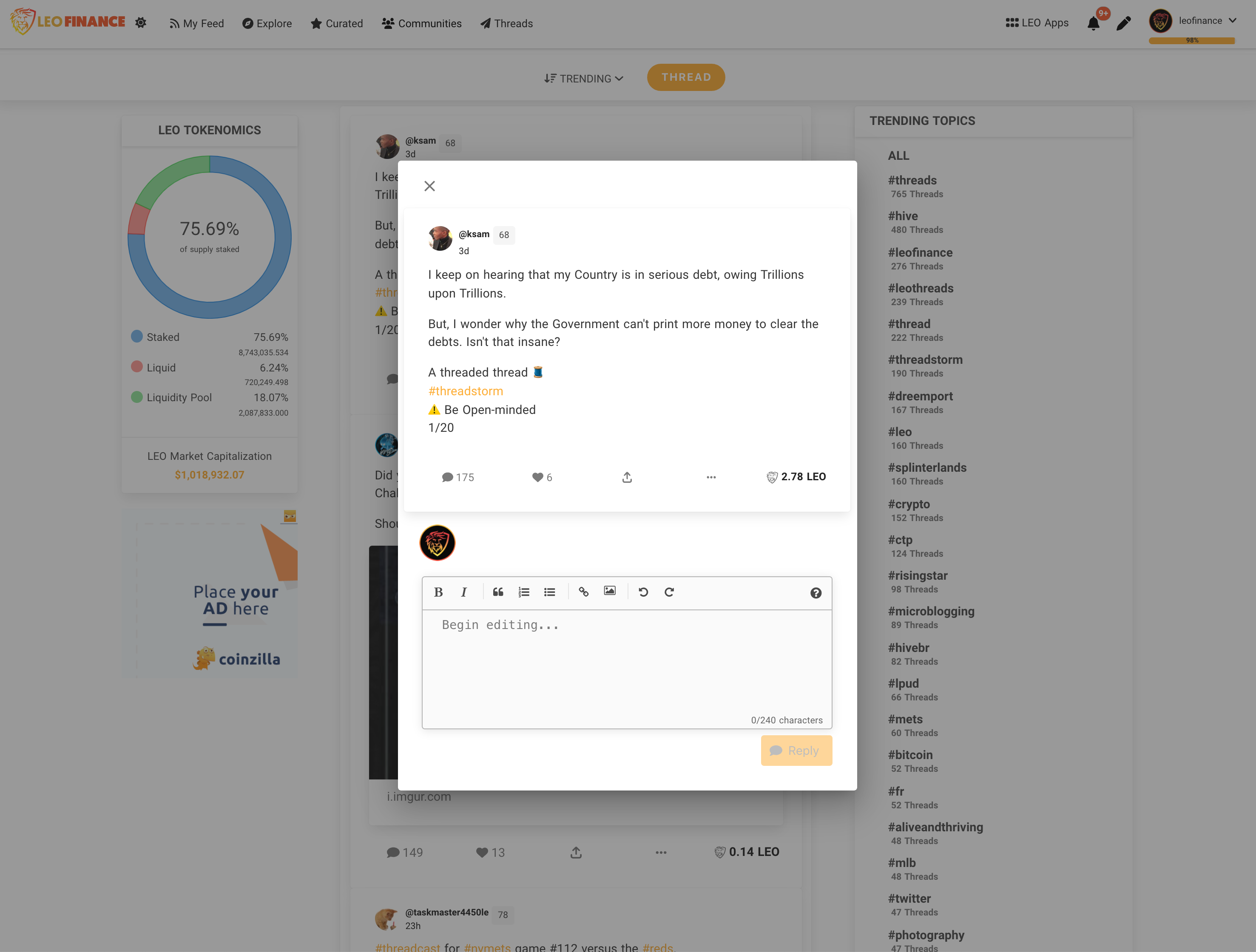 The new pop-up reply window is vastly improved over the old version. On both Desktop and Mobile, you'll notice that the module is extremely responsive and snappy. The old version felt clunky and slow.
Give it a try and let us know your thoughts!
New Loading Module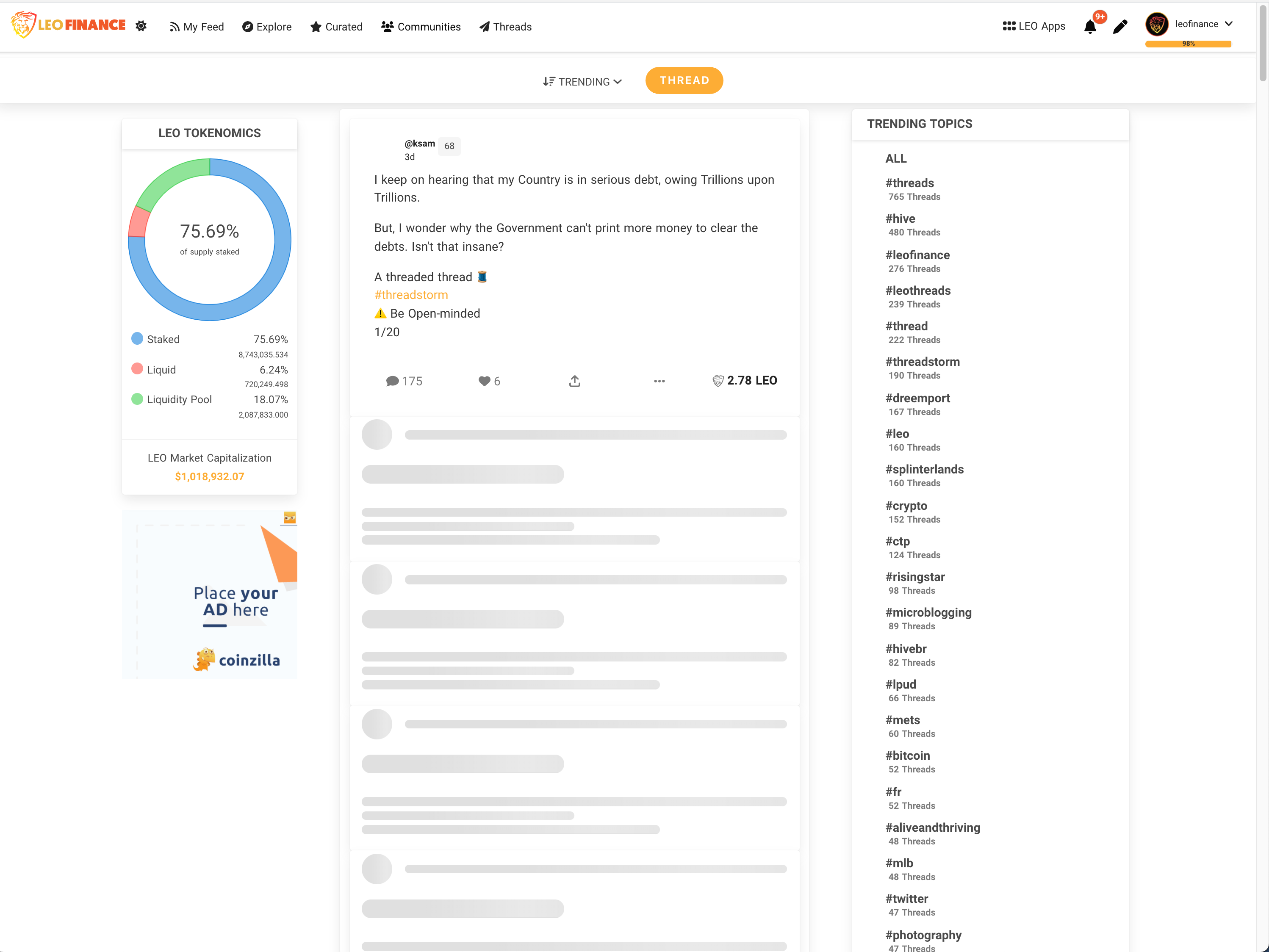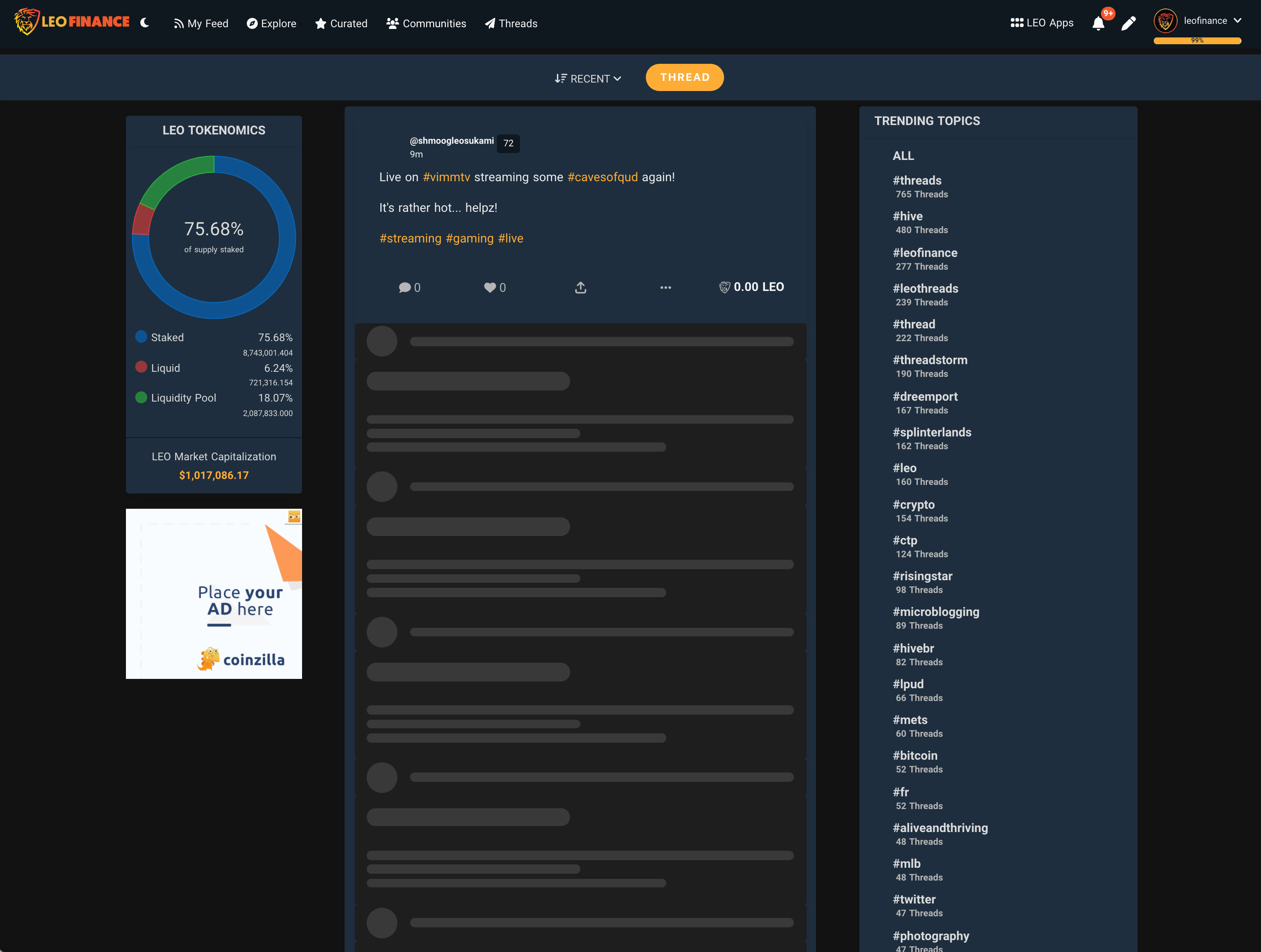 Under LeoThreads v0.1, the Threads page would show all the ads stacked up while the UI loaded the Threads it wanted to show you.
With v0.2, we've added a loading screen which shows that Threads are there but are still loading.
This is a responsive loading screen which means that it actually is showing the Thread container itself even though the content within it hasn't loaded yet. For example, if you click to a page where there are 2 threads but the content is still loading, the UI will show two empty thread displays until the content is fully loaded.
This is an incredible leap forward in terms of UX. It gives the UI a fresh and responsive feel even though it's still loading content for you.
What's Next?
v0.3: Performance Update
v0.4: My Threads, My Feed and New Reply UI
v0.5: Community Feedback 👇🏽
v0.3 will focus on increasing the performance of both the Threads UI and the entire LeoFinance.io frontend. You may notice that the loading speeds are often slow. The sheer amount of data being requested on the frontend and through Lightning has been enormous.
The UI is far more stable now than it was when Threads first launched - thanks to some massive LeoLightning DB improvements we made... That being said, we are a long way away from having the performance we want. We want you to load the UI as fast as you load something like Twitter, as a benchmark.
v0.3 is expected to be done by Friday/rolled out during the weekend. We'll post some updates as that is rolled out including before and after performance benchmarks so you can see just how much better the speed gets.
v0.4 will launch 3 new features:
My Threads
My Feed
New Reply UI
These 3 features are the most highly requested by the community right now. My Threads will be added to your profile page and allow you to see all of the top-level Threads that you've created. This will make it a lot easier to keep track of both your threads and other users' threads if you wish to view their profile page and see what they're Threading about.
My Feed will be a new way to filter threads. This was requested by @onealfa and several other community members who want to be able to view threads that were created by people they follow on Hive/LeoFinance (this will work identical to the current "My Feed" page which shows all of the Posts that were created by people you follow).
New Reply UI - this is actually something we wanted to build in the past to make it faster and better to reply to comments that people left on your Hive posts.
This Reply UI will be released to handle both post comments and Thread comments. It will essentially be a hub for replying to people who replied to you. Making it easier, faster and more efficient to engage with the audience you're building on Hive and LeoFinance.
v0.5 will be a bunch of new features and bug improvements that the community is currently giving us feedback on. If you want to get your feature added to LeoFinance/LeoThreads, then request it in this thread.
Got Feedback?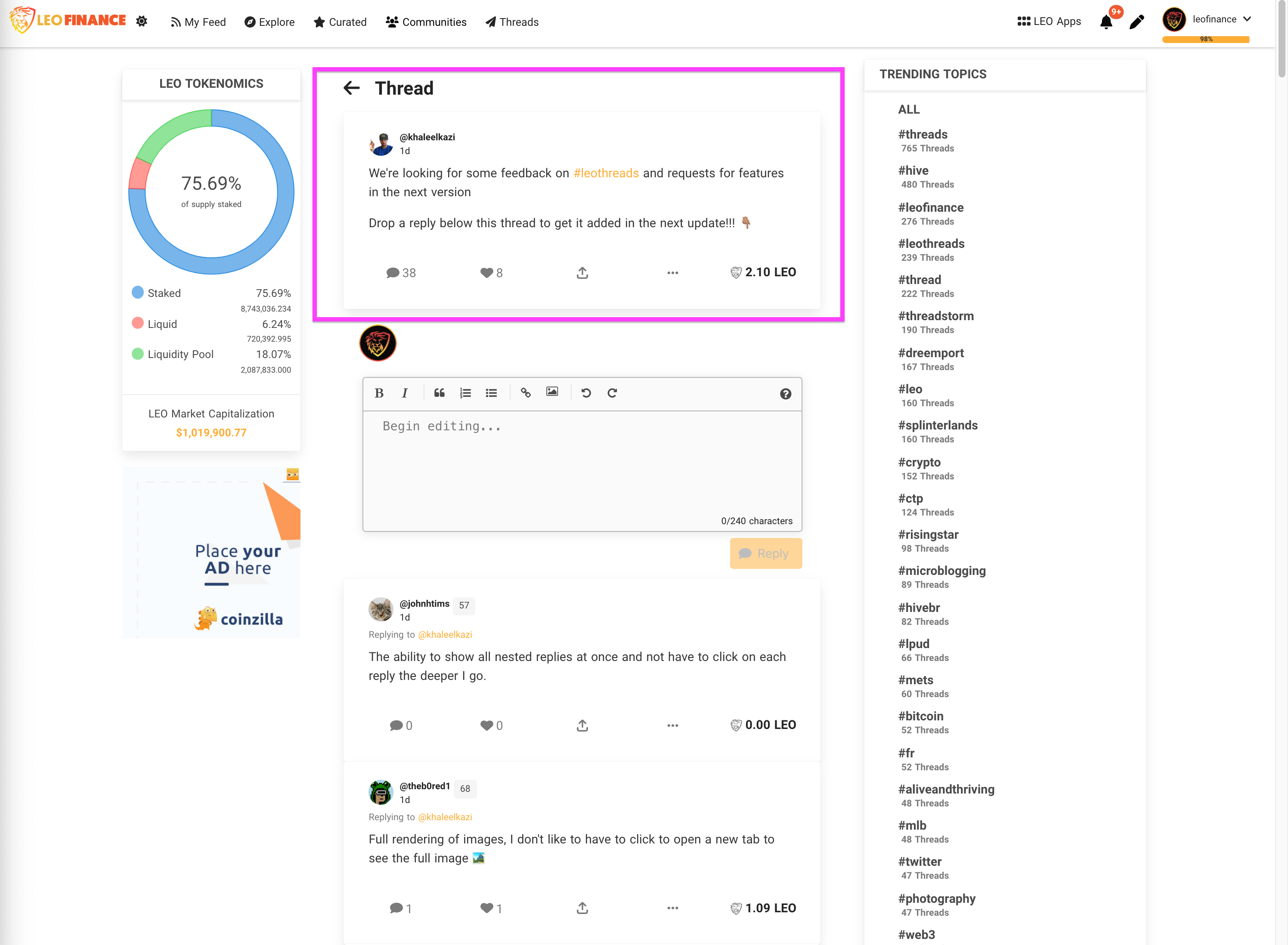 https://leofinance.io/threads/@khaleelkazi/re-leothreads-2q83tp
All of the feature requests in this Thread will be organized into our roadmap for future updates in v0.5 and beyond.
Some of the top requests we've seen so far:






Keep the Feedback Rolling In!
Feedback from the community is how LeoFinance was built and will always be built in the future. We need your feedback to keep building the best products that we can possibly build.
The community dictates the direction of LeoFinance and our development. LeoThreads has a lot of improving to do as we've just released the MVP version (0.1). Today marks the first major iteration since (v0.2) and tomorrow we'll release v0.3.
Many more updates are going to be rolled out each week as we develop from MVP Open Beta to fully viable product that has great UI/UX.
Thank you to everyone who is using Threads on a daily basis. You guys are crushing it.

About LeoFinance
LeoFinance is a blockchain-based Web3 community that builds innovative applications on the Hive, BSC, ETH and Polygon blockchains. Our flagship application: LeoFinance.io allows users and creators to engage and share content on the blockchain while earning cryptocurrency rewards.
Our mission is to put Web3 in the palm of your hands.
Twitter: https://twitter.com/FinanceLeo
Discord: https://discord.gg/E4jePHe
Whitepaper: https://whitepaper.leofinance.io
Our Hive Applications
Join Web3: https://leofinance.io/
Microblog on Hive: https://leofinance.io/threads
LeoMobile (IOS): https://testflight.apple.com/join/cskYPK1a
LeoMobile (Android): https://play.google.com/store/apps/details?id=io.leofi.mobile
Delegate HIVE POWER: Earn 16% APR, Paid Daily. Currently @ 2.8M HP
Hivestats: https://hivestats.io
LeoDex: https://leodex.io
LeoFi: https://leofi.io
Polygon HBD (pHBD): https://wleo.io/hbd
Polygon HIVE (pHIVE): https://wleo.io/hive
Web3 & DeFi
Web3 is about more than social media. It encompasses a personal revolution in financial awareness and data ownership. We've merged the two with our Social Apps and our DeFi Apps:
CubFinance (BSC): https://cubdefi.com
PolyCUB (Polygon): https://polycub.com
Multi-Token Bridge (Bridge HIVE, HBD, LEO): https://wleo.io
Posted Using LeoFinance Beta