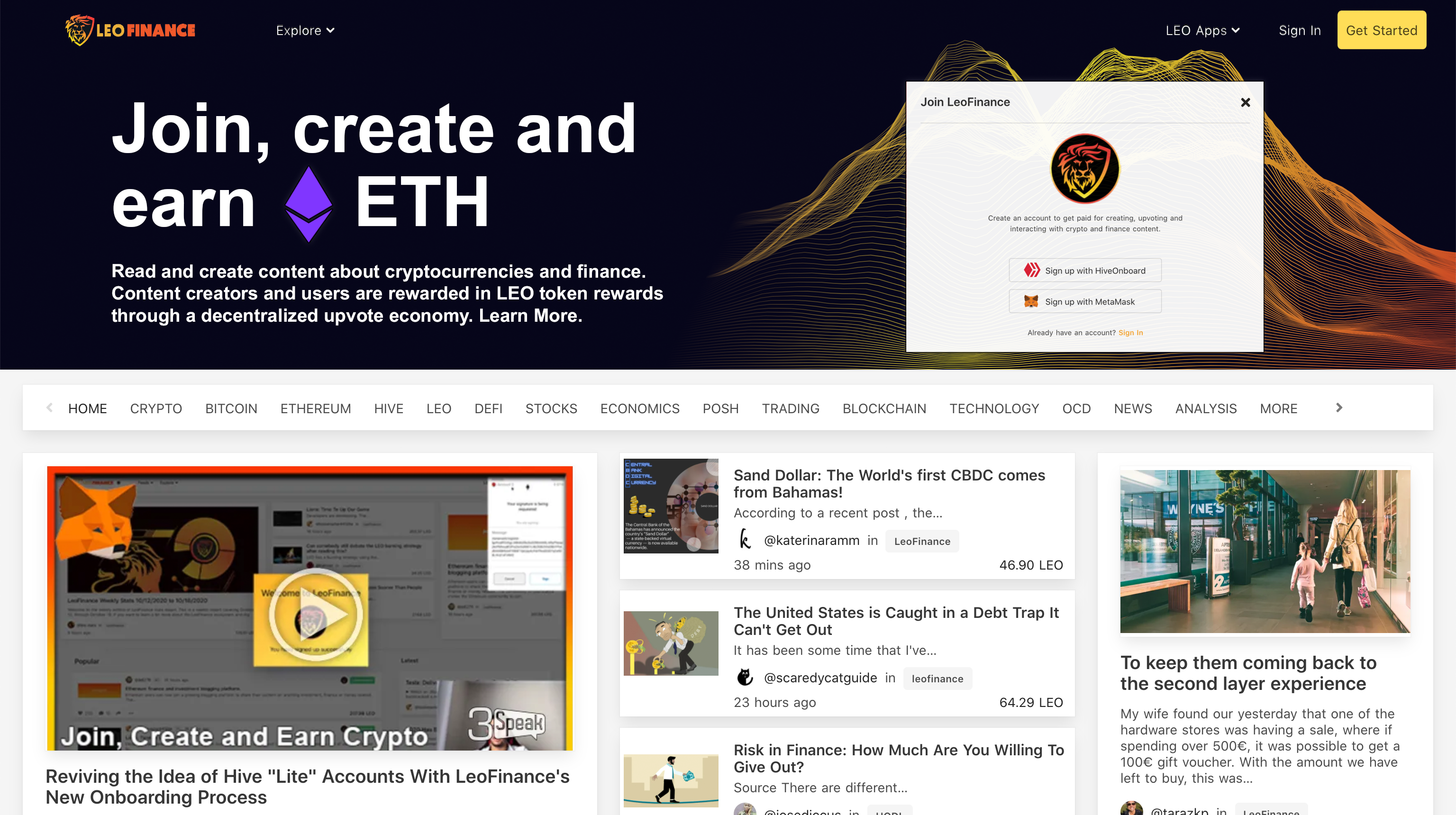 Now that Metamask has been integrated into https://LeoFinance.io with the introduction of our LeoInfra V1 project, our outreach programs have taken center stage.
When LEO was started over 16 months ago, the overarching goal was to bring more users to this blockchain ecosystem. Our long-term mission has always been to increase the userbase for our platform while simultaneously adding to the greater pool of users on Hive. Laying down the foundations for that has taken a long time. We've had to build our own UI, continually build our community (the most important part of our project) and add to the LeoApps suite.
Finally, we've moved into our specific integrations aimed at onboarding. The MetaMask signup option is the first in a series of major updates to LeoInfra which will make signing up to LeoFinance (Hive) easier than ever. Our priority now is bringing the right audience to LeoFinance.io and get them to signup for an account.
Since Metamask is our first integration, our target audience is current Ethereum/Metamask users. These weekly contests coupled with paid marketing that LeoFinance is running internally are all aimed at bringing these users to the site and encouraging them to "Join, Create and Earn Crypto on LeoFinance"
If you haven't seen our Metamask sign up process, then you can check out this video. You can also feel free to try it out yourself even if you already have a Hive account. This may help you with your contest entry this week as you talk about the signup process and encourage ETH users to join LeoFinance.
Ethereum Outreach
Each week, we're going to have different initiatives for Ethereum outreach. Some of our programs are internal: i.e. paid ad programs on Web2 media. Other aspects of these programs call upon you - the community - to reach out to the broader crypto/ETH space and bring people back to the site and encourage them to hit that "signup with Metamask" dialog: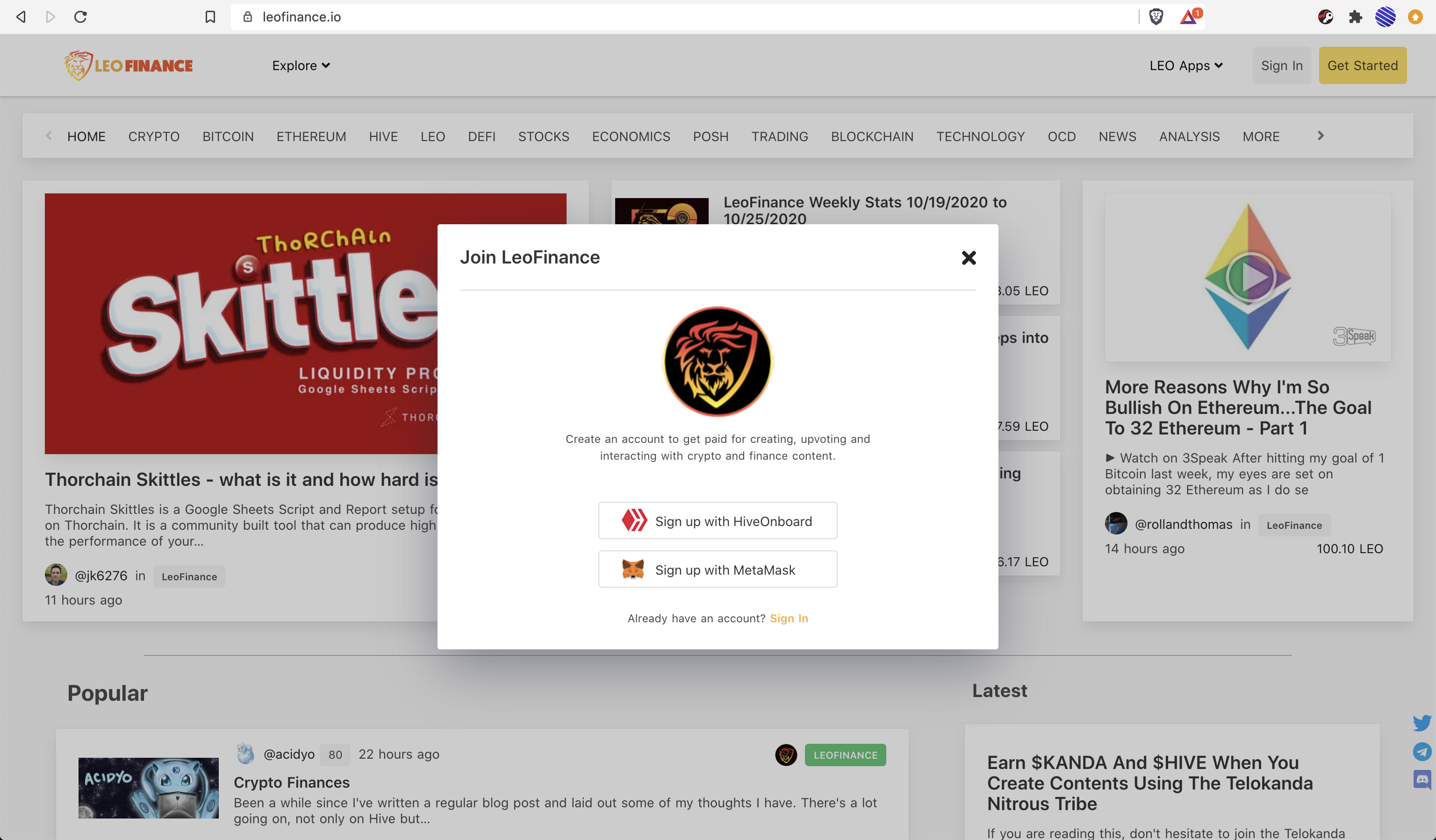 Week 1: Contest Rewards & Details:
@theycallmedan and @threespeak have graciously donated HIVE each week to the pool of rewards for this contest. @leofinance is also donating HIVE to this pool along with a matching amount of LEO from the bounties fund.
For this week's contest, the pool is a total of:
edit: @trumpman and @cryptomaniacsgr have also donated 100 LEO and 50 LEO to the pool respectively.
1 winner will be chosen each week based on a few factors:
Quality of the post entry (judged by @leofinance curators/growth team)
Traffic generated by your post/social links (tracked using our open analytics platform)
All entries and runner ups will earn upvotes using HIVE POWER + LEO POWER from @leo.voter and official LEO accounts.
How to Enter
This week's prompt is based around the idea that users can now sign up to https://LeoFinance.io using Metamask and earn ETH rewards by blogging/engaging with content.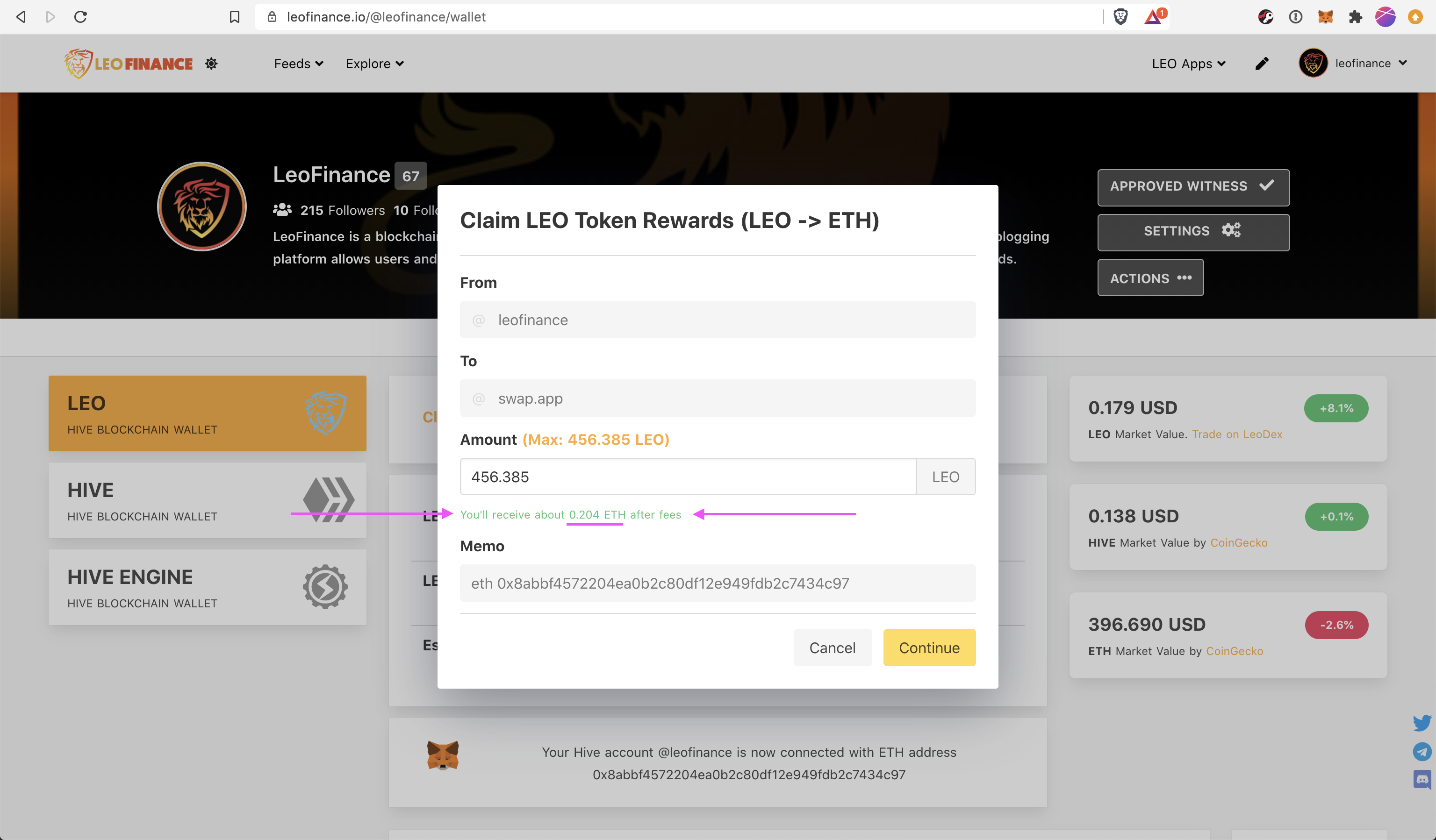 The title of your entry should be something resembling this, although I encourage you to play around with the title and make it your own:
Join LeoFinance With Metamask and Earn ETH Rewards for Your Crypto Content
Requirements:
Minimum of 750 words in length
Shared on at least 2 social media platforms using ETH-based targeting: i.e. tagging a tweet with #Ethereum #Metamask(link to these social posts in a comment on your post - similar to #posh)
Post using the https://leofinance.io frontend
1 post tag with #metamask
You can also publish a video utilizing the prompt on https://3speak.online. Just make sure to tag it with our community tag and #metamask so we see it.
Keep in mind that the entire premise behind this contest is to reach out to Ethereum/Metamask users and get them to create a Hive account using LeoFinance.io. The more creative you are in your entry and especially in how you perform your social outreach (i.e. how you target users with your Tweets/Reddit links, etc.), the higher your likelihood of winning.
If you're looking for an example entry, @khaleelkazi will post an example shortly after this post is published (that entry will not qualify for the contest rewards).

LeoFinance is a blockchain-based social media community for Crypto & Finance content creators. Our tokenized app allows users and creators to engage and share content on the blockchain while earning cryptocurrency rewards.
Follow @leofinance for official updates
Posted Using LeoFinance Beta