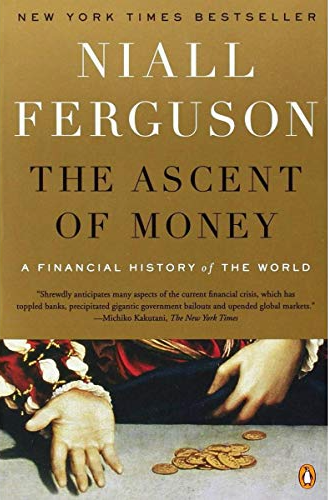 The book was originally published in 2008, in the midst of the financial crisis and before the genesis of Bitcoin. I found this original edition at a second hand book store. The book was later revised in a 10th anniversary edition, which includes chapters on cryptocurrency, and a retrospective on the financial crisis. I will be keeping an eye out for that edition.
The chapters of the book cover the following areas from a historical perspective:
The concept of money and the birth of banking and credit.

The issuing of bonds by governments and institutions.

The stock market

Insurance and the welfare state.

Real Estate
I really enjoyed his description below of what money is, which also primes you for the possibility of a digital money such as Bitcoin.
Money is not metal. It is trust inscribed. And it does not seem to matter much where it is inscribed: on silver, on clay, on paper, on a liquid crystal display. Anything can serve as money, from the cowrie shells of the Maldives to the huge stone discs used on the Pacific islands of Yap.
From his writing, the author appears to lean more libertarian, and follows more the Austrian school of economics. He describes the evils of inflation and money printing. It was fascinating to read about finance from a historical perspective. I didn't know for example that a Scotsman and fugitive criminal, John Law, invented the stock market as we know it back in the 17th century. He is also thought to be indirectly responsible for the French Revolution through the damage that he caused to the French economy. I feel that it's really useful to have a historical perspective of why things are the way they are.
Even though it is a bit dated, I thoroughly enjoyed this book. Books such as this give a snapshot in time that allows you to 'look forward' into the recent past.

If you don't want to bother with reading the book, I've got you covered. Niall is a terrific narrator, as you will find in his award winning documentary of the same name:
He does tend to be very animated with his head movements though.

If you've read the book and are hungry for an update from the a author, he did a recent interview on the Tim Ferriss podcast.
https://tim.blog/2022/11/15/niall-ferguson/

Here's Niall Talking about Bitcoin to Lex Fridman
What Bitcoin represents is an alternative mode of payment that really ought to render banks obsolete. I think this financial revolution has got past the point of which it can be killed...
Posted Using LeoFinance Beta