It's happening - Signa is being listed on Hive-Engine. Last week I've made the promise to help list signa by moving all my liquid income to help fund listing Signa on Hive. So I'm proud to report I got 12k of LISTHIVE tokens on signum blockchain.
If you don't know what I am talking about check this post here.
How?
From Hive via H-E into BSC (via Leo),
Through PancakeSwap I acquired wSigna,
Created a contract on BTDEX
Swapped wSigna for Signa.
It does sound complicated and I must admit that I really hate doing it that way, swapping through H-E swap.signa is going to be much easier and cheaper, at least I hope so, because the bridge is between H-E and wSigna token on BSC. If a bridge is possible between Signum and BSC, it is possible to create a direct one with Hive. I think that Singum community will benefit from close ties with Hive.
wSigna-wBNB Pool
https://pancakeswap.finance/info/pool/0xb3c716e8d1ddbeee8064e2e8c85c6812247a86cb
Let's get to the main point though. Signa is being listed as the project got 1000 BEE and now you can trade it on H-E.


So what is going to happen with funds gathered? This funds will be used as a liquidity in diesel pool, listhive tokens will be exchanged for BTFGCake (pasive income token run by @btfg), at least I think so. The project is not over yet, though.
We will have a few stages
Stage 0: Mining Commitment of 100k **(In Progress, 68.98% Effective Completion) **
Stage 1: Raise Funds for Listing **(100% Complete) **
Stage 2: Raise Funds for Pool Stage 3: Raise Funds Adding Liquidity (In Progress)
Stage 4: Pay Dividends and initiate buyback procedures
Stage 0 will use 25k shares assumed sold @ 4 signa each
Stage 1 will sell 100,000 LISTHIVE @ 1 Signa Each (sold)
Stage 2 will sell 50,000 LISTHIVE @ 2 Signa Each
Stage 3 will sell 25,000 LISTHIVE @ 4 Signa Each
I did share some thoughts on how they can more out of this: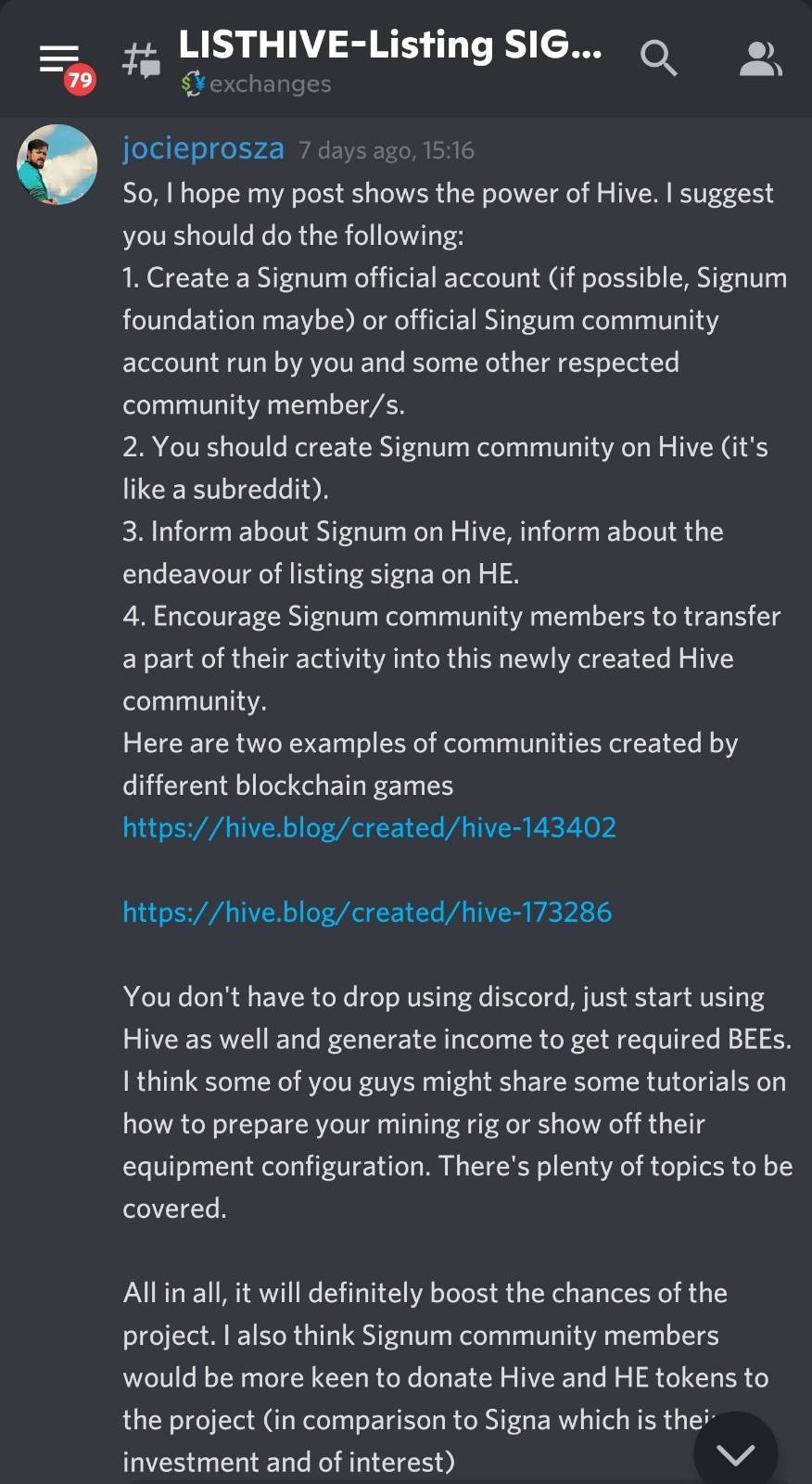 You can read more on Signu on the project's site https://www.signum.network
Signum discord https://discord.gg/mAfQTEUB
Posted Using LeoFinance Beta