I think most of us already know the drill every first of the month. It's time to fill in the tanks with all that we can. It has become a habit for me since the start of the year and would surely miss it when I stop doing it which is not really an option for me, not just yet.
Our previous President in the country had a program called "BUILD, BUILD, BUILD" which proved to be worthy because during his term, many infrastructures and projects (expressways, roads, bridges etcetera) had been completed which many people now benefit from.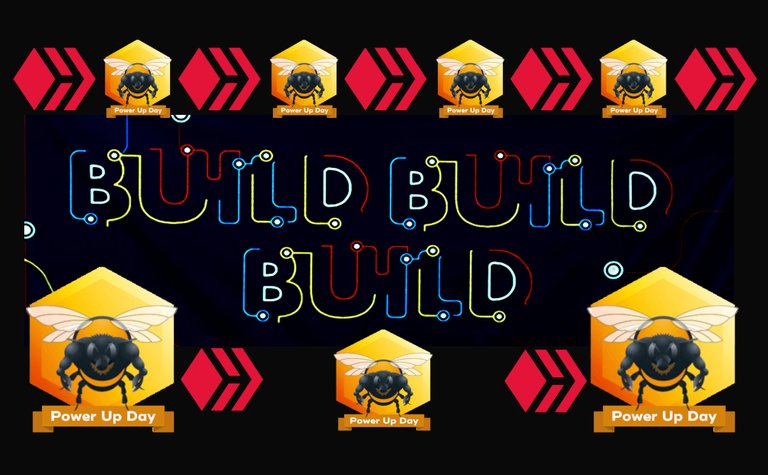 The term BUILD (BUIDL) inspired me so much that I'm applying it in my Hive account. I learnt that growth comes with work and that's what I'm trying to do by showing up everyday and grinding no matter what. There were days when I just want to be lazy but then my long-term goal kept me going. Besides, being around here in the hive is fulfilling, add to that the things that I learn everyday. It's just amazing! I'd say it's a win-win.
So today is another day to buidl and I filled my HP tank with 110 HIVE. Planned to do 500 Power Up but I had so much fun buidling daily for the recently concluded HPUM, staking HIVE according to the date (minus 1) so it looked like this: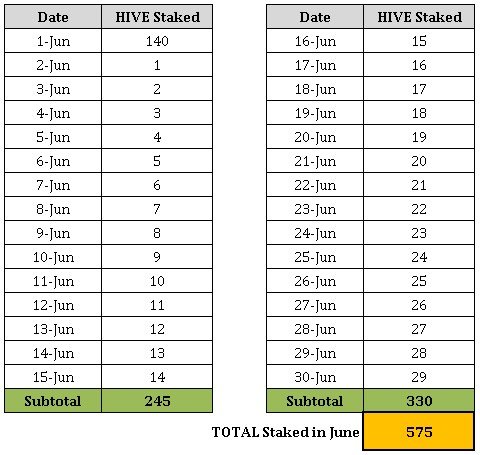 With all that and others, my account grew for about 38% in June. But the growth didn't come free. It was coupled with work.
And how do I BUIDL? What kind of work?
Creating fresh content daily.
I post one each day and this is where the "real" hard work for me is. I spend more time daily trying to make a good post with the sole purpose and hope of adding value to the community.



Keeping my engagement
For the month of June alone, 30 HP was added to my Hive Power, thanks to the weekly Hive Engagement League initiative by Asher (abh12345) and other sponsors. Asher sets 25 HP which he distributes as rewards for those in the top 10 in the league.



Sharing other people's posts on Twitter
I've mentioned this before and I'm still doing it. It helps me earn more liquid HIVE.





Taking advantage of the price of Hive and buying daily using my HBD rewards. This way, it enables me to keep my habit of staking HIVE daily which satisfies my Power Up Month goal.



Curating other contents.
I always try to upvote contents that I read especially when my Voting Mana allows it. I learned VP budgeting because of this, lol! This is also one of the reasons why I am so driven in growing my HP so that I can curate more.


Growth in Hive means a lot to me. It motivates me to keep on doing my best. With that said, I couldn't do it alone without the constant support of others - curators, fellow cubs, lions, Hivers. You are all part of my growth and I'm taking this chance to thank you all, sincerely. SALUTE!
My thanks and appreciation as well to @HiveBuzz for keeping us excited with its Hive Power Up Month initiative and all the badges and notifications coming around our posts informing us of our achievements. They are awesome!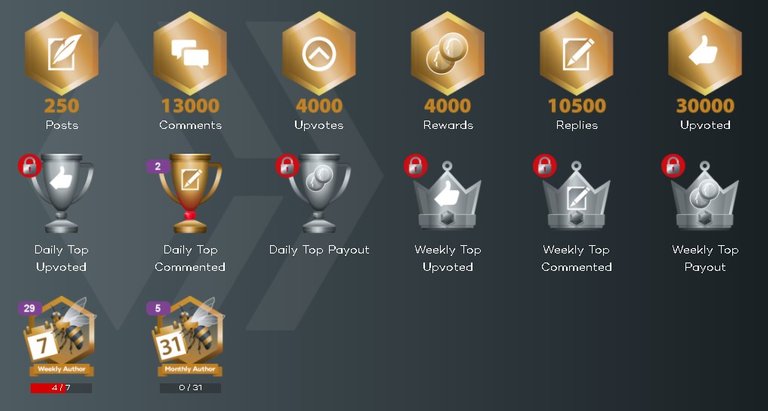 And now, I'm day dreaming when would I be able to get those gray ones become golden? LOL! It only means I still have a lot of work to do and while on it, I'll continue to have fun too.
How about you, have you fueled up today?
If not, join the initiative and jumpstart your growth. Read more about it HERE. Thank you and cheers to you!

Images were obtained from Hive interface and HiveBuzz. No copyright infringement intended. 010722/11:52ph
Posted Using LeoFinance Beta