When Hive communities were first introduced, there was quite a big hype around them.
My focus on Hive narrowed over time, and I can't really say how much the smaller Hive communities are used. I believe a good opportunity was missed to add such communities with tokenization support as well. But that meant SMTs in the old plans for the previous blockchain, which never materialized there, and on Hive the second layer smart contract solutions are preferred, to keep the base layer robust and limited in scope.
Whether or not Hive communities are used widely, besides the large tribe-based ones and a few others, is not the purpose of this post.
But let's take the Leofinance interface for example.
Leofinance started out as a Hive-Engine tribe (well, actually on the previous blockchain). That's how the LEO token came to life.
But Leofinance also has a Hive community. Whenever you post using the Leofinance interface, two things happen:
your post is published in the Leofinance tribe (because the interface automatically adds the 'leofinance' tag at the end)
your post is published in the Leofinance Hive community.
Besides that, depending on the options you select, the post can also go to your personal blog and/or to your Twitter account. But these two are optional. While the tribe and community are not changeable.
So, you couldn't post in the 'Splinterlands' Hive community too, because you already post in the Leofinance Hive community, and you can only post in one Hive community.
If you would use a general interface to post, the Hive community where to post is something you can select. But for Leofinance it doesn't make sense to introduce that option, since they have their own Hive community.
So, a way to segment content on Leofinance based on interests is via the Leofinance communities. Otherwise, as Leofinance grows, putting together content from different areas that are related to the crypto or financial world leads to growing issues in finding the type of content one is interested into.
Now, all it remains is that those Leofinance communities are used. There are 17 of them already.
How to use Leofinance Communities?
Check out their list from the Communities menu at the top: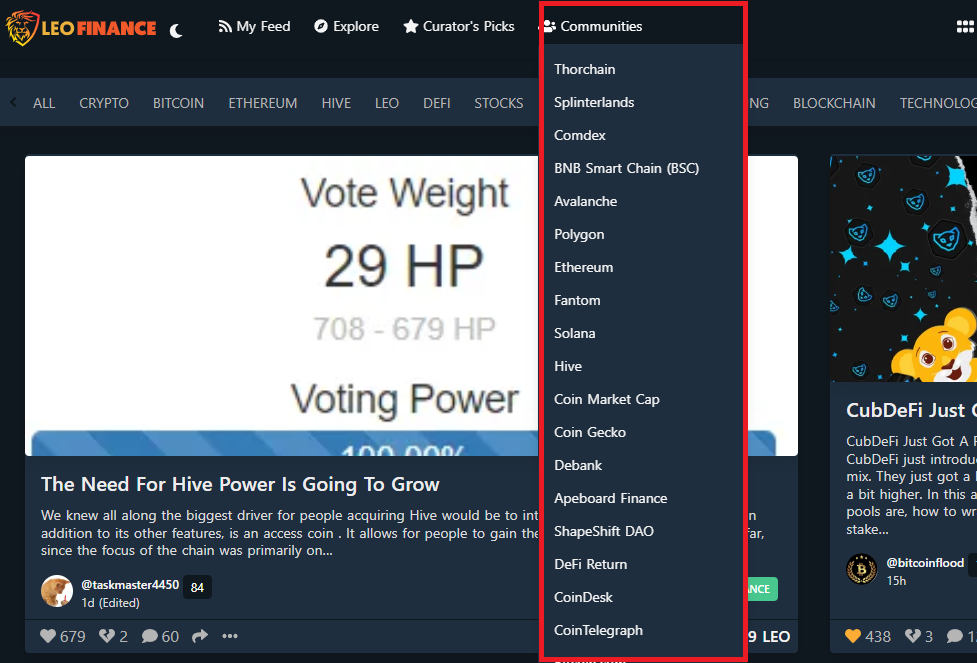 Click on the one that interests you. Let's say 'Splinterlands', one of the originals, and a very active one.

Every community has a header at the top with certain information, including the community moderators, and the posts selected to be in the community after that.
To make your post eligible for a certain community, you must use the right tag. The question is, what is the right tag for each of the communities? Lacking a formal description of the tag to use in the top header, you can take it from the link, like this:

For Splinterlands you need to add 'splinterlands' as a tag. For Thorchain, it's 'thorchain', and for Binance Smart Chain it's 'bsc'. For Hive, it's 'hive'. Just a few examples.

Now, that's not enough. Maybe you've done your part, but now one or more moderators for that Leofinance community need to upvote your post, to be displayed on that community page. The post will show in Leofinance and Hive, regardless of their votes. The higher their cumulative votes, the higher your post is on that community page.
Just as a remark, it seems the Leofinance communities with more content moderated load up faster. Unlike those Leofinance communities with no content moderated, for example.
Posted Using LeoFinance Beta