It's not often when we get the end of week to coincide with the end of month. While this is not a special event, it's easier if you track both weekly and monthly stats. Although, in my case, I got used to doing my monthly stats on the 1st of the next month.
This was an interesting week on Hive, with another pump-and-dump scheme running on Upbit. This time though, HIVE was only pumping as a side-effect, because HBD was targeted.
While HBD at 3 USD, even briefly, doesn't look good for the stability of HBD, on the medium-long term chart we see things have improved significantly since HBD Stabilizer operates and the HIVE -> HBD conversions were introduced.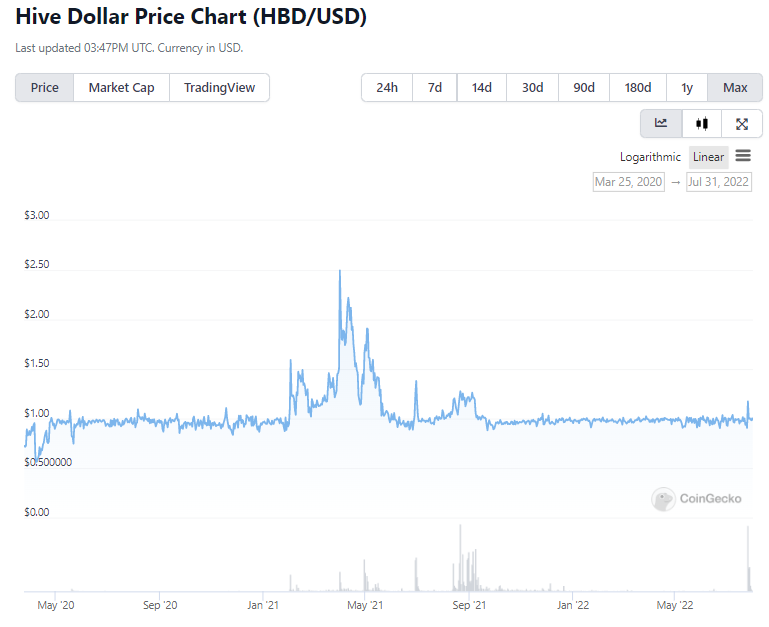 Compared to mid-2021, the pump we had this time seems minuscule. Of course, it depends on how Coingecko is reporting this because on Upbit HBD went all the way up to 3 USD for a short while, from what I heard.
While I don't like these pumps and dumps for the stability of HBD, I did take advantage of this one, partially. I had some liquid HBD waiting for better HIVE prices on Hive, which I exchanged for HIVE, but only when HBD had dropped back to about 1.25 USD. Unfortunately, I didn't check the prices earlier or my feed, because people started to post about it.
I also forgot about my pHBD on PolyCub... Those were liquid and could have been swapped for USDC for a quick profit.
I would rate myself as mediocre this week for my response when opportunities presented themselves.
Also, this week bHIVE and bHBD found their way to CubFinance, after a soft launch of version 2 of the platform. Since we are talking about the wrapped versions of HIVE and HBD, this might influence my remaining HIVE goal for 2022.
Let's see what my progress looks like this week.
HIVE Power Goal

I added 349 HP this week, a lot of it from the HBD exchange I did during the dump. I'm also tracking how far am I from the expected percent to reach my HIVE goal by the year-end, and this week I dropped below 20% difference. I am reducing the difference, the problem is time until the end of year is less and less every week.
LEO Staked
I added 135 LEO to my stake this week (kind of bad for this goal), and that's 851 LEO more than when I start tracking this goal, 6 weeks ago. That's 141 LEO per week, on average (compared to 143 last week).

162 LEO per week are currently needed to complete this goal by the year-end. I think I need to give this goal a little external push. Maybe this coming week, maybe next one for the LPUD.
Splintershards (SPS) Staked Goal - Completed
The SPS staking goal is COMPLETED!

Normally, I won't be staking any more SPS, at least not in the near future.
My decision is to use SPS to help max out my CL set. In-between, it can stay in liquidity pools.
*) or reaching the limit beyond which I consider upgrading a card not profitable
The overall situation, to better gauge my progress, because I still need to push hard on this goal:
| Total CL Cards (incl. reward) | Maxed or Limit | Percent |
| --- | --- | --- |
| 132 | 57 | 43.18% |
| Total CL Cards (excl. reward) | Maxed or Limit | Percent |
| --- | --- | --- |
| 99 | 36 | 36.36% |
I have maxed my Grandmaster Rathe this week. Actually, I'm waiting for 2 x 1 BCX to have their rental contracts terminated, so I can combine them.
I also have enough BCX for Kulu Swimhunter to think of it as maxed (currently level 9 + some more uncombined cards), considering the cards I'll pull from opening packs. I might need to buy a couple more at the end, but not a burden to max out from there.
| Legendary Summoners | Maxed |
| --- | --- |
| 1 | 1 |
| Common Monsters | Maxed | Reached Max Desired Level |
| --- | --- | --- |
| 29 | 9 | 1+? (10 under consideration) |
| Rare Monsters | Maxed | Reached Max Desired Level |
| --- | --- | --- |
| 23 | 6 | ? (2 under consideration) |
| Epic Monsters | Maxed | Reached Max Desired Level |
| --- | --- | --- |
| 17 | 4 | ? (2 under consideration) |
| Legendary Monsters | Maxed | Reached Max Desired Level |
| --- | --- | --- |
| 23 | 8 | 1+? (5 more under consideration) |
| CL Reward Cards | Maxed | Reached Max Desired Level |
| --- | --- | --- |
| 21+12 | 21+0 | 0 |
Social Targets
I started the week with 9061 comments and 9474 replies.
And now I am at 9143 comments and 9566 replies. They are both above my targets of 81 comments and 76 replies weekly to reach 10k of each by the year's end, which is good!
Posted Using LeoFinance Beta