Check out the daily chart for the last 24 hours for HIVE: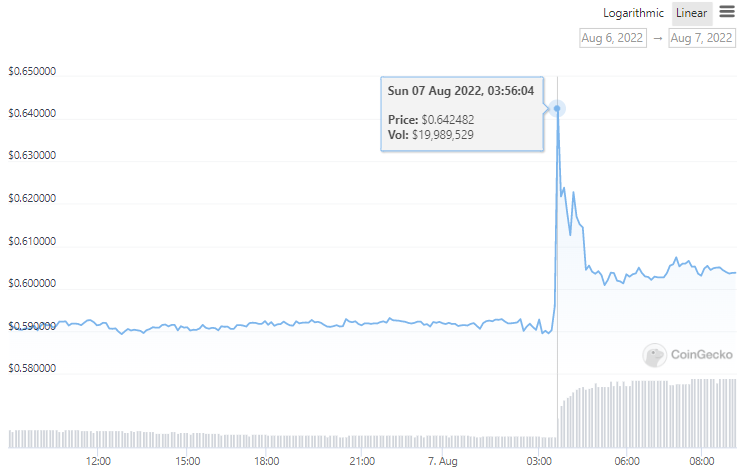 We just had another mini-pump for HIVE.
In the grander scheme of things, you can't even see it, because the volume is now 40m USD compared to over 700m USD when I checked during last week's pump. But still at least 4x more than the regular daily volume, and with most of it coming from the same market and trading pair.
HIVE only jumped from 0.59 to 0.64 (+8.4%) and then retreated to 0.60 USD, while the crypto market is slightly in the red zone.
Compared to what we had last week, this is merely a bump, but it shares some common treats with that one.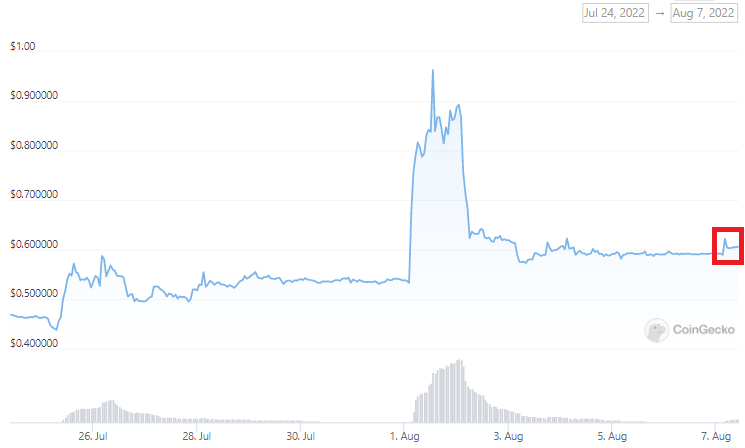 A few common characteristics I noticed about these movements are:
they seem coordinated from Upbit, which holds the majority of the volume in these situations (and often not only, but uncomparable, fueling rumors of wash trading), and where arbitrage from the outside is complicated due to limited access to the platform, mostly to Korean citizens
they happen when the market is red (even slightly, like today)
they start around the same time, 3am my time (1am UTC) when Europe is asleep and America is calling it a day, while in Seoul it's morning
I think it's time to strengthen our HIVE and HBD derivatives, as Taskmaster suggested since we can't grow our native HIVE liquidity sufficiently to deal with a sudden increase in demand, without shaking the foundation of the HIVE economy.
That being said I decided to take some steps myself, which may reflect on an unpredictable evolution of my HIVE Power because I will keep some liquid HIVE or in liquidity pools, and I don't count those toward my goal until I power up HIVE.
Having most of my HIVE powered up also affected my HIVE Power goal during the previous pump, because I was unable to take advantage of it to a higher degree.
Here's an interesting chart: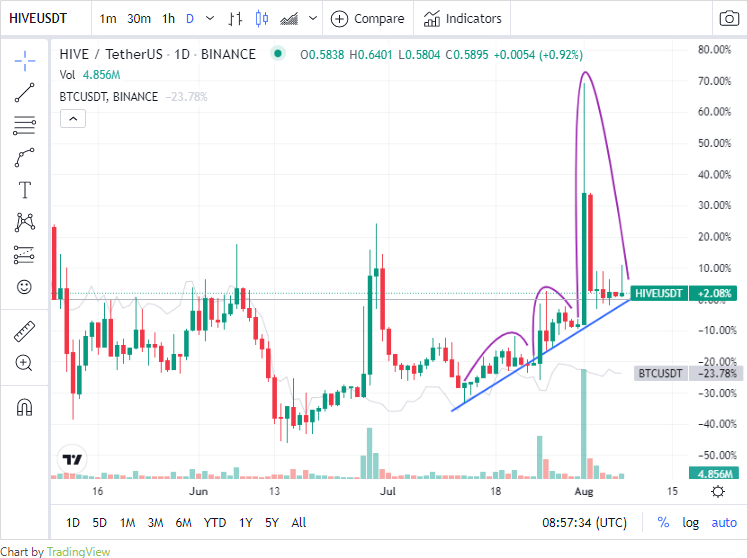 Do you think there's room for a bigger wave coming before Hive's hard fork? And how high would that be? That would be pretty wild and, maybe... unlikely, since everyone started positioning for such an eventuality.
Let's see what this week's progress looks like.
HIVE Power Goal

I decided to replace the "expected" column with "needed". Shows an exact difference of what is still needed to achieve the goal.
7591 HP needed until the year-end to complete this goal, that's a lot.
As I mentioned earlier, I started to keep HIVE liquid or in liquidity pools from this week, and that affects my power-ups for now. But wouldn't have been better to have 1000+ HIVE liquid when last week's pump happened, instead of a couple of SWAP.HIVE?
LEO Staked
I mentioned last week that I'll give a boost to this goal, and I did. Another boost will come for the LPUD. This week I added 537 LEO to my stake, and that's 1388 LEO more than when I start tracking this goal, 7 weeks ago.

143 LEO per week are currently needed to complete this goal by the year-end.
Splintershards (SPS) Staked Goal - Completed
The SPS staking goal is COMPLETED!

Normally, I won't be staking any more SPS, at least not in the near future.
My decision is to use SPS to help max out my CL set. In-between, it will stay in liquidity pools.
*) or reaching the limit beyond which I consider upgrading a card not profitable
The overall situation, to better gauge my progress, because I still need to push hard on this goal:
| Total CL Cards (incl. reward) | Maxed or Limit | Percent |
| --- | --- | --- |
| 132 | 58 | 43.93% |
| Total CL Cards (excl. reward) | Maxed or Limit | Percent |
| --- | --- | --- |
| 99 | 37 | 37.37% |
I'm still opening packs as I earn more alchemy and legendary potions. With some additional purchases, I consider my Chaos Agent maxed, although it will be level 9 and I'll have some other lower-level cards rented out. The rest will come from pack opening and, if necessary, I'll buy any remaining ones at the end.
I also won't open all packs, probably will keep 100 of them unopened, because they will raise in price and they should be pretty liquid.
| Common Monsters | Maxed | Reached Max Desired Level |
| --- | --- | --- |
| 29 | 10 | 1+? (9 under consideration) |
| Rare Monsters | Maxed | Reached Max Desired Level |
| --- | --- | --- |
| 23 | 6 | ? (2 under consideration) |
| Epic Monsters | Maxed | Reached Max Desired Level |
| --- | --- | --- |
| 17 | 4 | ? (2 under consideration) |
| Legendary Monsters | Maxed | Reached Max Desired Level |
| --- | --- | --- |
| 23 | 8 | 1+? (5 more under consideration) |
Social Targets
I started the week with 9143 comments and 9566 replies.
And now I am at 9266 comments and 9691 replies. They are both above my targets of 81 comments and 76 replies weekly to reach 10k of each by the year's end, which is good!
Posted Using LeoFinance Beta