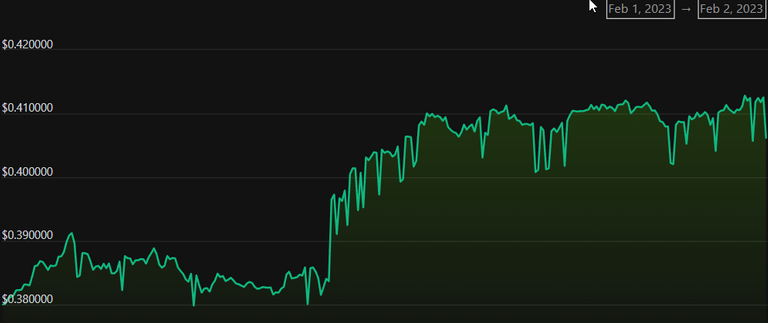 January 2023 has passed and, after a long time, those who follow Bitcoin price action can see a big green monthly candle on the charts. This has, quite expectedly, caused almost complete turnaround in crypthosphere's general sentiment. All the permabears who were screaming about Bitcoin going down towards 10,000 US$ or lower are either very quiet now or are finding various reasons to explain why they were as wrong as those expecting 100,000 US$ a year ago.
And now, it seems all the wishful thinking about US Federal Reserves making a pivot and gradually ditching the rate hikes wasn't that off the mark. The latest FOMC announcement were within the dovish expectations and the markets, including crypto markets, predictably turned or continue to be bullish.
This also means that all those who were calling the bottom in November, when FTX fiasco was bringing crypto world at its knees, are most likely right. 2023 is indeed starting to play very much like according to four-year cycles, with one ugly bearish year being followed by three bullish years. Of course, that doesn't mean that it won't be any unpleasant surprises, that some of the price rallies are going to be based on pure speculations and that many of the newly created bubbles won't end with destructive bursts. But, so far, the likely scenario looks like Bitcoin and other cryptocurrencies at the worst crabwalking within the range which is higher and more comfortable than one expected in 2022.
So, it looks like Bitcoin and the cryptosphere is going back when it was before the latest unpleasantness. That doesn't mean that certain sections of cryptosphere can't expect bad times to continue and some sections of cryptosphere have their own, rather unique challenges. That includes HIVE, because the price, while sitting comfortably around 0.4 US$, has been very volatile lately, and partly because of another HBD price pump. Such pumps were celebrated only few months ago, but now are becoming more and more annoying, reminding Hivers how little liquidity and small numbers within community allow more manipulation than in case of other cryptocurrencies. A little more stability in the prices could improve Hivers' sentiment even better than the general crypto trends.

Blog in Croatian https://draxblog.com
Blog in English https://draxreview.wordpress.com/
Original Hive blog (Film & TV) https://hive.blog/@drax
Minds profile https://www.minds.com/drax_rp_nc
Uptrennd profile https://www.uptrennd.com/user/MTYzNA
Unstoppable Domains: https://unstoppabledomains.com/?ref=3fc23fc42c1b417
Hiveonboard: https://hiveonboard.com?ref=drax
Bitcoin Lightning HIVE donations: https://v4v.app/v1/lnurlp/qrcode/drax
Rising Star game: https://www.risingstargame.com?referrer=drax
1Inch: https://1inch.exchange/#/r/0x83823d8CCB74F828148258BB4457642124b1328e
BTC donations: 1EWxiMiP6iiG9rger3NuUSd6HByaxQWafG
ETH donations: 0xB305F144323b99e6f8b1d66f5D7DE78B498C32A7
Posted Using LeoFinance Beta