The unrest in the East continues and it hits up, so do investors look to divest from the countries, while citizens are looking to hedge or get money out of the country. Both these forces are pushing a devaluation of both the Russian Ruble and Ukrainian Hryvnia. Of course, most of the focus is on the war front and politics, and others can cover that far better than I ever could.
But I would like to look at the casualty of war that very few think about and that's the everyday citizen who simply wants to go to work and provide for themselves and their family.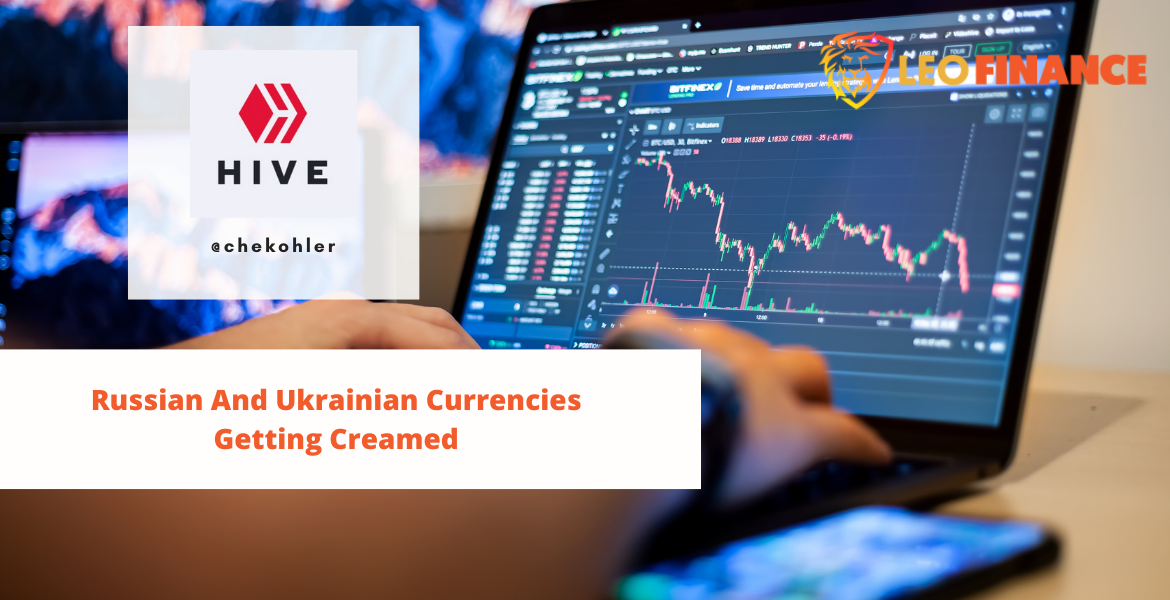 When unrest breaks out in a nation, investors look to divest from risk, businesses have to charge more to cover additional risk, and of course, certain citizens would look to get their wealth out of the country.
Since the talks of war heat up, so too do both nations' currencies take a royal battering. This affects the average citizen's savings, income, investments, and any locally priced assets.
If we talk a look at both the Ruble and the Hryvnia they've taken a right clobbering. Comparing both currencies against the dollar, we can see both have hit all-time low's against USD
The Ruble at 80.10 to the USD and The Hryvnia is at 29.36 and who knows how much further it can fall with no resolutions in sight in the near term.
| Russia | Ukraine |
| --- | --- |
| | |
Wages don't tend to react to the news of unrest so it effectively makes even those who earn an income poorer on average. Russia and Ukraine aren't known for paying competitive wages either, so it really leaves a lot less margin for the average Joevetic to cover their expenses.
Comparing it to gold
Compared to USD is one thing, but as a moving target itself, it doesn't always give us the full extent of the pain. If we compare the currency devaluation to gold, they have not yet hit all-time lows but it's creeping up into those regions.
War doesn't come cheap and war is often funded through inflation, and with both countries ramping up military spending and pulling purchasing power out of the real economy into the military-industrial complex which is a net destruction of wealth, I don't see either countries citizens being able to maintain their purchasing power investing in locally priced assets.
| Russia | Ukraine |
| --- | --- |
| | |
Stock market performance
If we have a look at stock market performance you can see that the Russian stock market indexes have been hit harder due to sanctions while Ukraine's has been rather flat. Ukraine's stock market is still far off its all-time highs whereas Russia is coming off an all-time high and crashing.
If we consider that this is where locals invest and pension funds are probably holding these equities, it's not looking good for many of these local's portfolios.
| Russia | Ukraine |
| --- | --- |
| | |
Priced in bitcoin
Despite both countries opening up more to the idea of bitcoin, We haven't really seen bitcoin markets in Russia or Ukraine perform any differently. I don't think most Russians or Ukrainians are considering bitcoin as an option to store their wealth outside the country and it's more seen as another risk asset you want to divest from and hold something you have "Trust" in and that is still local currency for most people.
As people sell off the risk assets they generate additional tax revenue while hiding in cash it pushes deflation as people horde currency and that creates an even bigger kitty to poach through inflation.
| Russia | Ukraine |
| --- | --- |
| | |
These possible behaviors could see the average citizen in both countries become net poorer faster than years gone by. Usually, when currencies weaken it attracts investment and makes labour and exports cheaper bringing in more currency to offset losses.
But when you have this kind of unrest, you don't tend to have those offsetting forces. As sanctions also limit the Russian side from accessing capital markets, it also limits their credit creation and could result in liquidity shocks in local markets.
All these and many other forces aren't a good omen for the average citizen's pockets. Most won't even be considering this, they would rightly be concerned with what the media is focusing on, the front lines.
Sadly while they're focusing on who hit who first, both sides citizens are getting their pockets picked.
Have your say
What do you good people of HIVE think?
So have at it my Jessies! If you don't have something to comment, "I am a Jessie."
Let's connect
If you liked this post, sprinkle it with an upvote or esteem and if you don't already, consider following me @chekohler and subscribe to my fanbase
| Safely Store Your Crypto | Deposit $100 & Earn $10 | Earn Interest On Crypto |
| --- | --- | --- |
| | | |
---

Posted Using LeoFinance Beta