The crypto and blockchain world is a bit of a beast to navigate. It can sometimes be a challenge to find the information you need, even though it is out there and transparent on the various blockchains. Each blockchain or blockchain ecosystems have its own block explorers. In case of the Cosmos ecosystem, one of the most widely used block explorers is Mintscan.
Mintscan can give you a ton of data, but if you don't know what you are looking for it can be a bit difficult to navigate. Each chain in the Cosmos ecosystem is a little different and some have options that others do not. JUNO is one of those chains. JUNO is smart contract chain so it has an option in Mintscan for 'Smart Contracts'.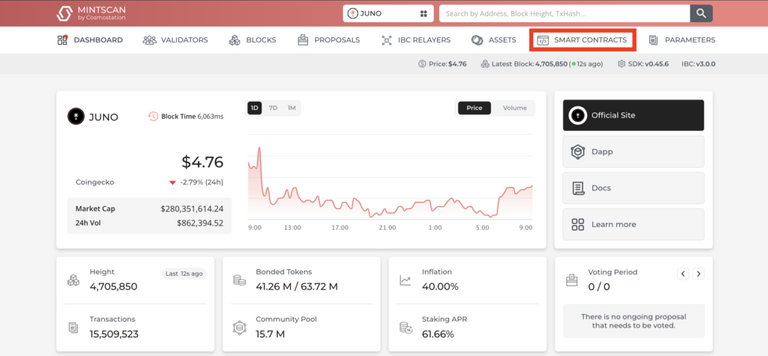 When you are looking for something like a CW-20 token or a DAO token like our cZERO token, this is the button you are going to press before you enter the smart contract address.
Once you get to the next page you will see something that says WASM, short for CosmWasm. This is the smart contract protocol for the Cosmos SDK. This is where you will put the smart contract address that you are wanting to search. This is where you can look up any JUNO smart contract.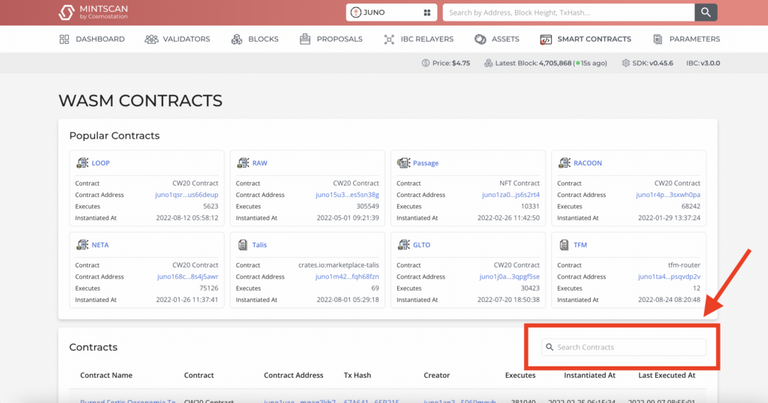 For this example, we will use our cZERO DAO governance token address. If you qualified for our claim drop for being an EVMOS delegator, you can come here and look up the token address and then search your wallet address. Let's see how this is done...
You will need to locate the smart contract address of say the DAO token you are wanting to look up, say the cZERO token. You can get this information directly from the DAO page on DAODAO.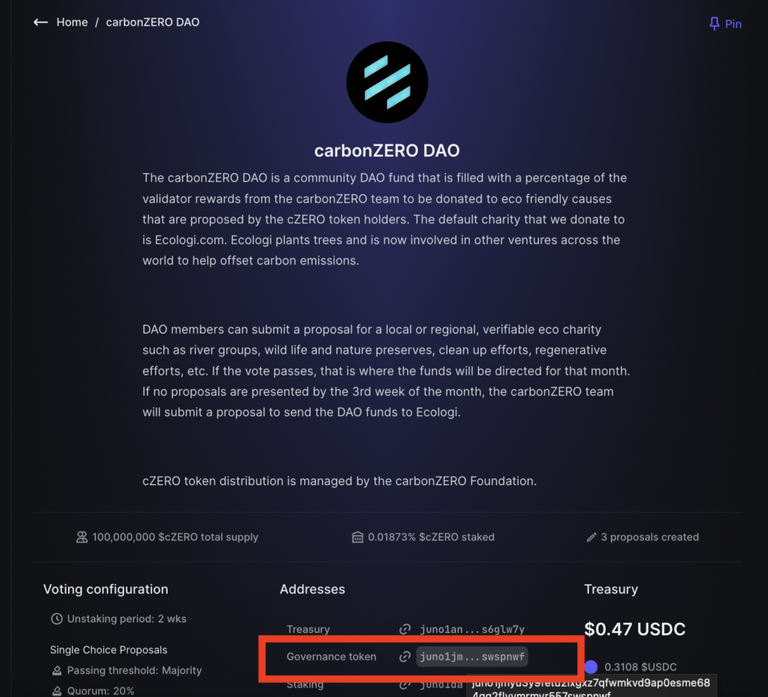 Then because it is a smart contract, you will go to the JUNO explorer on Mintscan and click the Smart Contracts tab as we showed you above. Then in the WASM page, you will enter the smart contract address that you copied from the DAO page and paste it into the search bar in the WASM window. It will then show you your token below. You can then click on that and go into that token's explorer.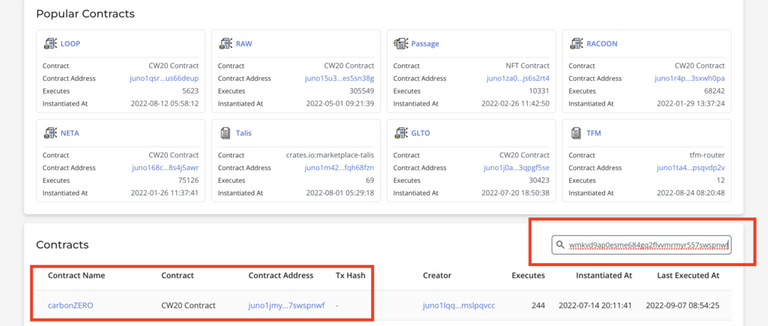 Once you are in the next window you will see all the important information on that token address. This will also have an area that you can check your own JUNO wallet balance and see if you hold that token or not.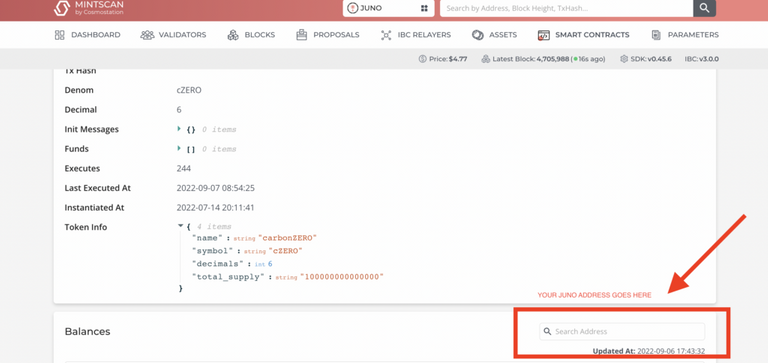 And that's it! That is how you can see the information in the Mintscan explorer for JUNO smart contracts. We hope this helps our delegators or anyone for that matter, know how to check their cZERO and other CW-20 tokens on the JUNO blockchain.
We Are carbonZERO
carbonZERO is a full service, eco-conscious validator node operator, providing infrastructure for several blockchain in the Cosmos ecosystem. We run top of the line bare metal servers with data centers that work to be carbon neutral. Our node architecture consists of frontline sentry nodes for ultimate security running TMKMS for double sign protection. We also run 24 hour monitoring on all nodes to help secure against any significant down time.
We are a small but highly passionate team, not only around blockchain validation, security, and decentralization, but also around protecting and preserving our environment for generations to come. This is why we have started our eco-friendly DAO where we donate up to 20% of our commissions to ecological projects around the world, primarily focused on planting trees to offset carbon emissions. Our DAO members help direct our donations through governance voting and proposals.
Stake your $EVMOS, $JUNO, $CMDX, $MNTL, $ROWAN, $HUAHUA, and $NOM with carbonZERO using our Restake app and if Authz is available, you will be able to auto-compound your tokens!
Follow us on Twitter!
Follow us on LeoFinance on Hive!
You can track our tree planting progress on our Ecologi page!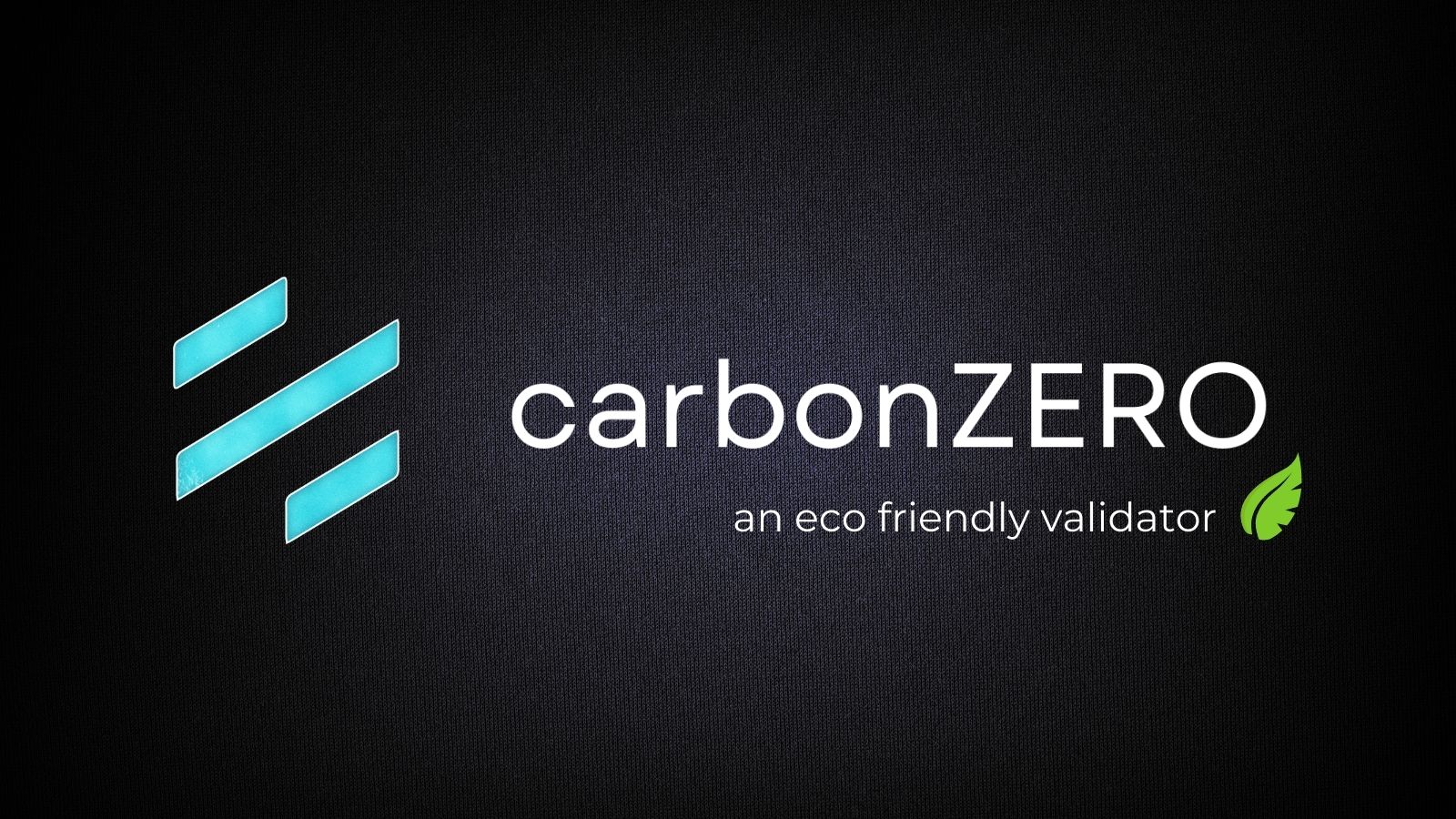 ---
Posted from my blog with Exxp : https://news.carbonzero.zone/2022/09/07/how-to-check-a-juno-smart-contract-address-on-mintscan/
---