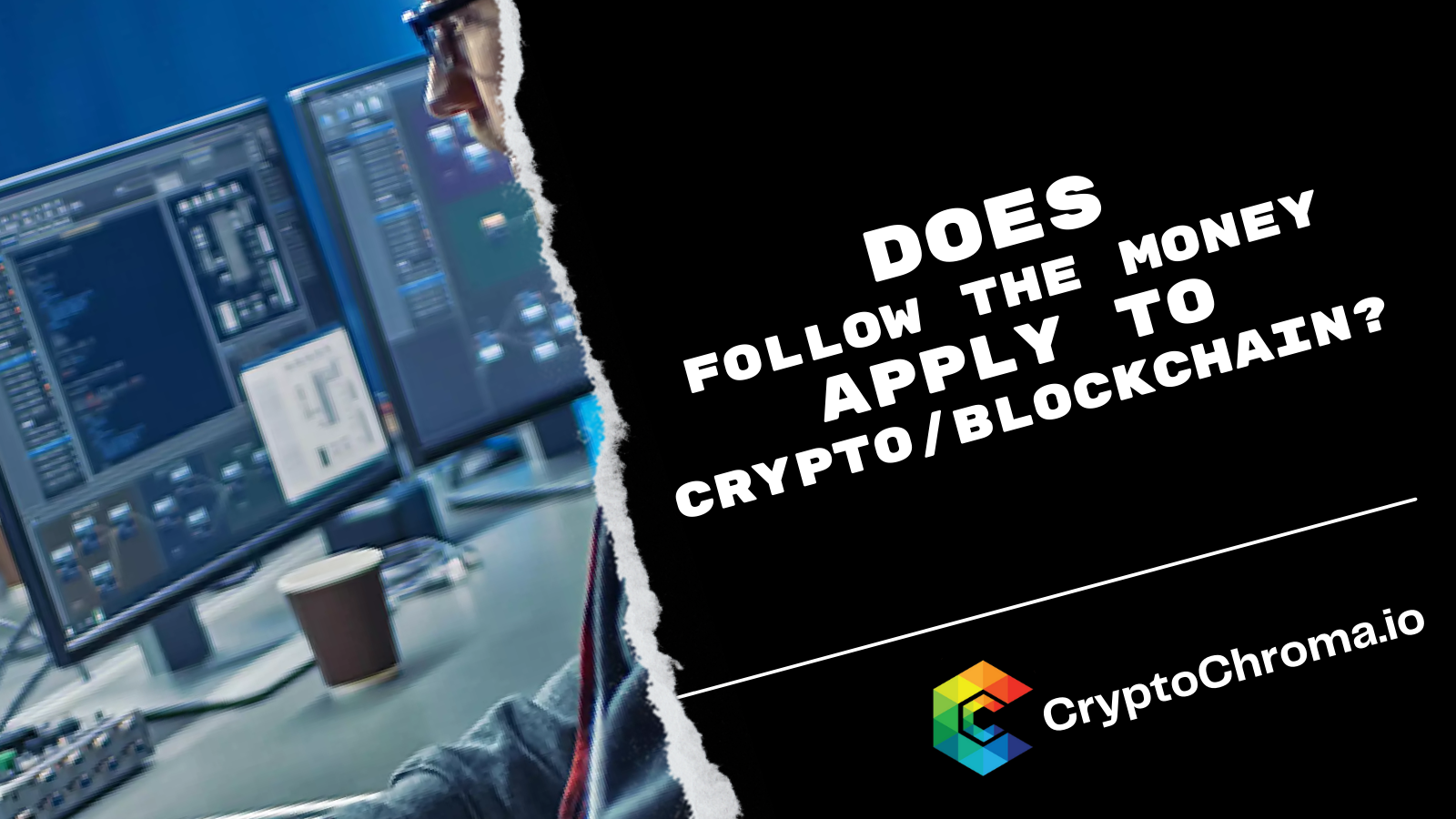 Does Follow The Money Apply To Crypto/Blockchain?
In investing the staple was follow the money and you'll find the riches. By looking to where money is flowing quickly you can start to pinpoint what most likely will be the next big hit stock or company. It was thought that this also applied to crypto currency and blockchain and while yes that was the case in early days that seems to no longer be the case.
Sure money will attract other investors but those are normally quick short term gains where many people end up losing out. The chasing riches game which doesn't pan out for many newbie investors (and trust me there's a lot of them). With the introduction of Ethereum there's been little to no competition in terms of what application to build on. That was until a year ago when some new alternatives started to give rise to serious competition such as Cardano, Polygon, Polkadot etc. These alternative solutions started making it possible for other applications to be built on them and solve some of the older issues that Ethereum has known about and faced in 2017. (We hope but I'm not holding my breath, that those issues will be elevated or solved this year)
However even some of these new chains are having issues of their own such as polygon being hammered from a new game which shot up transaction prices etc. It's why I feel HIVE blockchain has a solid system with it's resource credits. This means either a game needs to invest more money into the blockchain they are running on to have more resources or better optimize their systems so it uses less resources. Either way something has to be done that helps the price and the overall health of the blockchain unlike one that is simply based on fees at point of transaction.
The New Point To Follow
When Ethereum yet again for the second time ran into issues with scalability in terms of massive fees and huge slow downs on their chain this pushed many developers to look for alternative chains to build their projects. Ethereum I have to say is great though if it wasn't for Ethereum blockchain and cypto in general wouldn't have have the things we currently have today. However there becomes a point where you gotta let go and move on ad I feel that time is here. If Ethereum doesn't fix their stuff this year I firmly believe they might get replaced by one of these alternative layer one solutions that offer lower fees and faster transactions or even another such as HIVE.
Blockchains such as Polkadot, Avalanche, Solana and Cardano have seen massive growth as developers move away from Ethereum and over to these other chains. Now like with anything it takes time to build the applications and launch them. However I believe we are only months away from a number of these apps to start launching which is going to start to put pressure on Ethereum.
Why?
We saw with Hive that a single play2ear game that gets hyped up is enough to drive the price up to new levels. If a large alternative NFT marketplace takes foot on any of these other blockchains or even another type of application that hasn't been thought of or developed yet launches and takes the hype and popularity to new levels that will cause a flood of new money.
What we watch now for investing is developers. Keep tabs on what blockchains are getting the most developers and look at some of the beta applications of these blockchains for potential great projects. These are key moments you could look for to buy in now and profit huge later.
*This article is for entertainment purposes only and is not financial advise.
Posted Using LeoFinance Beta