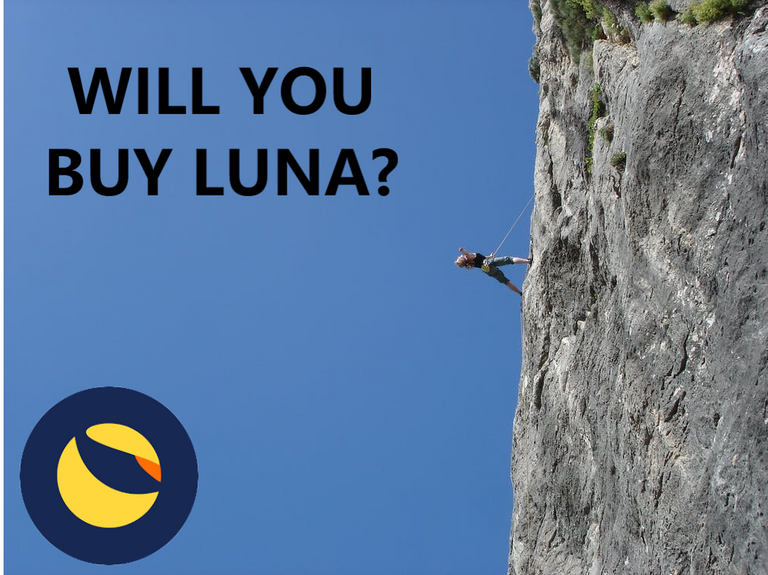 It is a well known fact that Luna took a beating the past couple of days. There have been a variety of theories behind the bank run that led to what seemed like the collapse of one of the most prominent DPOS networks in crypto land.
The insanity surrounding UST stable coin has led to questions about the efficacy of algo stable coins. I believe that this is just a blip along the way, and I absolutely believe that algo stable coins will still dominate the scene in the future.
In any case, the situation around Luna has also opened up a massive buy opportunity that I know I'll be beating myself over if I don't cash in on. As I see it, Luna is going to recover from this unfortunate situation and be back stronger.
With that in mind, I keep wondering if this is a good time to give myself some Luna exposure. I mean, I know things are really crazy right now and the price of Luna is all over the place but I kind of feel like it is a worthy long term investment.
Every blockchain will experience its own problems and overcoming these challenges is a sign of resilience. In one capacity or the other, virtually every top 20 crypto has experienced a massive selloff that petrified the public.
For example, think back to when Ethereum dropped all the way down to $80 for a while and traded for a couple of hundred dollars for while. That coin is trading in the $2400 range and we're calling that bearish.
Will you risk it?
For what it's worth though, I know investing in Luna right now is a massive risk but will you be willing to risk it? If you're not willing to risk it, I'll understand.
Fortune favours the brave
If you're willing to risk it though, have you set any target? What approach do you intend to use to get Luna tokens, whenever you decide to do it?
Personally, I've decided to risk it and I already got some Luna when it was around $6. I only tested the waters with a couple of dollars though and didn't throw in anything substantial.
One of the earliest rules we learned in the crypto industry is that we should only trade with money we're comfortable with losing. This is the approach I intend to employ when I'm investing in Luna.
So the plan is to dollar cost average into Luna. It is going to be a drawn-out process that will span a couple of weeks and I certainly will not panic buy for any reason.
I need a big win
I'm still planning long term and looking out for what could potentially be a nest egg. Just like the way I invested in Splinterlands packs, I'll also slowly accumulate 1k Luna tokens and hold them for the next couple of years.
If you're looking to invest in Luna, my advice is to ensure you only invest what you're comfortable with losing. I say this because Luna is experiencing unnaturally wild volatility that I've never seen before.
Today, Luna dropped all the way down to 72 cents and climbed all the way up to the $8 range before dropping to the $3 range again. Luna's 24hours candle also shows that it was trading somewhere around $34 for a while.
Anybody choosing to invest in Luna is taking a massive risk. It is a risk I'm willing to take with funds that I'm willing to "lose". What about you, will you be adding Luna to your portfolio?

Posted Using LeoFinance Beta