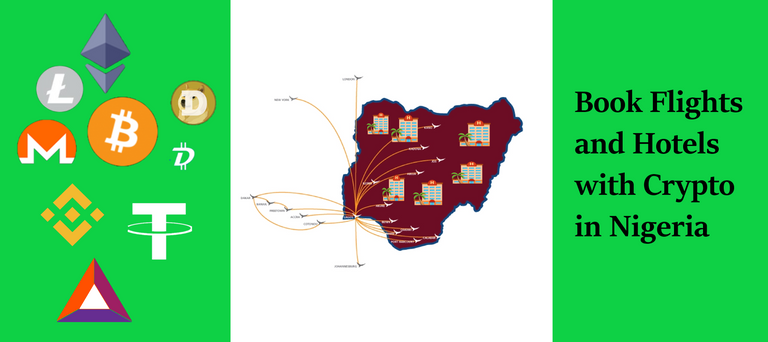 Different platforms have come into the scene to provide channels of utility for various digital assets. On Hive, for example, we've found a way to monetize social activities and incentivized participation through a proof of stake model. Just like Hive blockchain, platform like Travala has come into the scene to give the landscape a new face.
Cryptocurrencies are very popular in Nigeria and despite the fact that there are less risky ways to earn without trading, people in the country seem to be more comfortable with going through the rigorous process of trading. Whether you trade or earn your crypto through various means, using it for a specific purpose ultimately crowns the process.
Before I talk about how to book flights and hotels with cryptocurrencies, it is important to discuss which platform you can achieve this in Nigeria. As mentioned earlier, Travala is the travel agency that gives you more and in this article, I'm going to explain how you can use the platform to book hotels in Nigeria
Booking hotel in Nigeria with Cryptocurrency
To my greatest surprise, there are actually quite a lot of hotels that you can find inside the Travala web and mobile application. Regardless of the part of the country you live in, you will find a hotel that meets your standard. Here are the steps you can use to book a hotel with crypto in Nigeria;
Step 1: Locate the hotel
The first step is to locate the hotel within the city you want to book a room at. Here's how it is done;
Go to Travala website or open the homepage of the mobile application
In the fresh home page, select the "stays" tab, input the city and specify the days you will like to lodge, and available hotels in that city will show up.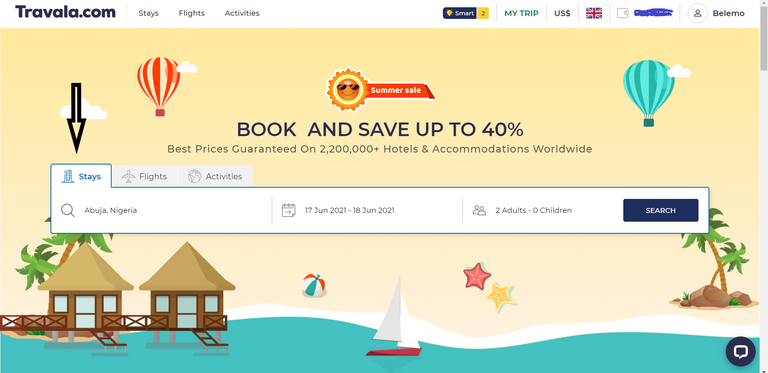 Alternatively, you can simply input the name of the hotel of your choice, and the application will generate a drop-down list with the name of the hotel and you can select it directly.
Step 2: Pick your room
Let's assume you're going with the approach where you simply select a city and then various hotels drop down, you will now have to pick a hotel that suits your budget. The application has intuitive features that enable you to toggle through various filters to refine the search to your budget, taste, and style.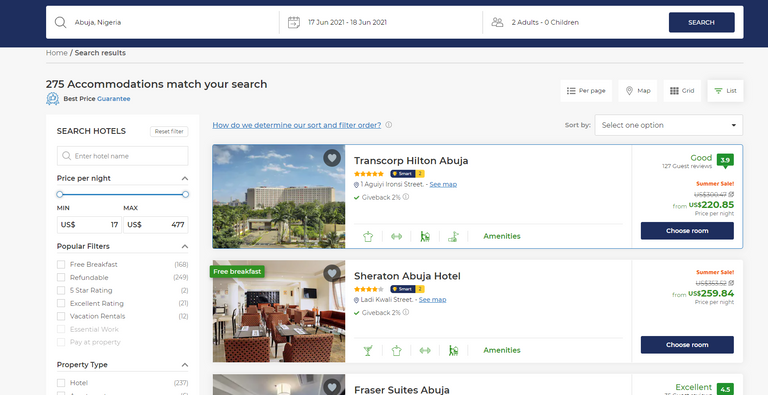 In this example, we're going with Abuja, in Nigeria. Abuja is the capital of the country and is one of the fanciest parts of the country, so there are expensive hotels. However, with the Travala application, you can now pick from various prices of hotels that suit your budget.
After you've selected a hotel that suits your budget, the next phase is to pick your room. Here are the simple steps to pick your room;
Beside the hotel you decide to stay in, you will see the "choose room" button beside the name.
Click on the button, a new tab pops up, and you'll be referred to a list of the various types of rooms available at the hotel.
You can scheme through all the amenities and experience ratings that other users dropped about the hotel.
If you're satisfied, simply scroll to the room of your choice and click on "Book now".
Step 3: Paying with crypto
At this point, you have selected the room of the hotel you will like to stay in and the only thing left to do now is book your hotel. Here's how to pay with cryptocurrency for your hotel in Nigeria with Travala;
Fill in all the necessary information about yourself.
Scroll to "select payment method" and you will see a long list of cryptocurrencies that you can use to pay the equivalent amount for the room in dollars.
Pick your preferred option and then confirm your reservation.
Using these three simple steps, you have now successfully booked a hotel in Nigeria with cryptocurrency. Enjoy your stay at your preferred hotel.
Booking a flight in Nigeria with cryptocurrency
Finding a flight that suits your needs can be quite stressful and expensive. Also, if you're like me who is very exposed to cryptocurrency, then you probably know the difficulty that exists in first switching from crypto to fiat and then paying for the flight. In this section, I will explain how I have been booking flights within Nigeria using cryptocurrency.
Step 1: Locate your route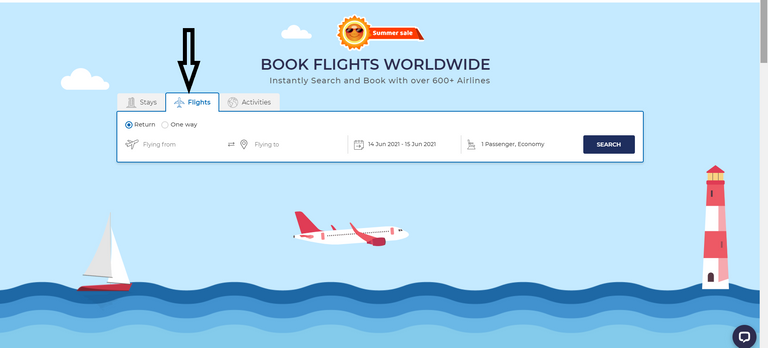 Under the "flight" tab, you select if you want a one-way flight or a return flight.
Then simply input where you're flying from and where you're flying to.
In this example, I will input Lagos to Abuja, because it is a very common flight path that Nigerians use.
After specifying your flight route, input the date you will like to make the trip
Specify the class of cabin you will like to stay in, along with the age range and number of people that you're booking a ticket for. Click on "search" to see available flights.
Pick an Airline
After you have given specifics about your flight, the next step is to pick the airline you will like to use for your flight. You will see a list of various airlines with their prices on that day you choose. There are intuitive features that also improve your experience in booking your flight with cryptocurrency.
Pick your preferred airline
Check the details of the flight, to be sure it suits your timing, and then click on "select flight" if it satisfies your requirements.
On the next page, input your details and all relevant information, including your ID card details because you will need it for boarding.
Pay with crypto
Just like in the previous step, you can now complete the process by paying with a long list of cryptocurrencies available. Using this service, you no longer have to bother about swapping your crypto for fiat, and so you can use it directly for payment.
I always book my flights using this application because it is far easier and more convenient for people like me in Nigeria who rely on cryptocurrencies for their survival. Naira is pretty much dead, so this is one more reason why you shouldn't bother holding it.
Get Discounts
On top of the ease of using the platform to pay for flights and hotels, you also get discounts for staking AVA within Travala. AVA is the local token of the platform and staking it qualifies you for monthly dividends, as well as discounts for flights and hotel bookings.
When you stake AVA, you earn travel credits and AVA monthly, and you can use the travel credits to book hotels and flights as well. I have accumulated a fair bit of travel credits and I intend to book a hotel room with it. Yup, so that's a free hotel, and no hidden detail.
Summary
So if you're in Nigeria and you're looking for a way to book hotels and flights at low cost and stress, you can use Travala. It offers a variety of services that simplifies the process and gives you discounts, as well as a loyalty reward for staking the AVA token.
This is one more opportunity to opt-out of fiat and move to crypto. Hopefully, more people will start using the platform and enjoy these benefits.
Please check out my Freelance gigs:
Signup for Oropcket with my referral link
Contact me

Posted Using LeoFinance Beta