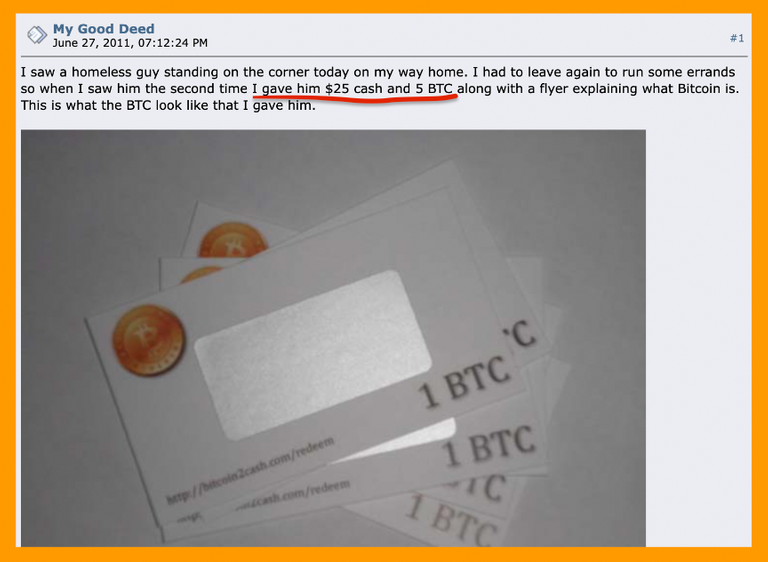 Who's giving away cryptocurrency these days? Well, I guess not many of us are doing that. I have only done it a couple of times and I'm not even that wealthy to afford it.
Sharing is carrying and I believe the ones having billions in crypto could make better use of that wealth, but who am I to say to anyone what to do with his/her possessions?
I found this screenshot from above on Twitter yesterday, I forgot the name of the account that posted it, but saved the pic anyway. It's the type of story, in this case, a short story, that restores faith in humanity.
Helping the less fortunate should be a habit for all of us. Even if it's not money, you can be sure that you definitely have something to offer.
So, a homeless guy received 5 BTC as a donation back in 2011, do you think he's HODLed long enough? Well, I don't even think he figured out how to use a bitcoin wallet back then and there's the chance he might have lost or thrown this "paper bitcoin" into the trash.
I'm sure he was happier about the $25 he got than the 5 BTC. Not many of us are visionaries, or able to grasp the value of something in its incipient phases. That sure applies to Bitcoin.
The question for this #askleo post is: if you were given 5 BTC back in 2021, how long would you have held?
I guess I wouldn't have held much... I was probably too dumb and ignorant back then to see the potential of such tech. I have to say that I've become more aware of crypto's impact on the world just after I joined Hive.
Before that I was only seeing these coins as a gamble or just pure speculation.
What about you?
Thanks for your attention,
Adrian
Posted Using LeoFinance Beta