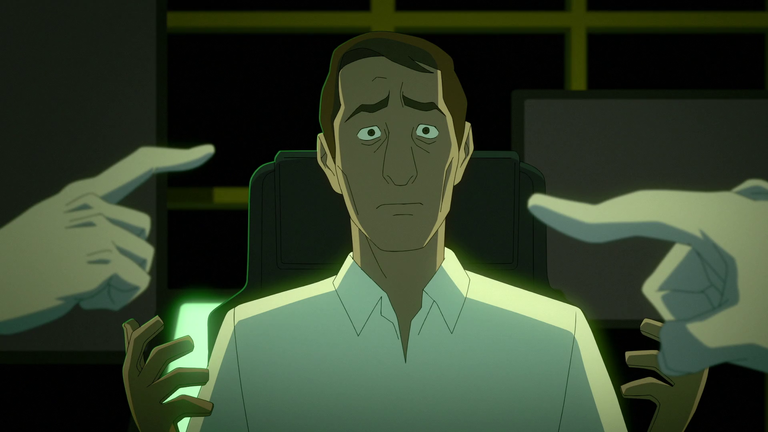 Hive prices have been low lately and making many of us a bit unmotivated, I am sure that for many of us that also means spending more time watching things and spending that time elsewhere. For me, I have been spending a lot more time drawing lately, but also watching things I usually wouldn't watch. Taking a break from the film side of things for the most part and focusing on series, some I have seen before and have decided to revist, and some I have heard about for the longest time but never really decided to check out for no real reason! This cycle through various areas of entertainment happens from time to time with me; for weeks at a time I may enjoy watching old black-and-white films from the decades long gone, and suddenly return to the world of anime or western cartoons. I feel like I have been playing a bit of musical chairs moving from genre to genre lately, not quite sure what I want to watch.
Every so often I like to do these more relaxed posts that aren't really focused on reviews, posts that seem more focused on the things I have been checking out, focusing on engagement and sharing things with others and talking about them with the community. I figured today I'd do one of those! So, what have I been watching lately?
I mentioned the other day in a post that I was revisiting The Simpsons having taken a long break from it. Out of curiosity I actually gave one of the most recent episodes the benefit of the doubt and watched it; I have to admit, it was atrocious! I pulled up a random episode on Disney+ and the whole thing was so politically fueled, it was quite strange to be having some Hollywood elites pushing this idea of how the rich are bad and the poor are good, a bit out of touch there perhaps. Though I returned to the earlier seasons and have fallen in love with the show again. I am realising how funny the show really is, and how good the writing is as it explores its vast characters and throws them into all sorts of strange and adventurous scenarios to expand upon those characters. During the evenings while I draw, it's a really relaxing experience. Whenever I feel too lazy to find something to watch, I just jump into random episodes of The Simpsons.
Though my own more adventurous side still remains to some degree, as I have remembered a show I never watched but heard many great things about: Pantheon! I remember hearing remarks on its similarities to the very famous 'cyberpunk' anime Serial Experiments Lain with its narrative that explores the idea of transhumanism and how humanity further connects to the world of computers and the Internet, questioning the extent of what is human at that point. The show had a very anime look to it despite being a western creation, and with some of the animation seeming a bit strange, the backgrounds were really pleasing to look at. With each episode over the span of 40 minutes, it didn't take long to get through the eight episodes in total. I definitely recommend checking it out if you have seen Serial Experiments Lain, the comparison is quite accurate.
Around the same time as this I have been juggling the third season of American Horror Story and Vienna Blood. I did check out the most recent season of American Horror Story, but that completely lost me within the first episode. I decided to check out the second episode too, but still failed to really pull in my interest. With some nice lighting and cinematography, the story sadly felt far too flat and distant from the horror aspects. The third season focusing more on the idea of modern witches has been quite interesting, and I've been slowly watching through that season alongside everything else. Though Vienna Blood was suggested to me by someone that watches quite a fair amount of British television series. I had no idea this show existed! Given how poor British streaming services are and the fact that I don't actually own a television, I don't really have access to them most of the time, unless the shows are licensed elsewhere. This made me realise how terrible these channels are, truthfully. But Vienna Blood is an interesting show, featuring aspects of psychology and crime; but this show has quite an impressive budget, and each episode is over 1 hour and 30 minutes! Quite a difficult show to get into if you don't want something that is too long or takes a whole lot of attention, but if you are up for it, it's worth it. I mention the budget because it feels like a very high budget show, and perhaps I am a bit out of touch in regards to its popularity, though the cinematography seems rather costly! The costume design, locations, and lighting put a lot of other modern shows to shame in terms of their quality.
Switching over to Amazon's Prime Video: I decided to check out The Peripheral, a telling of William Gibson's novel of the same name. A more recent writing of his, and one I am yet to actually read. Though my curiosity got the best of me and I had to check out how well Amazon went ahead with the show. It wasn't too bad from what I saw, but not great either. I definitely expected worse, and I'll stick with it to see where it goes, perhaps it'll finally encourage me to pick up the book! Though Gibson's Mona Lisa Overdrive is definitely my next read.
On the side of films, I haven't really been watching many. I did watch Russia's most famous blockbuster Night Watch, a vampiric tale set in Moscow shortly after the collapse of the Soviet Union. It was an interesting watch, I have never seen anything quite like it from Russia before, and it certainly displayed the more western influence in filmmaking and style, even in regards to the narrative, that came about as western influence began to enter the nation as it pushed into the closer realm of capitalism. It came out in 2004 and was shot on 35mm film, so it holds a very grainy, gritty look of Moscow in the early 2000s, while still showing some of that prior Soviet Union look with the economic decay. You may have also noticed that I wrote a little review on Swiss Army Man. Go check that out too! Though that is about it for the film side of things. Perhaps I'll get back into them soon, but I quite enjoy this slight break from them.
So, that's all I have really been watching lately. What about you? What have you been watching? Have you seen any of these shows or films? If so, what did you think of them?

Join the Movies and TV Shows Community Discord.
Follow me over on Twitter!
Follow our curation trail!