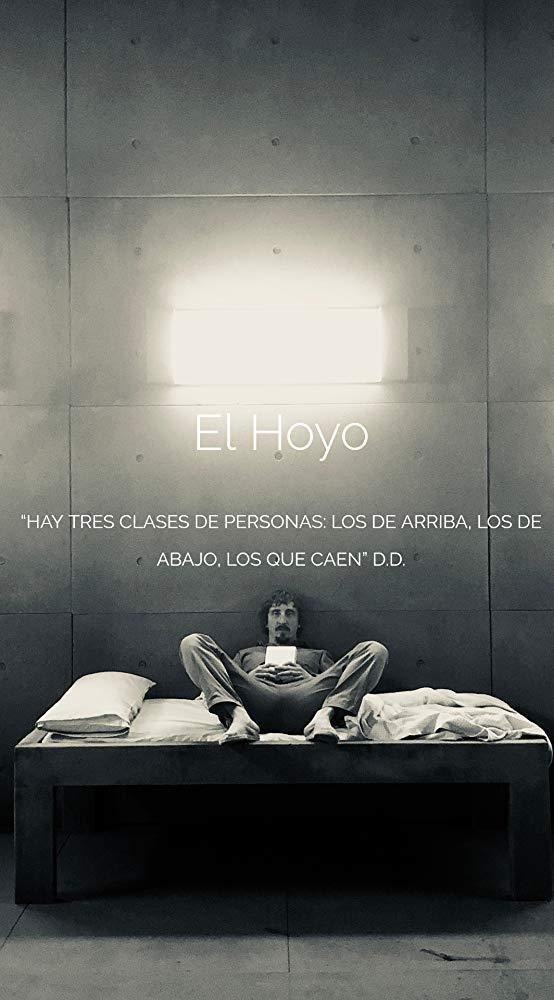 Sin titubeó iniciamos en un restaurante, muchos cocineros en labor pero solo uno supervisando que es al que seguiremos apreciando todos los ingredientes y procedimientos, todo para que sea algo impecable; para que nos den una explicación de qué solo hay tres tipos de personas, los de arriba, los de abajo y los que caen.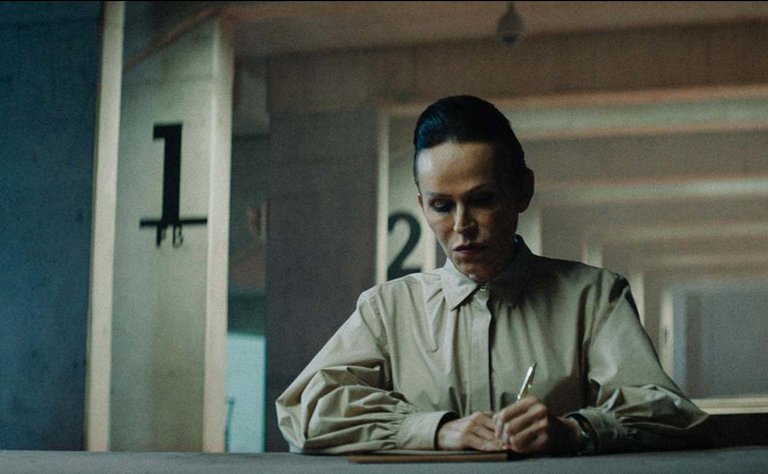 Tiempo después, despertamos con el que parece ser nuestro protagonista del que todavía no conocemos su nombre, pero despierta al frente de un señor que le dice "nivel 48" y le explica que está en "el hoyo"; el protagonista se despierta mejor y se para a ver el hueco enorme que existe en la habitación, hay un agujero arriba tanto abajo, este es un cuarto completamente cuadrado; al asomarse vemos nada más como hay cuartos idénticos hacia arriba como hacia abajo, se ve gente deambulando alrededor de los hoyos a los consiguientes cuartos.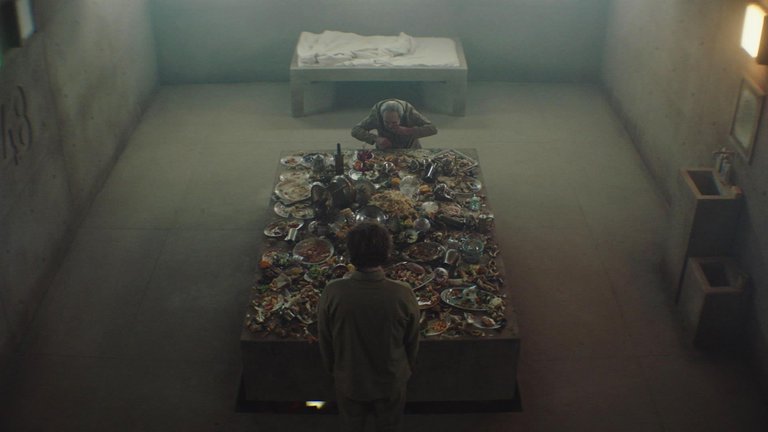 El señor mayor le dice que la verdadera pregunta es que comerán a lo que evidentemente lo pregunta y la respuesta es tan sórdida como la pregunta "las sobras de los de arriba" (para este punto ya tengo varias preguntas).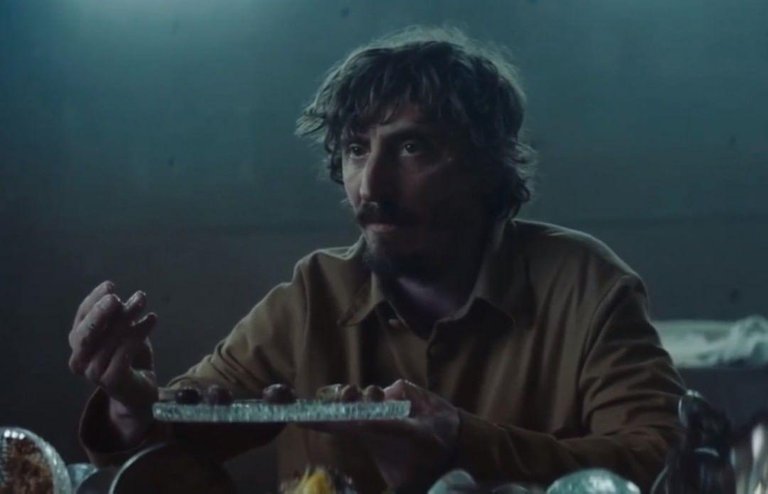 El se presenta como Goreng y quisiera saber el nombre de su anciano compañero pero se niega, casual pero como estarán mucho tiempo ahí o no, le revela que se llama trimagasi; Goreng intenta hablarle a los de abajo pero trimagasi le niega esta acción porque están abajo de ellos y no puede hablarles y que los de arriba no les responderan y la respuesta es: porque están arriba de ellos. (Es prácticamente una lucha de clases sociales)
Después de que trimagasi se cansará de hablar con él porque no le aporta la misma cantidad de información se arrodilla pro alguna razón, cuando Goreng ve que hace esto se prende una luz verde y se apaga una roja que hay en la habitación y trimagasi ni se inmuta, solo arrodillado. De pronto va bajando una plataforma inmensa que tiene comida, pero comida con signos de haber sido comida, toda desordenada y en mal estado pero para trimagasi esto para ser un festín inmenso, come a lo loco todo lo que pueda, con las manos lleva comida directa a su boca sin esperar ni siquiera tragar; a Goreng esto no le gusta nada y simplemente dice que no tiene hambre al ver el estado de la comida, a lo cual, trimagasi se ríe de él porque obviamente ya le dará en algún momento.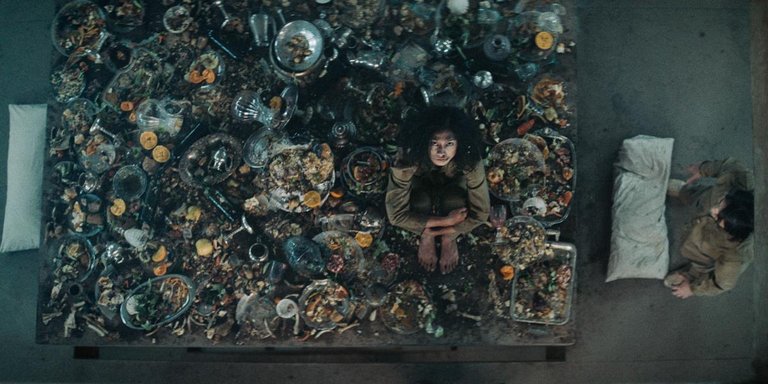 En ese punto Goreng agarra una manzana para poder matar su hambre después a lo que trimagasi lo observa disimuladamente pero sin tomarle importancia, la plataforma baja y trimagasi se acuesta pero Goreng empieza a sentir calor y es respondido por trimagasi, que es su culpa por mantener la manzana ya que la comída les pertenece únicamente mientras este ahí y lanza una botella de vino hacia la plataforma para los de abajo.
Goreng le cuenta porque está ahí, quería obtener un título homólogado y dejar de fumar mientras leía el Quijote pero es interrumpido por trimagasi que le pregunta si de verdad está si lo voluntad propia y Goreng simplemente le dice que sí pero ahora conocemos que podría ser el único que está por su cuenta en este lugar siento todos los demás muy posiblemente prisioneros a juro.
English
Without hesitation we start in a restaurant, many cooks at work but only one supervising who is the one we will continue to appreciate all the ingredients and procedures, all to make it something impeccable; to give us an explanation of why there are only three types of people, those above, those below and those who fall.
Some time later, we wake up with what seems to be our protagonist whose name we still do not know, but he wakes up in front of a man who says "level 48" and explains that he is in "the hole"; the protagonist wakes up better and stops to see the huge hole that exists in the room, there is a hole above and below, this is a completely square room; when we look out we see how there are identical rooms up and down, we see people wandering around the holes to the consequent rooms.
The older man tells him that the real question is what they will eat to which he evidently asks and the answer is as sordid as the question "the leftovers from upstairs" (by this point I already have several questions).
He introduces himself as Goreng and would like to know the name of his old companion but he refuses, casual but as they will be long there or not, he reveals to him that his name is trimagasi; Goreng tries to talk to those below but trimagasi denies him this action because they are below them and he cannot talk to them and that those above will not answer them and the answer is: because they are above them. (It is practically a struggle of social classes).
After Trimagasi gets tired of talking to him because he doesn't give him the same amount of information he kneels down for some reason, when Goreng sees him do this a green light goes on and a red light that is in the room goes out and Trimagasi doesn't even flinch, just kneeling down. Suddenly he goes down a huge platform that has food, but food with signs of having been eaten, all messy and in bad condition but for trimagasi this to be a huge feast, he eats as much as he can, with his hands he takes food straight to his mouth without even waiting to swallow; Goreng does not like this at all and simply says he is not hungry when he sees the state of the food, to which, trimagasi laughs at him because obviously he will give it to him at some point.
At that point Goreng grabs an apple so he can kill his hunger later to which Trimagasi watches him slyly but without taking any notice, the platform goes down and Trimagasi lies down but Goreng starts to feel hot and is answered by Trimagasi, that it is his fault for keeping the apple since the food belongs to them only while he is there and throws a bottle of wine towards the platform for those below.
Goreng tells him why he is there, he wanted to get a homologous degree and quit smoking while reading Don Quixote but is interrupted by Trimagasi who asks him if he is really there of his own free will and Goreng simply says yes but now we know that he might be the only one who is on his own in this place I feel all the others are very possibly prisoners to swear.
6.4/10 FilmAffinity
7/10 IMDb