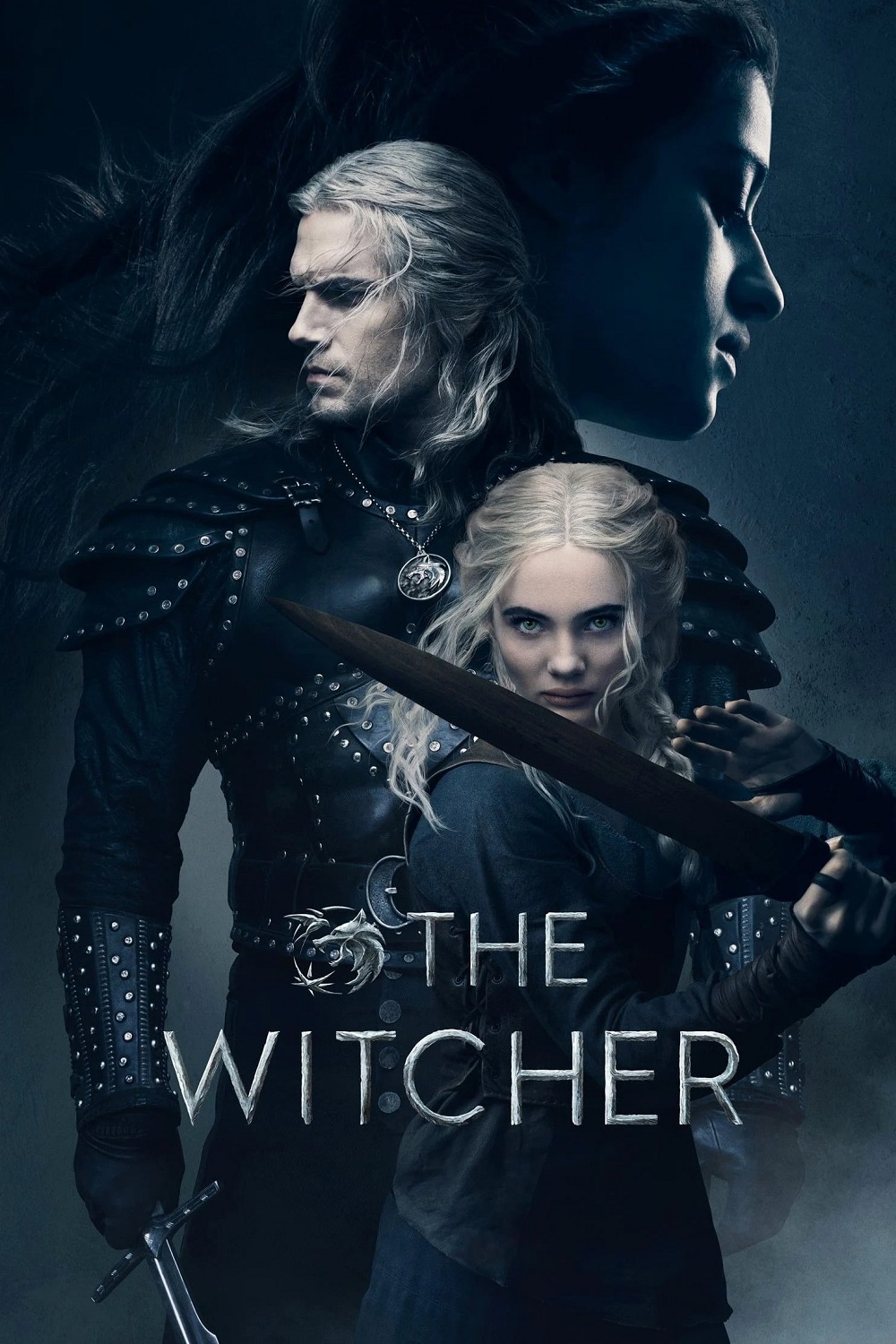 Source
English
Español
---
Recently I finished watching The Witcher season 3, which was one of the main series released in December. I started to watch this series back when its first season was released in 2019, but my first contact with the Witcher franchise was many years ago when playing the videogames.
The first one I played was the Witcher 2, but coming from Skyrim I really didn't like the fact it didn't have an open world available for complete exploration. Years later, The Witcher 3 was released and I was blown away by this game since it was everything most fans were expecting.


All of The Witcher videogames and series are based on the novels written by Andrzej Sapkowski, and understandably, these productions have gained massive numbers of fans due to their general high quality and rich world-building.


The series is something that can be enjoyed by people who love the fantasy genre, it is important to notice it is not necessary to read the books or play the previous games in order to have a nice time watching it.
What was the series about?
Season 1 was a bit disorganized in the way the events were told. There were 3 important characters, Geralt, Ciri, and Yennefer, and that season was pretty much exploring different events in their lives but without really unifying their story.


When season 2 begins, Geralt has already found Ciri, which was one of his main goals due to the special father-daughter-like relationship that I explain a few paragraphs below. Ciri has gone through very traumatic experiences that are explored at the end of season 1, and she has almost nowhere to go except stay with Geralt.
Recientemente terminé de ver la temporada 3 de The Witcher, que fue una de las series principales lanzadas en diciembre. Comencé a ver esta serie cuando se lanzó su primera temporada en 2019, pero mi primer contacto con la franquicia The Witcher fue hace muchos años con sus videojuegos.
El primero que jugué fue Witcher 2, pero viniendo de Skyrim, realmente no me gustó el hecho de que no tuviera un mundo abierto disponible para una exploración completa. Años más tarde, se lanzó The Witcher 3 y este juego me sorprendió, ya que era todo lo que la mayoría de los fanáticos esperaban.


Todos los videojuegos y series de The Witcher se basan en las novelas escritas por Andrzej Sapkowski y, comprensiblemente, estas producciones han ganado un gran número de fanáticos debido a su alta calidad general y su rica construcción de mundo fantasioso.


La serie es algo que pueden disfrutar las personas amantes del género fantástico, es importante notar que no es necesario leer los libros o jugar a los juegos anteriores para pasar un buen rato viéndola.
¿De qué trataba la serie?
La temporada 1 fue un poco desorganizada en la forma en que se contaron los eventos. Había 3 personajes importantes, Geralt, Ciri y Yennefer, y esa temporada estuvo prácticamente explorando diferentes eventos en sus vidas, pero sin unificar realmente su historia.


Cuando comienza la temporada 2, Geralt ya ha encontrado un Ciri, que era uno de sus principales objetivos debido a la relación especial padre-hija que explico unos párrafos más abajo. Ciri ha pasado por experiencias muy traumáticas que se exploran al final de la temporada 1, y no tiene casi ningún sitio al que ir excepto quedarse con Geralt.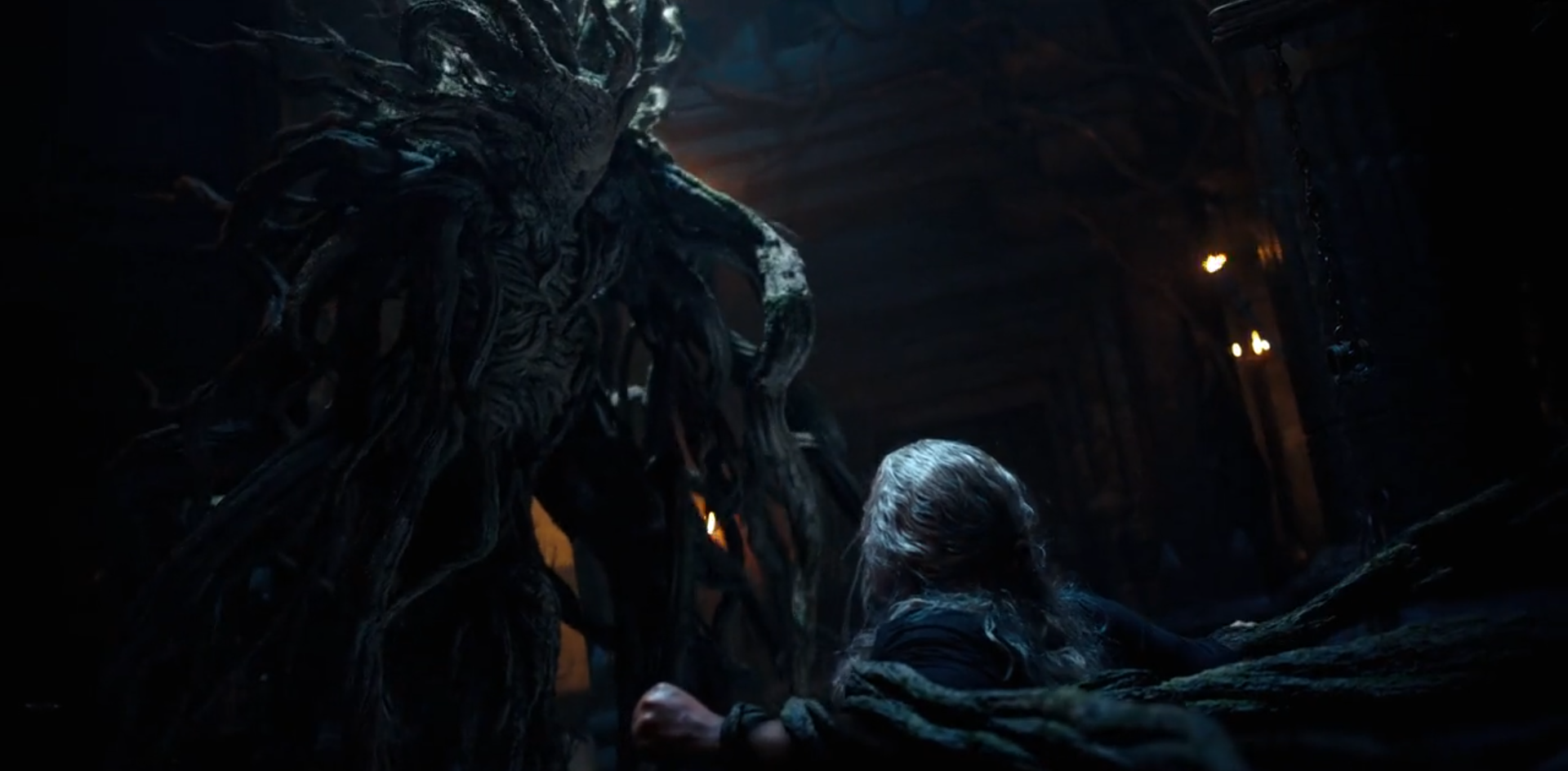 My own screenshot | Mi propio pantallazo
Since the beginning of the series, each episode will provide the viewer with at least one cool monster that always gets slaughtered by Geralt. Let's not forget the witchers earn a living by killing monsters, and this is like a routine for them. These monsters were properly designed and provided some necessary action scenes throughout the series.
Season 2 also allows us the viewer to see Kaer Morhen, which is like the general house for all the witches of the school of the wolf, such as Geralt and his witchers friends, where they can reunite and it also can serve as a place to potentially train new witchers as was done in the past. It was cool to meet several new witchers and this place, as well as some of these characters, are going to be key for some important events towards the end of the season.


The main point of season 2, is the discovery of Ciri's true capabilities. It is clear she is a girl with a lot of potential, but how much is she actually capable of doing is still a mystery. Geralt is naturally very protective of her, and the truth is, not even he or Ciri herself are aware of her true powers. As the story advances, more and more people are going to notice one way or another that Ciri can be quite special, and this will cause a lot of quarrels and fights between very powerful people that will surely continue in the next season. I believe most viewers will be excited about seeing how far Ciri's powers can actually go.
Main names associated with the series
Lauren Schmidt was the main writer for the series, and she constantly works in all types of TV shows such as The Umbrella Academy, Daredevil, or The Defenders. She is quite experienced but so far she hasn't worked in films as of yet.


Season 2 had 4 different directors, each of them directing 2 episodes and what they all have in common is that they can be considered as TV Shows directors because the great majority of their previous jobs have been in all sorts of series. These directors are Edward Bazalgette, Louise Hooper, Sarah O'Gorman, Stephen Surjik.


Henry Cavill plays the main character, a Witcher called Geralt that's quite powerful and he is almost invincible when fighting. This actor is known for having played Superman in several recent movies, and he has also participated in other films such as Enola Holmes, Sand Castle, or The Man from U.N.C.L.E.
Desde el comienzo de la serie, cada episodio proporcionará al espectador al menos un monstruo genial que siempre es asesinado por Geralt. No olvidemos que los brujos se ganan la vida matando monstruos, y esto es como una rutina para ellos. Estos monstruos fueron diseñados correctamente y proporcionaron algunas escenas de acción necesarias a lo largo de la serie.
La temporada 2 también nos permite al espectador ver a Kaer Morhen, que es como la casa general para todas los brujos de la escuela del lobo, como Geralt y sus amigos brujos, donde pueden reunirse y también puede servir como un lugar para potencialmente entrenar a nuevos brujos como se hizo en el pasado. Fue genial conocer a varios brujos nuevos y este lugar, así como algunos de estos personajes, serán clave para algunos eventos importantes hacia el final de la temporada.


El punto principal de la temporada 2 es el descubrimiento de las verdaderas capacidades de Ciri. Está claro que es una chica con mucho potencial, pero aún es un misterio cuánto es realmente capaz de hacer. Geralt es, naturalmente, muy protector con ella, y la verdad es que ni él ni Ciri son conscientes de sus verdaderos poderes. A medida que avanza la historia, cada vez más personas van a notar de una forma u otra que Ciri puede ser bastante especial, y esto provocará muchas riñas y peleas entre personas muy poderosas que seguramente continuarán en la próxima temporada. Creo que la mayoría de los espectadores estarán emocionados de ver hasta dónde pueden llegar los poderes de Ciri.
Nombres principales asociados a la serie
Lauren Schmidt fue la escritora principal de la serie y trabaja constantemente en todo tipo de programas de televisión como The Umbrella Academy, Daredevil o The Defenders. Tiene bastante experiencia, pero hasta ahora no ha trabajado en películas.


La temporada 2 tuvo 4 directores diferentes, cada uno dirigiendo 2 episodios y lo que todos tienen en común es que pueden ser considerados directores solo para programas de televisión porque la gran mayoría de sus trabajos anteriores han sido en todo tipo de series. Estos directores son Edward Bazalgette, Louise Hooper, Sarah O'Gorman, Stephen Surjik.


Henry Cavill interpreta al personaje principal, un brujo llamado Geralt que es bastante poderoso y es casi invencible cuando pelea. Este actor es conocido por haber interpretado a Superman en varias películas recientes, y también ha participado en otras películas como Enola Holmes, Sand Castle o The Man from U.N.C.L.E.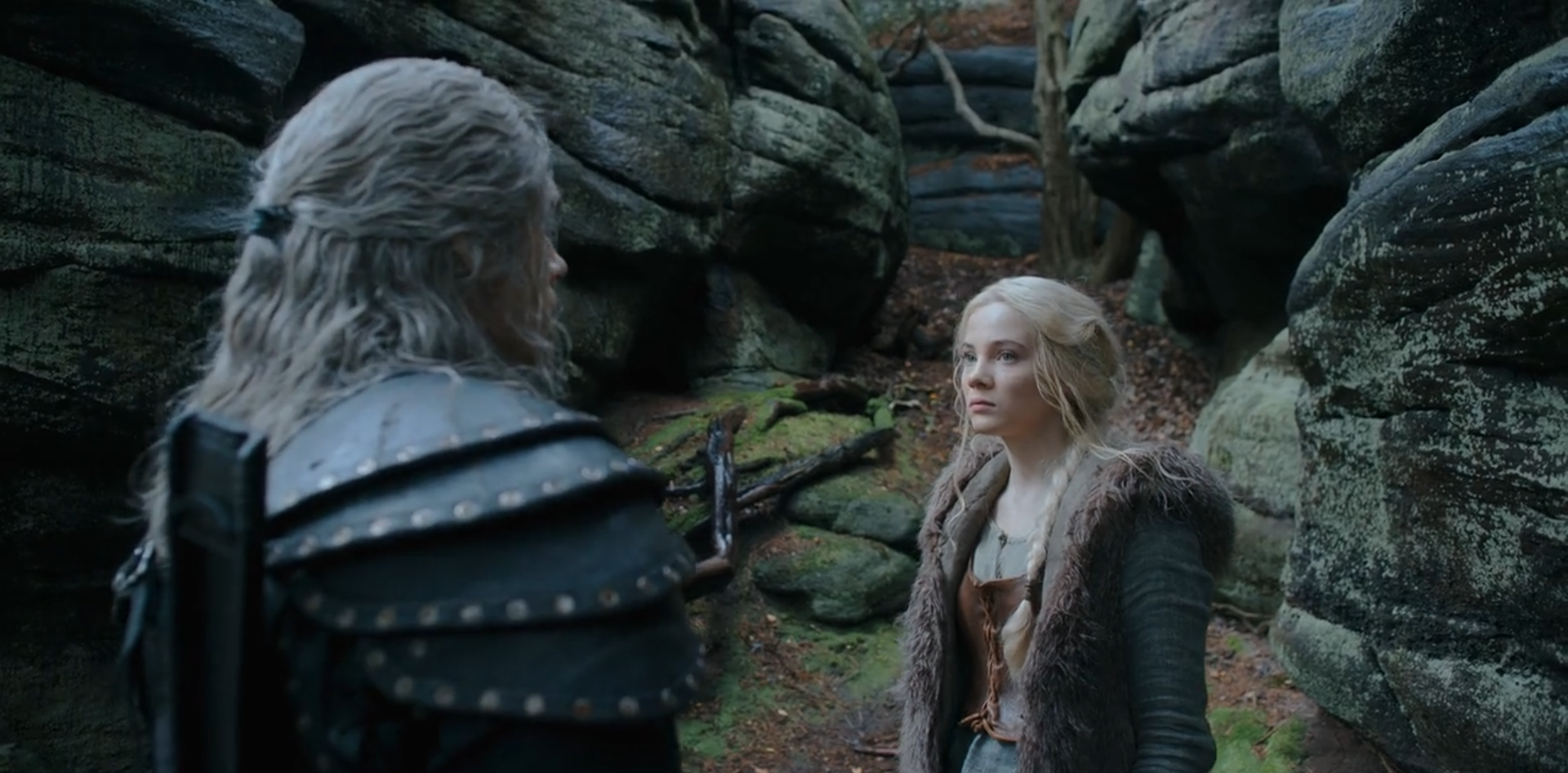 My own screenshot | Mi propio pantallazo
Freya Allan plays Ciri. Her relationship with the witcher is the result of Geralt's using the Law of Surprise when asked what did he want for payment after helping an important member of the royalty. The law of surprise consists that, anything unexpected found by the person who received the favor or service, belongs to the person who helped him/her. In this case, the unexpected surprise was Ciri's mother's pregnancy. This actress has previously participated in several productions such as Gunpowder Milkshake, The Third Day, and the series The War of the Worlds where she appeared in one episode.
How were the performance from the cast, the scenery and the camera work?
I think the cast did a good performance throughout the series for the most part, properly portraying their roles in a believable way. However, there were some scenes that felt a bit generic although this isn't entirely the fault of the cast.


The performance from Joey Batey, the actor who plays a silly bard, can get too annoying, and even though the creators of the show want him to be a funny character, his personality can feel anti-climatic. I mean, watching a character trying to be funny while other characters are facing life or death situations doesn't feel right.


The scenery was beautiful as is typical in most productions from the fantasy genre. It was generally a well-done job, and it was noticeable this was a high-budget series. The camera work was very cool during several moments, and it helped in making some fighting moments with Geralt even more impressive.
Final thoughts
The Witcher is a fine fantasy series, probably one of the best ones out there, and most people who enjoy a cool mix between fantasy and action will surely love it. This fictional world is vast and has a lot of possibilities for all sorts of epicness, plus, the design of the monsters is very original and keeps everything fun for the viewers. Since the novels are lengthy, the series can explore a lot of stories without feeling overmilked, and this show surely has enough creative fuel to keep running several more seasons.


Thanks for reading!
Freya Allan hace el papel de Ciri. Su relación con el brujo es el resultado de que Geralt utilizó la Ley de la sorpresa cuando se le preguntó qué quería para el pago después de ayudar a un miembro importante de la realeza. La ley de la sorpresa consiste en que todo lo inesperado que encuentre la persona que recibió el favor o servicio, pertenece a la persona que lo ayudó. En este caso, la sorpresa inesperada fue el embarazo de la madre de Ciri. Esta actriz ha participado previamente en varias producciones como Gunpowder Milkshake, The Third Day y la serie The War of the Worlds donde apareció en un episodio.
¿Cómo fue la actuación del elenco, el escenario y la cámara?
Creo que el elenco hizo una buena actuación a lo largo de la serie en su mayor parte, retratando adecuadamente sus roles de una manera creíble. Sin embargo, hubo algunas escenas que se sintieron un poco genéricas, aunque esto no es del todo culpa del elenco.


La actuación de Joey Batey, el actor que interpreta a un bardo tonto, puede resultar demasiado molesta y, aunque los creadores del programa quieren que sea un personaje divertido, su personalidad puede parecer anti-climática. Quiero decir, ver a un personaje tratando de ser gracioso mientras otros personajes enfrentan situaciones de vida o muerte no se siente bien.


El paisaje estuvo bonito como es típico en la mayoría de las producciones del género fantástico. En general, fue un trabajo bien hecho y se notó que se trataba de una serie de alto presupuesto. El trabajo de la cámara fue muy bueno durante varios momentos y ayudó a que algunos momentos de lucha con Geralt fueran aún más impresionantes.
Reflexiones finales
The Witcher es una buena serie de fantasía, probablemente una de las mejores que existen, y a la mayoría de las personas que disfrutan de una mezcla genial entre fantasía y acción seguramente les encantará. Este mundo ficticio es vasto y tiene muchas posibilidades para todo tipo de épicas, además, el diseño de los monstruos es muy original y mantiene todo divertido para los espectadores. Dado que las novelas son largas, la serie puede explorar muchas historias sin sentirse sobre explotada, y este programa seguramente tiene suficiente combustible creativo para seguir funcionando durante varias temporadas más.


¡Gracias por leer!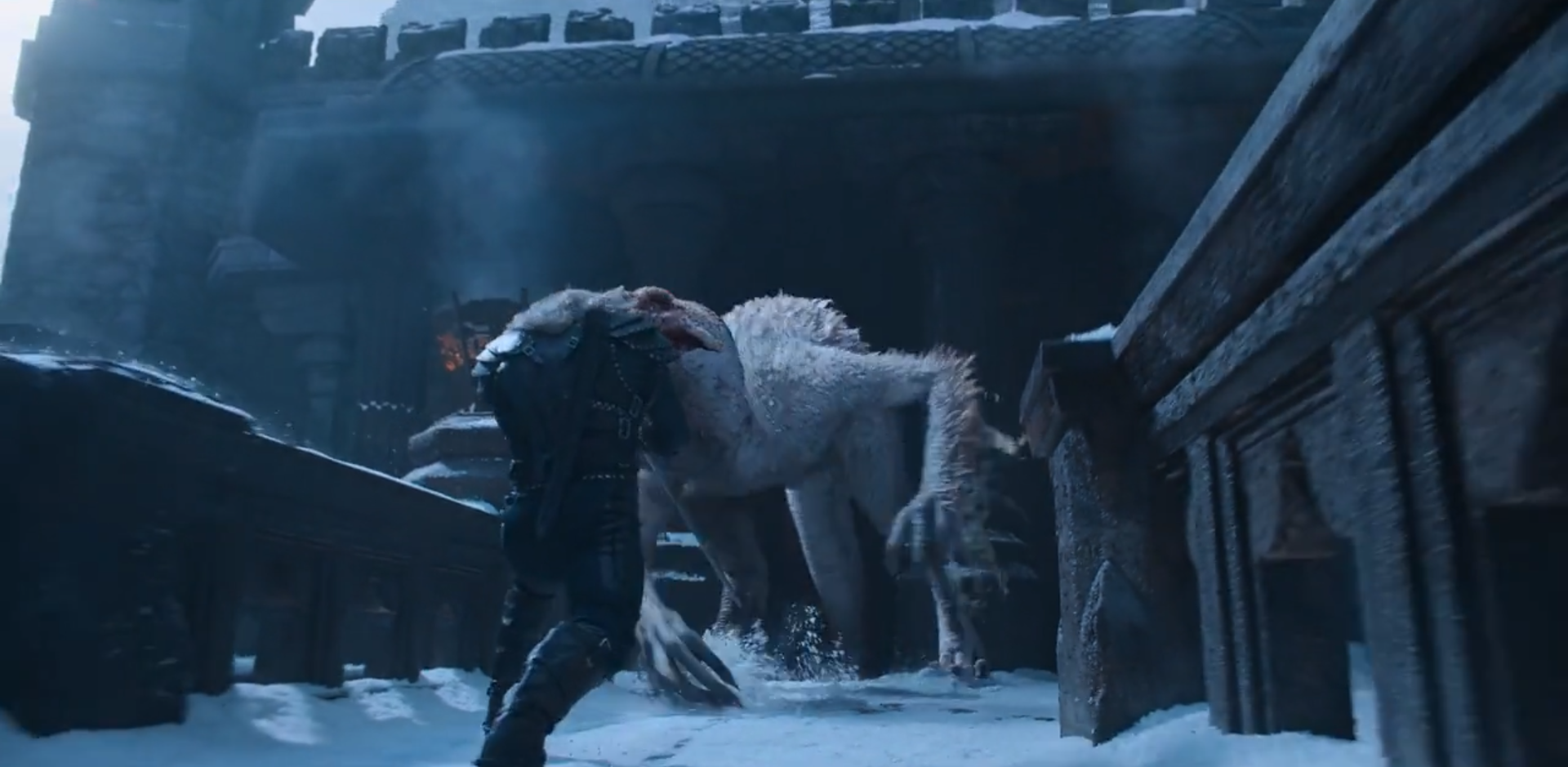 My own screenshot | Mi propio pantallazo
The Best
Lo Mejor
Great story and cool action scenes.
Gran historia y fantásticas escenas de acción.
---
The Worst
Lo Peor
---
The bard character can get annoying.
The series could do a better job when introducing new characters as well as doing more character development.
El carácter de bardo puede resultar molesto.
La serie podría hacer un mejor trabajo al presentar nuevos personajes, así como al hacer más desarrollo de personajes.
---

Review: AAA
In numbers: 7.5/10

Crítica: AAA
En números: 7.5/10