Hello everyone, more than a pleasure is an honor for me to introduce myself to this distinguished community, who greets you

@rolling2021

I confess that my presence here is due to the recommendations of my wife

@rosmerby

who surely already know and as I told you was she who inspired me and motivated me to present this publication that I hope you like it
Hola a todas y todos, mas que un placer es un honor para mi presentarme ante esta distinguida comunidad, quien les saluda

@rolling2021

les confieso que mi presencia aquí es debido a las recomendaciones de mi esposa

@rosmerby

a quien seguramente ya conocen y como ya les dije fue ella quien me inspiró y motivó a presentar esta publicación que espero les guste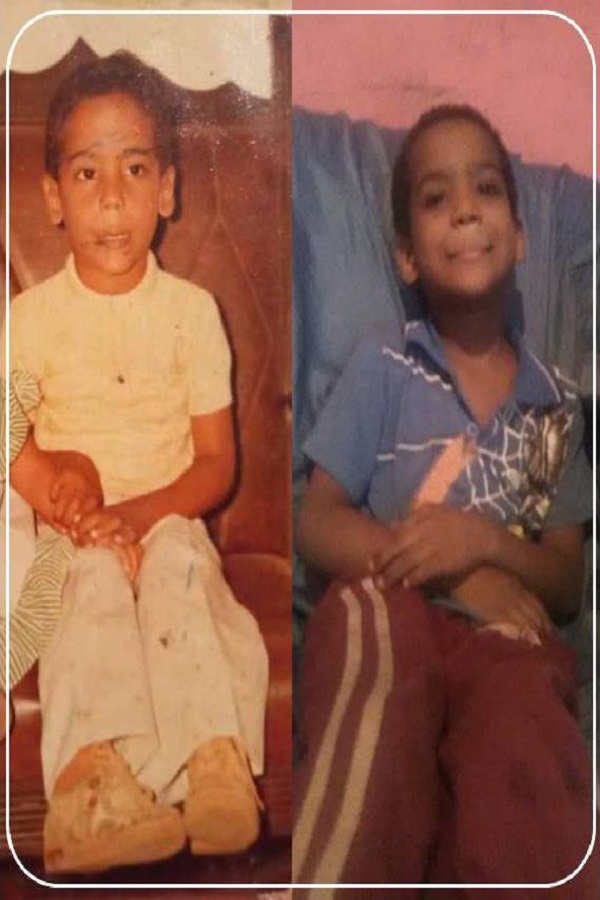 Me in 1982 / My son in 2021
Yo en 1982 / Mi hijo en 2021
In my years as a high school student in one of those many interesting Biology classes I had the opportunity to study about Mendel's laws, specifically the third law that talks about a set of basic rules about the transmission by genetic inheritance of the progenitor organisms to their offspring, I apologize to the readers if I skipped something, what happens is that after so long after having graduated from my high school some things are forgotten taking into account that I graduated at the age of 17 and today I am 44 years old. Now, why I am talking about Mendel and his laws, simply because words more words less and colloquially speaking as we Venezuelans say, Mendel concluded in the third law that we as organisms either of the species to which we belong we pass to our offspring (call them children) our most characteristic genetic traits and it is those traits that define us as individuals and you will say, aha! And where is the joke? Well now I will explain, I am a father since I was 17 years old and I have a beautiful offspring of 6 children, 4 females and two males whom I love with all my soul and precisely the second of my boys is now 5 years old and it is impressive that after so many years of having studied Mendel when I look at my baby I can understand and prove that the so called third law is fulfilled and not to fill them with so many letters running the risk of falling into the boring, here is a compilation of photographs for you to understand what I am talking about.
En mis años de estudiante de bachillerato en una de esas tantas clases interesantes de Bilogía tuve la oportunidad de estudiar acerca de las leyes de Mendel específicamente le tercera ley que habla sobre un conjunto de reglas básicas acerca de la transmisión por herencia genética de los organismos progenitores a su descendencia mas o menos por ahí va la cuestión, pido disculpas a los lectores si me salté algo, lo que pasa es que después de tanto tiempo de haber egresado de mi colegio de educación media algunas cosas se olvidan tomando en cuenta que me gradué a los 17 años y hoy ya tengo 44. Ahora bien, porque les hablo de Mendel y sus leyes, sencillamente porque palabras mas palabras menos y coloquialmente hablando como decimos los venezolanos, Mendel concluyó en dicha tercera ley que nosotros como organismos bien sea de la especie a la que pertenecemos le pasamos a nuestra descendencia (llámese hijos) nuestros rasgos genéticos mas característicos y son esos rasgos los que nos definen como individuos y ustedes dirán, ¡ajá! ¿Y donde está el chiste? Pues ahora les explico, yo soy padre desde los 17 años y tengo una hermosa descendencia de 6 hijos, 4 hembras y dos varones a los cuales amo con toda mi alma y precisamente el segundo de mis varones hoy tiene 5 años y es impresionante que después de tantos años de haber estudiado a Mendel al mirar a mi bebé puedo entender y comprobar que la tan nombrada tercera ley se cumple y para no llenarlos de tanta letra corriendo el riesgo de caer en lo aburrido, aquí les dejo una compilación de fotografías para que ustedes entiendan de lo que les hablo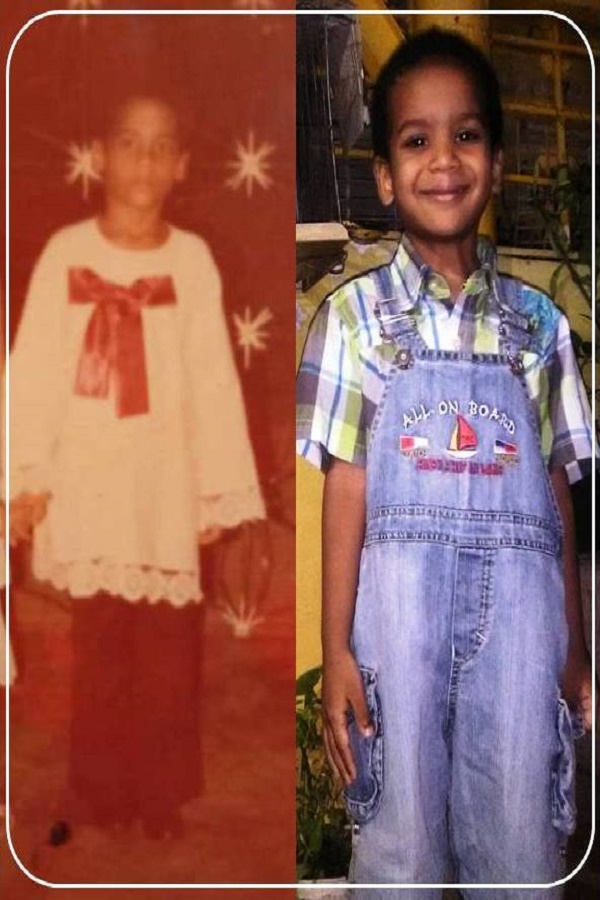 Me in 1986 / My child in 2022
Yo en 1986 / Mi hijo en 2022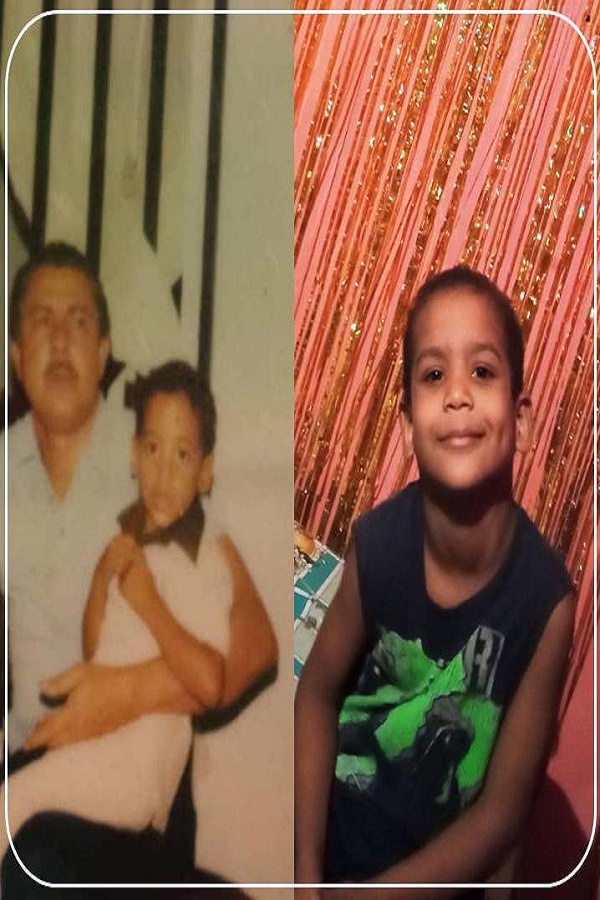 Me in 1985 / My son in 2022
Me in 1985 / My son in 2022
It is amazing how an individual, a being, a little person born 39 years after me can have so much resemblance to me, not only physically but also in his way of being, in his gestures, his character even though we are from different zodiac signs and I mention the signs because supposedly that influences our personality, that's why I thank God daily for giving me as my life partner my beautiful wife who I already named at the beginning and of course for that beautiful gift that is my son who by the way is named Reison and that every time we go out together people ask me if he is my little brother and our friends jokingly tell my wife that she fell asleep and that all the work I did when we were having it and it is not that I have never noticed the resemblance between my son and me but just recently, cleaning the house I found an album of photographs of my maternal family and I started to review it and there I found these images that I am sharing with you and that is why you will also notice that where I am the images are quite opaque taking into account that they were taken a long time ago.
Es sorprendente como un individuo, un ser, una personita que nace 39 años después que yo pueda tener tanto parecido conmigo, no solo físicamente sino también en su forma de ser, en sus gestos, su carácter a pesar de que somos de signos zodiacales diferentes y nombro lo de los signos porque supuestamente eso influye en nuestra personalidad, por eso diariamente doy gracias a Dios por darme como compañera de vida a mi hermosa esposa a quien ya nombré al principio y por supuesto por ese hermoso regalo que es mi hijo que por cierto lleva por nombre Reison y que cada vez que salimos juntos la gente me pregunta que si es mi hermanito pequeño y nuestras amistades jocosamente le dicen a mi esposa que se quedó dormida y que todo el trabajo lo hice yo al momento que lo estábamos habiendo y no es que nunca haya notadi el parecido entre mi hijo y yo sino que hace poco, limpiando la casa encontré un álbum de fotografías de mi familia materna y me puse a revisarlo y allí encontré esta imágenes que estoy compartiendo con ustedes y por eso también notarán que en donde estoy yo las imágenes se ven bastante opacas tomando en cuenta que fueron tomadas hace mucho tiempo

Biological science attributes this resemblance to what they call the genotype is the collection of genes of an individual and determined that the expression of the genotype contributes to the observable traits of the individual, which is called the phenotype, which transfers to us traits such as height, eye color, hair color, blood type, behavior, you know what I call it? A blessing from God. Well friends of motherhood, I hope this is not the first and not the last time I visit you, but I would also like to take this opportunity, if you allow me, of course! To invite those husbands who make life in this wonderful multiverse called

#Hive

to share their family stories here as well.
La ciencia biológica atribuye este parecido a lo que ellis denominan genotipo es la colección de genes de un individuo y determinó que la expresión del genotipo contribuye a los rasgos observables del individuo, lo que se denomina el fenotipo, que nos transfiere rasgos como la estatura, el color de los ojos, el color del pelo, el tipo de sangre, el comportamiento, ¿saben como lo llamo yo? Una bendición de Dios. Bueno amigos y amigas de motherhood hasta aquí esta presentación, esperando no sea la primera y menos la última vez que los visite, de igual manera quisiera aprovechar la oportunidad si ustedes me lo permiten ¡claro está! Para hacerle la invitación a esos esposos que hacen vida en este maravilloso multiverso denominado

#Hive

a que compartan también sus historias familiares aquí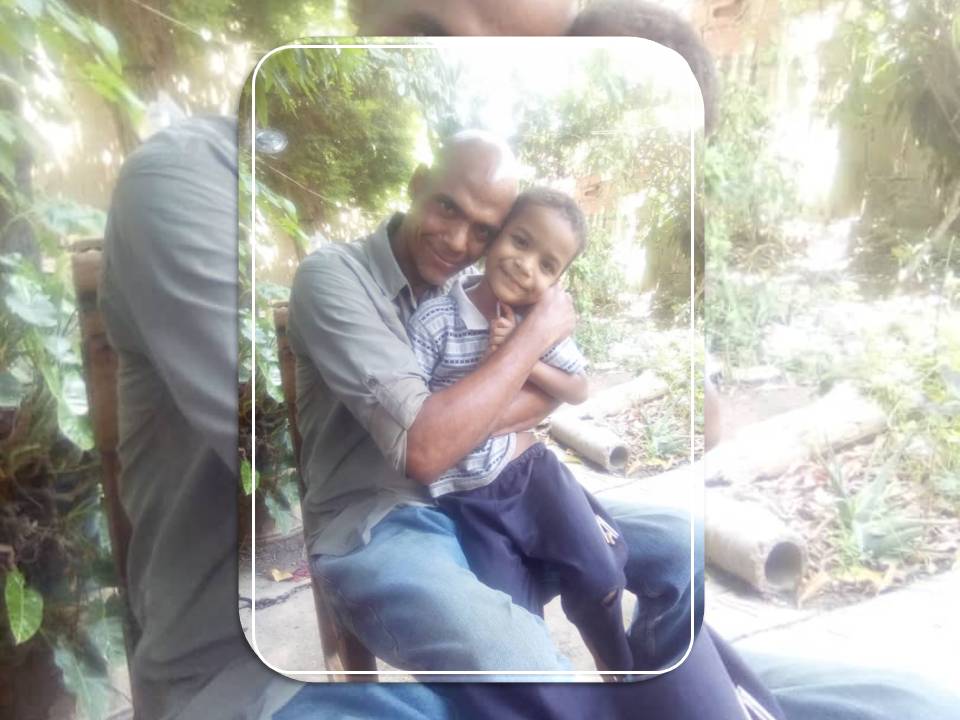 The images presented here are my property
Text translated with www.DeepL.com/Translator (free version)
Las imagebes aqui presentadas son de mi propiedad
Texto traducido con www.DeepL.com/Translator (versión gratuita)